NewZNew (Chandigarh) : Chandigarh Lalit Kala Akademi (CLKA)'s 15-day sculptures' workshop and symposium -Invocation Rock Seed- concluded this evening with a closing ceremony at Govt. Museum & Art Gallery, Chandigarh. The closing ceremony was presided over by Chief Guest, Mr. Anurag Agarwal, IAS , Home Secretary, Chandigarh Administration..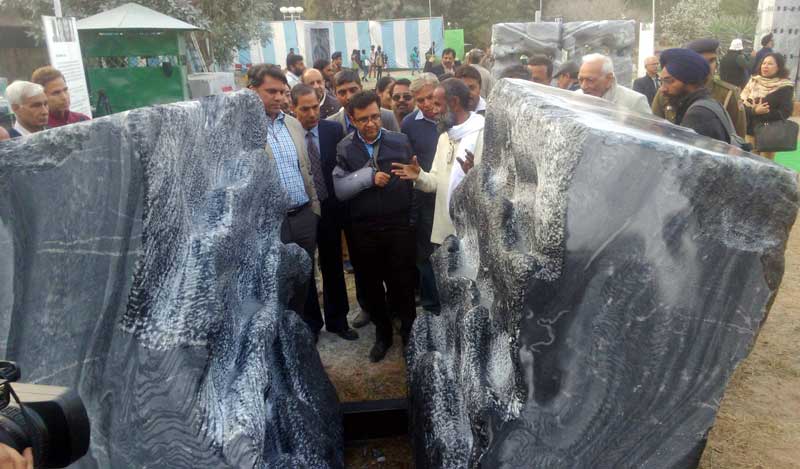 During occasion, Mr. Rodin David, one of the eminent participating sculptors gave his audio-visual presentations. Mr. Agarwal honored the participating sculptors. The monumental stone sculptures created during the workshop and symposium will be displayed at various public places across Chandigarh. Once displayed, these sculptures will provide an ample opportunity for a healthy interaction among art and residents of the city beautiful.
The workshop witnessed rare craft art of internationally acclaimed sculptures which included D. Rajshekharan Nair , Sculptor, Chola Mandal Artict village, Chennai, Mr. Vipul Kumar , Sculptor and Ceramic Artist, Studio Drishti Vak, Jaipur, Mr. M. P. Singh , Sculptor and Asst. Prof, Dept. of Plastic Arts, Faculty of Visual Arts, Banaras Hindu University, Varanasi, Mr. Robin David , Sculptor from Bhopal, Mr. Bhupesh Kavadia, Sculptor and owner of Bougain Villaea, Udaipur, Rajasthan, Mr. Rajendra Tikku , Sculptor and Recipient of Padma Shri from Jammu, and Mr. Tutu Pattnaik, Sculptor from New Delhi.
The workshop provided participating sculptors, art lovers, art students, and city residents a platform to converse about this great Indian medium. The aim of workshop was to heightened awareness about stone sculptures and its process while educating the residents and visitors alike. A stone workshop of this scale and stature has never been organized in city. CLKA strongly believe that the stone sculptures created by these internationally acclaimed sculptors will adorn various outdoor sites and would complement the character and beauty of Chandigarh.
Interestingly the identified sculptors and their works play an important role in the development of contemporary Indian sculpture in the medium of stone. The near absolute reliance of these sculptors on the medium of stone echoes their commitment towards imparting this age old medium with a contemporaneous spirit. Although these sculptors converged in stone, their artistic journey diverges while exploring form and content of their sculptures. The unfazed dedication of these sculptors is instrumental in maintaining the unique identity of Indian art through the medium of stone in our present globalized world. In our times, when we are amidst an array of easy, popular, and logistically viable materials, these sculptors are the true torch-bearers who maintain an unconditional and uncompromising stance towards the medium of stone.