NewZNew (Chandigarh) : Canadian's reputed not-for-profit Abbotsford Community Services (ACS) opened its centre here today in the Elante Office building.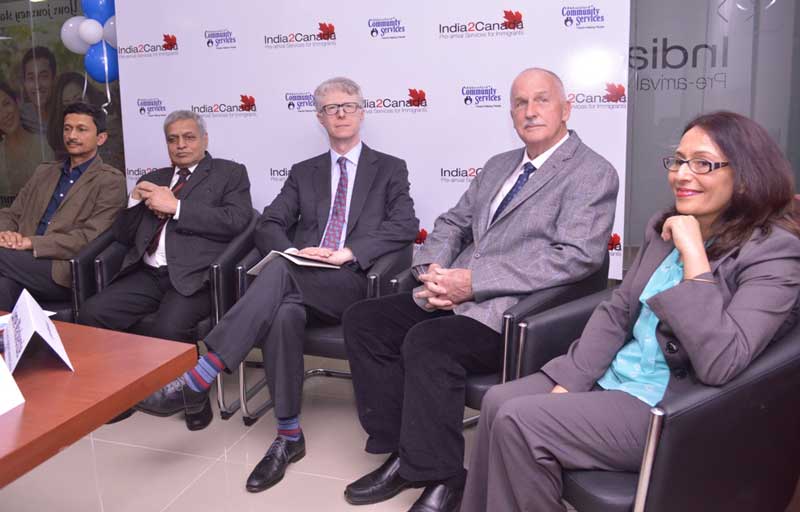 Supported by Citizenship and Immigration Canada, ACS had been providing immigrant settlement services since the late 70s and is today a key immigrant serving agency in the Fraser Valley, a popular destination for Indian immigrants, Ms Manpreet Grewal, Director, Multicultural and Immigrant Integration Services, ACS, Canada.
Mr. Christopher Gibbins, Consul General of Canadian High Commission in Chandigarh , inaugurated the India2Canada programme of ACS and commending ACS for its service to Indian immigrants, said that the programme is funded by the Canadian government with the sheer objective that every immigrant should feel important and wanted in our country.
Punjab State Commission for NRIs' Chairman Mr Justice (retd) Rakesh Garg said that there has always been a keen interest of Panjabi's to go abroad, especially to Canada and settle there.  The services of ACS would be boon for them to integrate themselves in the new culture.
Director Industries Haryana Mr Vivek Atray said that opening of ACS office in the city shows the growing importance Chandigarh has acquired over the years, and this facilitation process would immensely help the immigrants from this region. He hoped the twinning of cities in Canada with Chandigarh can be explored for more close relationships amongst people.
"It's a very exciting new venture for us to be able to help people before their start of the journey in Canada.   We have always felt that better information before they head out to Canada assists people in having realistic expectations and better preparation for life in Canada." said Manpreet Grewal.
She added, Chandigarh was chosen as base because British Columbia, Lower Mainland and Abbotsford's growing Punjabi community makes it a popular destination for Canada-bound residents of the northern Indian states. This centre will be the first of its kind in Chandigarh and will service clients from across the country.
The program will offer a one day orientation session which will broadly cover about Canada, socio-cultural differences, pre-departure documents, on-arrival procedures, overview of labour market and employment, overview of the education system, financial literacy, family dynamics and frequently asked questions. In depth workshops and information sessions on specific topics will be organized over webinar sessions.  The program will craft individual settlement plans and help them in making social and economic connections in Canada before they leave India.  The services are free of cost for eligible clients.
Eligible clients are the individuals who have been selected, to become permanent residents pending completion of medical, security and criminal verification statutory requirements, and who have been informed, by a letter from Citizenship and Immigration Canada. Nimrita Bains, who heads the Indian operation and had been associated with ACS since 2009 said that for many new immigrants the cultural shock and the work environment in the absence of any preparedness before shifting base to a new country which at times could become frustrating.
Indians are the second most largest community that migrates to Canada, and from amongst all immigrants Punjabi remains the third most spoken language amongst immigrants (Source: CIC Facts and Figures 2014: Immigration Overview: Permanent Residents)
Several members of the Board of Directors of ACS from Canada attended the opening of the Chandigarh office, including Lorne Mackenzie, and Bobbie Thompson.
One of the Indian immigrants from the city, Rajni Bhatia narrated her ordeal when she migrated to Canada in 2014 along with her husband and a two months old child, and with no one to guide or counsel her, she decided to return to India.  "ACS is now helping me in the resettlement process and I have learnt the things which I wish I knew earlier," Rajni said.