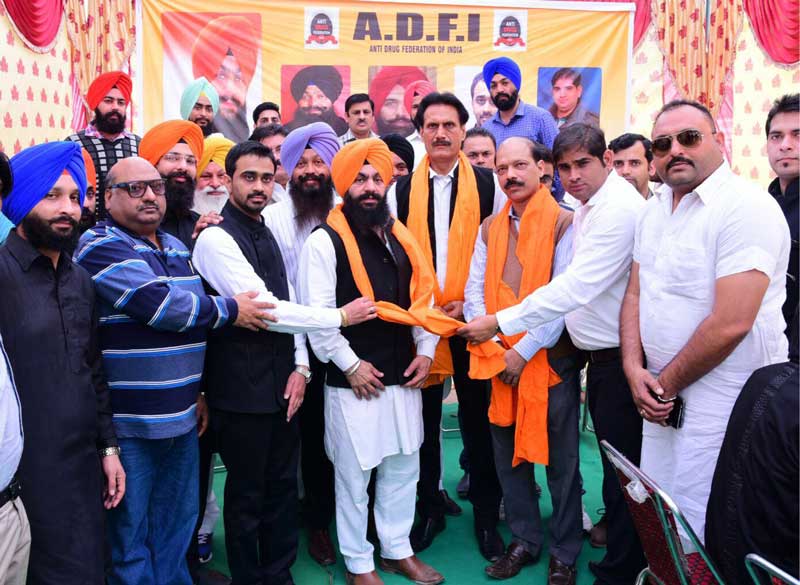 NewZNew (Zirakpur) : Anti- Drugs Federation of India (ADFI) organized a Drug De-addiction camp & Seminar at VIP Road Zirakpur. The Camp Cum Seminar was inaugurated by Ranjit  S Nikra, President, ADFI & was conducted by a team of 9 Doctors of PGIMER. The National Vice President of ADFI, Advocate Neeraj Bhalla & President of ADFI's Mohali Unit Karan Bedi, were in charge of the   Camp Cum Seminar. Nikra said while addressing the seminar; "All drugs pushing activities should be stopped forthwith for Punjab to become free of the serious problem of Drugs." Shiv Kumar, SDM, Dera Bassi was the Chief Guest & Harpal Singh, SP (HQ), Mohali was Guest of Honour.
The SDM praised ADFI for the efforts it was making to fight the drugs menace. SP (HQ) asked ADFI Office Bearers & members to inform SSP, Mohali as well as himself when they come to know about anyone who is involved in drugs' trade, so that suitable action can be taken against the person. Advocate Neeraj Bhalla said on the occasion, "ADFI will be holding similar Camps across Punjab so that the malaise of drugs is removed from Punjab. During today's event we have appointed Sanjiv Garg as President ADFI, Mohali (Local) & Aman Vohra ADFI (VIP Road), President so as to make the fight against Drugs more effective."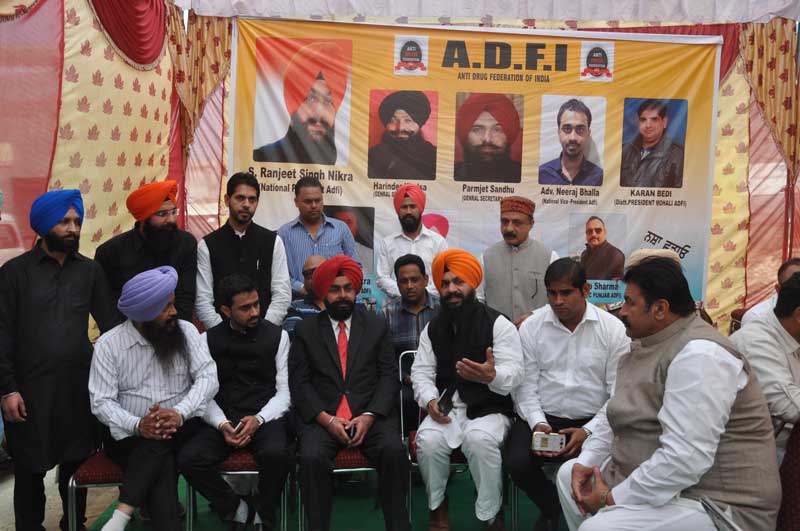 Thirty Seven (37) patients took benefit of the free consultation & medicines facility made available during the camp. Health of the patients was examined free of cost by Doctors from PGI for the purpose of making the De Addiction protocol effective.
There was active participation by Zirakpur's ADFI President Dinesh Malhotra, Dera Bassi President Jaspreet Singh, Panchkula President Ashish Chaudhary to make the camp a success. ADFI members who worked hard to organise the camp cum seminar were Anup Sharma , Sukhwinder Lucky, Harinder Khalsa, Jatinder Pal, Gurbachan Singh, Rakesh Bansal, Charanjit Singh, Jaspreet Chhabra, Parvinder Singh, Harsimran, Kawalpreet, Gagan, Harpreet, Pawan Babbar, Sajjan Singh Jagra, Tanvir Singh, Dharampal, Puneet, Nitin, Narinder, Balram, Ritesh Sharma, Eesh Chaudhary, Sahil Chadda, Mohit, Yashudip, Ashish Kaushik, Puneet Kundra. It is noteworthy that on this occasion Inspector Davinder Singh, Traffic Incharge, Zirakpur was also present.