NewZNew (Panchkula) : 100 year old Jiv Raj Mehta from Ambala greviously hurt the eyeball of his left eye while using the washroom at home late at night. He slipped and his eye hit a sharp edge of his walking stick because of which the eyeball got ruptured. He was in great discomfort and pain because of the blood clotting in the eye and the hapless family did not know what to do. They took him to several hospitals in the city but none could offer help because of the serious nature of the injury, that too at such an advanced age.
Finally he was wheeled into Alchemist Hospital Panchkula where Dr Ritesh Gupta, senior consultant eye surgeon, and his team took up the challenge and successfully repaired the eye.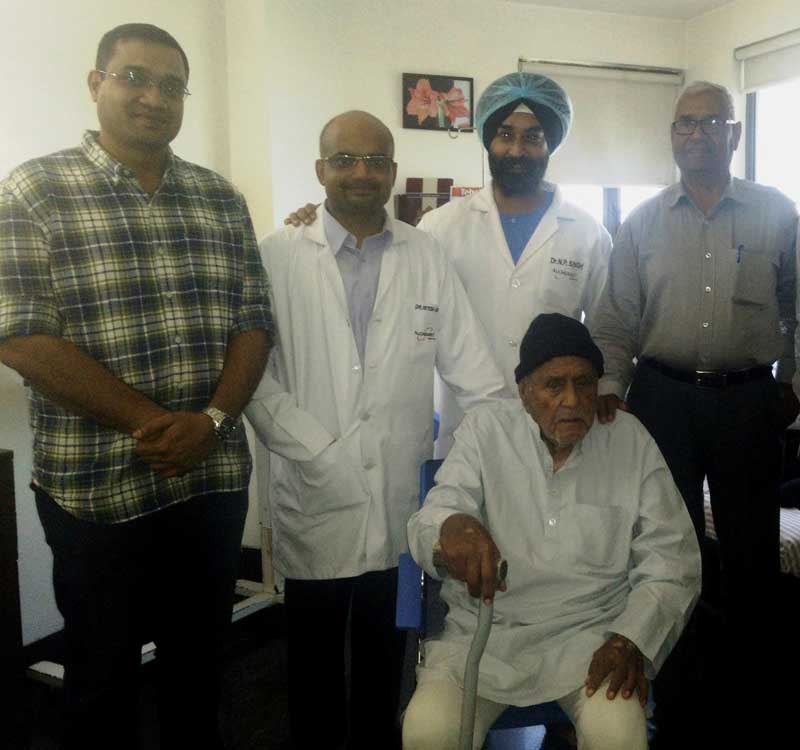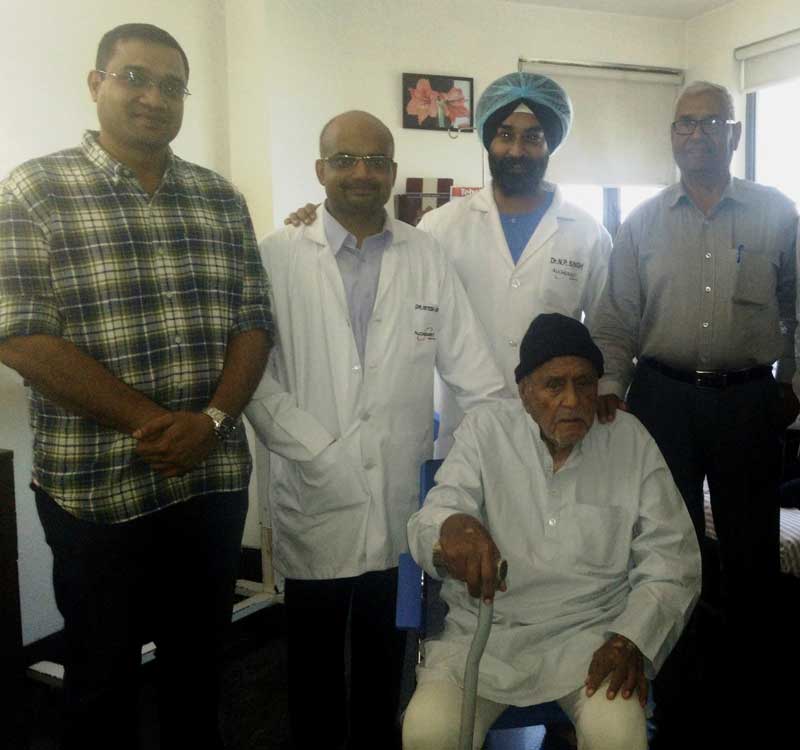 Says Dr Ritesh, the biggest challenge was to first calm down the 100 year old who was uncontrollable because of the severe pain. The other big challenge was to administer him general anesthesia while keeping his vital parameters like blood pressure under control, which is a difficult thing to do given such advanced age. After Dr N P Singh, consultant anesthetist, and his team were able to do that with meticulous care, the centurion was successfully operated upon by Dr Ritesh Gupta and his team by following a procedure called Globe perforation repair under General Anesthesia.
He said the injury was found to be very deep rooted and hence highly complicated. His ruptured eye ball was sutured to the extent possible leading to the patient feeling much more comfortable after the effect of anesthesia wore out. Though how much vision will be restored in the injured eye can be known after several weeks, on his first follow up in the hospital recently the patient appeared to be in good spirits, Dr Gupta added.
With vast experience in cataract surgery, lasers and retinal surgery, Dr Gupta, who is an expert in vitreo-retinal surgery, said Alchemist Hospital Panchkula has invested in the latest state-of-the-art equipment because of which eye surgery here has become a fairly safe and predictable procedure. Gone are the days when the elderly would be forced to be confined to bed in case of blurred vision or other eye problems, he said, adding that today they can lead normal lives and their families can enjoy good times together.
Dr. Vinay Verma, CEO, Alchemist Hospital, Panchkula, says "Our objective is to bring the best of health care to the people of the region and we will continue to invest in world-class equipment, doctors, paramedical and support staff to achieve this objective."