NewZNew (Dehradun) : Addressing the Press Conference prior to the event, Shri Surendra Singh Negi, Hon'ble Minister for Health & Family Welfare, AYUSH said "Government of Uttarakhand is committed to improve the health status and quality of life of its people, by focusing on health issues. The objective is to reduce the disease burden, create an enabling environment and promote health education in the state. AYUSH systems of medicine which includes Ayurveda, Yoga & Naturopathy, Unani, Sowa-Rigpa, Siddha and Homeopathy are the healing traditions which should be incorporated in the modern system for a balanced health lifestyle in the State."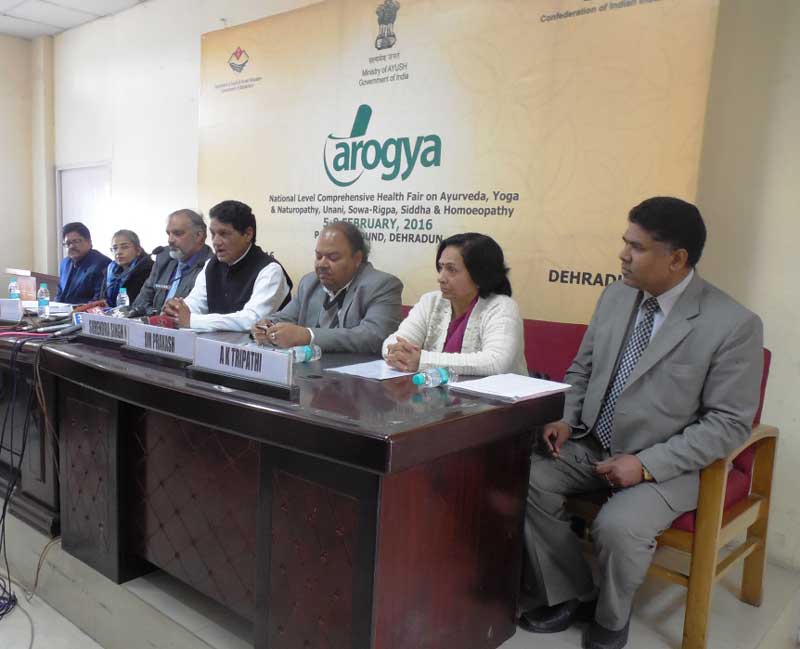 Uttarakhand is enriched with vivid flora and fauna and is well-known specifically for vast potential of high altitude medicinal plants and herbs.  The focus of the government would be to promote the State as the Medicine Hub" added Hon'ble Minister. He welcomed National Arogya Fair 2016 which aims to spread awareness about traditional healing systems and integrating them with the mainstream healthcare delivery structure.
Elaborating on National Arogya Fair 2016, Dr S Farooq, Past Chairman, CII Uttarakhand State Council said that Fair is being organized jointly by Ministry of AYUSH, Government of India, Department of Ayurveda, Government of Uttarakhand and Confederation of Indian Industry (CII). "The fair aims to promote Indian Medicine Systems to the general public as well as share the latest research work in sector and showcase the true potential of State in the sector" added Dr Farooq.
Some of the important highlights of the fair are: Free Health Checkup and Counselling by specialists of Ayurveda, Unani, Homoeopathy, Siddha, Yoga and Naturopathy Prakriti Pariksha and Nadi Pariksha; Live Yoga Demonstration; Demonstration of Home Remedies for treatment of common ailments and Display of medicinal plants.
Free Consultation with Doctors would be available daily from 10 AM – 1 PM and 2 PM – 6 PM.
There would be learning sessions every day during the fair with themes like Importance of Medical Plants, Geriatric Care in Siddha System, Yoga and Naturopathic Treatment, Homeopathic Treatment of Stress and other diseases, Prevention & Treatment of Arthritisim Unani medicine,  Homoeopathy in Women's disorders & Children and Simple Home remedies in Siddha System etc. The timings for the sessions would be 2 PM-6PM on 5 Feb, 11 AM – 6 PM on 6&7 Feb and 11 AM – 2 PM on 8 Feb.
The Health Mela is expected to attract large number of visitors and other stakeholders like international researchers, manufacturers and processors and people from all walks of life interested in the traditional knowledge systems and the therapeutic effects of Yoga which is globally known as a drugless therapy system
Other dignitaries to be present at the inaugural would include Shri Shripad Yesso Naik, Hon'ble Union Minister of State (Independent Charge), Ministry of AYUSH & Minister of State for Health and Family Welfare, Government of India; Shri Surendra Singh Negi, Hon'ble Minister for Health & Family Welfare, AYUSH, Government of Uttarakhand, Shri Om Prakash, Principal Secretary, Medical Health & Family Welfare, Ayush, Government of Uttarakhand and Shri A K Ganeriwala, Joint Secretary, Ministry of AYUSH, Government of India etc.
Apart from ministers and senior government officials from Uttarakhand, the event will be attended by a large number of manufacturers, AYUSH Doctors, researcher's, retailers, consultants, industry associations and end-users gather under one roof and take part in seminars and conferences.
The entry to the fair is free and it would remain open to public daily from 10 AM to 8 PM from 5 to 8 February, 2016 at Parade Ground, Dehradun", shared Dr S Farooq.
Also present on the occasion were Shri Om Prakash, Principal Secretary, Medical Health & Family Welfare, Ayush, Government of Uttarakhand and other senior officials of the State Government.