NewZNew (Chandigarh) : A live painting show, desi flute and guitar by Punjab Engineering College students presented a scene like France at Sector 17 Plaza on Saturday evening. The true French colour came when French painter Michel Granger picked his brush to create an earth that includes all – entire humanity. Granger is credited with making posters of the Paris Climate Summit-2015 and Cannes Film festival. "If earth includes all, it can be saved," he explained after his painting session joined by top painters of Punjab.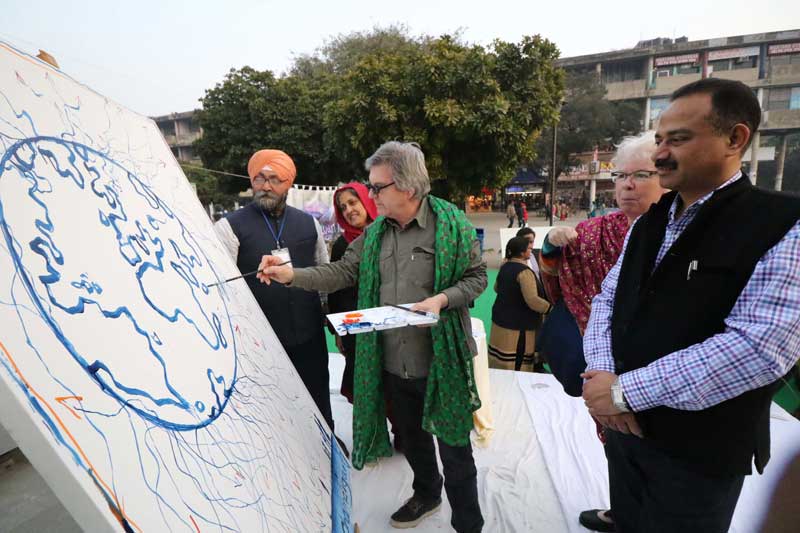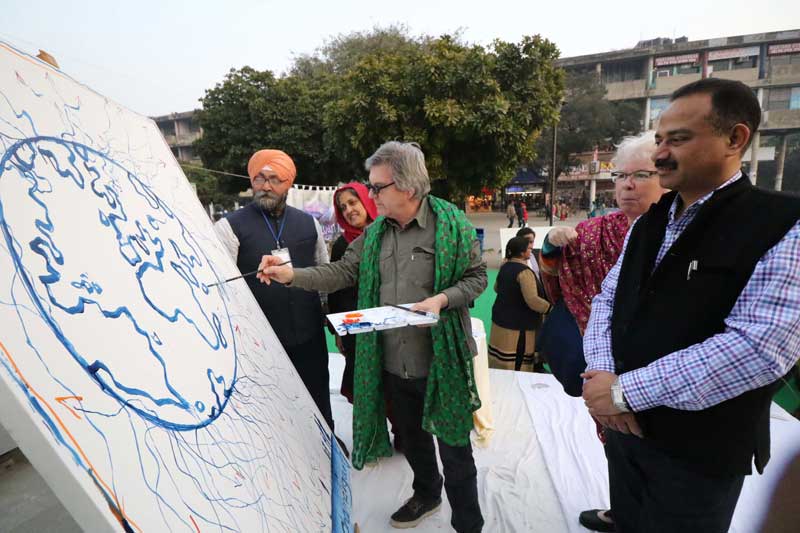 The programme was organized by a city-based international study circle, Dialogue Highway. Michel Granger was accompanied by France-based Dialogue en Humanite coordinator and co-founder Geneive Ancel. Dialogue HIighway and Dialogue en Humanite have an exchange arrangement. A Bangalore-based organization Fireflies director Sidhartha also attended the painting show. Sidhartha is holding a dialogue on rivers at Bangalore next week.
The painter Michel Granger was welcome by Mayor Arun Sood who said exchange between France and the city is old and will continue for achieving excellence. The Mayor and the French artist jointly honoured artists from Punjab who depicted different aspects of the nature. Punjab art council chairperson and former Mayor Harjinder Kaur honoured the French artist. The General Secretary of Punjab Art Council Sadhna Sandal who herself is a painter, said,"I saw every artist tuned to nature so fast within two hours. It was because, love for nature is natural and the Himalayas are a big inspiration." Professor Raninder Sharma, a painter himself, welcomed all artists. Chandigarh Lalit Kala Academy General Secretary Ram Partap Verma, Vinay Vadera, Jaskamaljeet Singh, Guneeta Chadhha, Jaspreet Singh, Dalwinder Singh, Prabhjot Singh, Deepika Chhabra and Monika Nangru participated in the live painting show to express an artistic pledge for the cause of the Himalayas.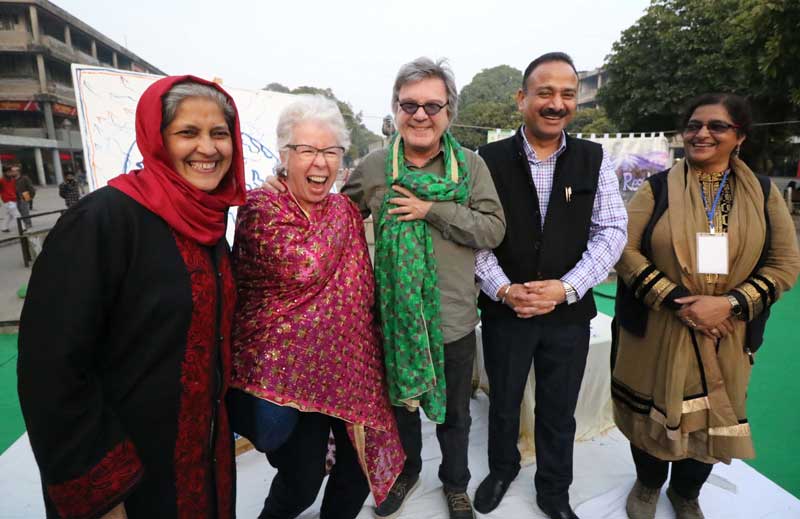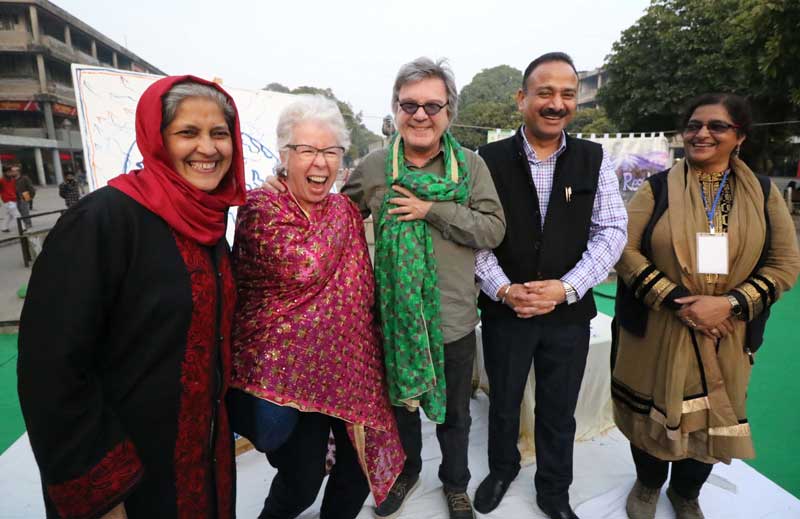 The artistic pledge was the first programme in the series of the "Internation Dialogue on Himalyan Ecology" organized by Dialogue Highway.  The discussion will now take place on January 31 and February 1 at Solan where Uttarakhand Chief Minister Harish Rawat, National Green Tribunal Chairman Justice Swatanter Kumar, six vice chancellors and directors of ten institutes working on ecology will participate. Dialogue Highway is headed by Devinder Sharma who is an internationally acclaimed food policy expert. Its other trustees and members are Yashpal Verma, Reeta Kohli, Anil Sharma, Naresh Vats, Sanjay  Sharma, Dr Gurjit Kaur, Astinder Kaur, Dr Geeta Arora, Ravinder Singh Billa, Satish Sharma, Anamika Sharma and Mrs Devinder Verma among others.