NewZNew (Chandigarh) : ONE of the oldest surviving officers and the longest serving commanding officer (CO) of the highly decorated 7th Light Cavalry, which created history by operating tanks at never seen before heights of 11,000 plus feet in sub zero temperatures to free the Zojila pass of invaders during the 1947-48 Indo-Pak war, Lt Col (retd) Gurcharan Singh turned 96 today.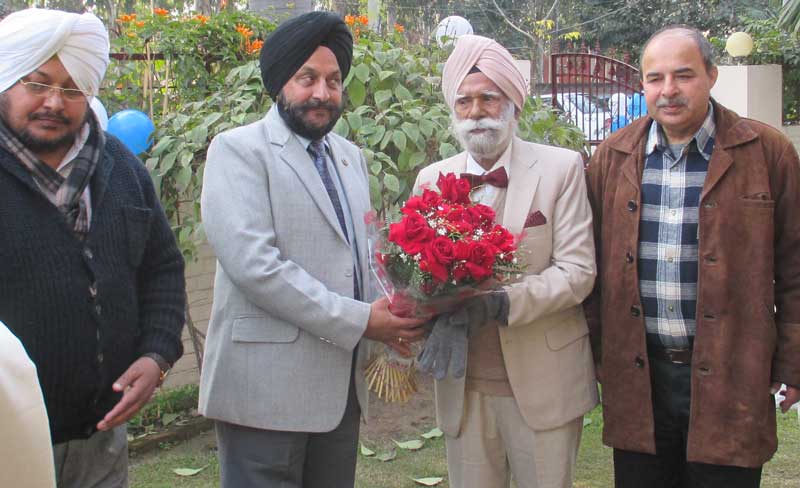 The regiment, now based out of Kapurthala in Punjab, celebrated his birthday by cutting a commemorative cake at his Sector 36 residence. He was also presented a shawl by the Sainik Welfare Board, Punjab. The current 'Colonel' of the regiment Maj. Gen. N.P. Singh, VSM, specially drove down from Kapurthala to join other serving and retired officers of the regiment in celebrating the occasion with the veteran soldier.
Brig (retd) J.S. Arora, director, Sainik Welfare Board, Punjab, who was instrumental in organising the show, also joined in the celebrations. So did Maj Gen (retd) G S Malhi, who served in the regiment, and Col. R S Bagga, OC No. 1 (Independent) Armd. Sqn.
Still upright and alert, though his hearing is impaired in one ear, Lt Col (retd) Gurcharan Singh fondly remembered being a Major under the command of the legendry Maj Gen Rajinder Singh Sparrow, MVC and Bar, then Lt Col, when the Stuart light tanks of the regiment blasted the enemy positions at unbelievable heights of upto 11,500 feet under extremely treacherous conditions and freed the crucial Zojila Pass, the gateway to Leh and Ladakh.
After aerial reconnaissance and a lot of planning and rigorous training for the final operation, on October 29, the 7th Light Cavalry Less 'B' Squadron commenced the ascent during a heavy snowfall. Getting the tanks up the steep winding path, with rocky cliff faces on one side and a sheer drop on the other, was a herculean task; at many acute bends, tank tracks often overshot the edges of the trackway. So steep was the gradient at some places, the tanks had to be winched slowly upwards by 15 CWT winch trucks and pushed by men from behind; all this in temperatures 20 degrees below zero !
On November 1, 1948, dawn broke with an overcast sky. As the guns boomed at 10.30 am, three lead tanks debouched into the Gumri Basin with guns blazing, engaged the enemy bunkers on Mukand and Chabutra positions and knocked them out, enabling the Gorkhas to secure the lower reaches of the Gumri Basin. The tanks then advanced, engaged a mountain gun on North Ridge and knocked that out as well, clearing the whole Gumri Basin of the enemy, who retreated in panic, completely demoralised by the unexpected appearance of tanks at such an unbelievable height.