NewZNew (Chandigarh) : Sarvesh Mehtani, Archit Nanda and Manthan Jindal, the proud Successful Bhavanites will get a chance to attend a training camp at the Homi Bhabha Centre for Science Education, which falls under the aegis of National Board of Higher Mathematics (NBHM).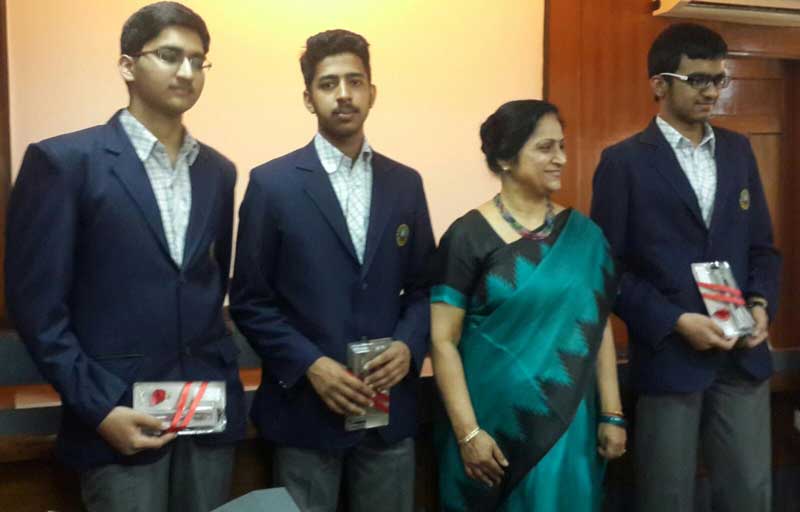 After this month long training at Mumbai, six top performers out of 35 would get a chance to represent India in International Mathematical Olympiad, later this year.
The School Senior Principal, Dr. (Mrs.) Shashi Banerjee expressed elation on such a stupendous performance and excellent achievements of her Bhavanites. She, in turn, congratulated and appreciated the undaunting efforts put in by her staff and students which lead to this unique achievement of first ever three selections in INMO. However, she proudly mentioned that Bhavanites are imbibed with the unique quality to excel in all spheres. Bhavanite Shubham Goel, All India JEE 2014 sixth position holder also cleared the first two levels of INMO and went on to attend the training camp at Mumbai.
The School Senior Principal Dr ( Mrs) Shashi Banerjee also declared a test window for students seeking admissions to 6th, 9th and 11 th Class respectively, best of brains can compete and can avail 100 percent fee waiver on admission fees too.
Highlighting the long list of achievements that the school has to its credit, she reiterated the high levels of academic excellence, especially in the subject of Mathematics – the school holds the honor of being the topmost in the subject of Mathematics among all Bhavan Schools across India. The school also strives hard to strike a perfect balance between academic excellence and co-curricular activities – The school has a track record of being placed at No. 1 position in co –curricular activities amongst all Bhavan schools across India.