NewZNew (Chandigarh) : With its core proposition 'Woh Zamaana Kare Deewana', Zee Claasic aims at reviving nostalgic moments and memories while providing wholesome entertainment. Presenting an ode to the pioneer of Indian cinema from the golden era, the channel will celebrate the life and work of the legendary filmmaker, Bimal Roy, with an exclusive five-part series titled, 'Bimal Roy Festival presented by Boman Irani'. The first film in this series is 'Do Bigha Zamin' on Saturday, 6th February at 8 PM.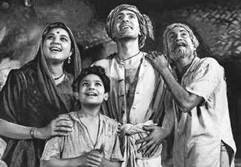 Renowned filmmaker Ashutosh Gowariker expressing his views on the film said, "The first film I saw of Bimal Da was Do Bigha Zamin. I remember loving it immensely. And, that's when I realised the full impact of the social comment of the film. I think every film of his has got a blend of a social or a moral message mixed with entertainment. In my opinion, this is a very difficult combination to achieve which he did successfully over and over again. That is something I try to emulate. The similarity between the opening of Do Bigha Zamin and Lagaan is not a co-incidence. It is an opening which had given me an expressional joy which a farmer can feel when he sees the advent of rain. I can also never forget the music of Do Bigha Zamin."
Do Bigha Zamin is a story of Shambhu Maheto (Balraj Sahani), a poor farmer and his family in a small village. After years of famine, the advent of rain spreads a wave of joy throughout the region. However, a landlord, Thakur Harnam Singh (Murad) wants to capture Shambhu's land to set up a mill in the village.
~Don't forget to tune in to 'The Bimal Roy Festival presented by Boman Irani', every Saturday at 8 PM from 6th February with 'Do Bigha Zamin' only on Zee Classic~