Live and exclusive recipe demonstration organized for Walmart India's members — Hoteliers, Restaurateurs and Caterers
NewZNew (Chandigarh) : Walmart India, the wholly owned subsidiary of Walmart Stores Inc., and Gadre Marine Export Pvt Ltd. manufacturer of premium seafood and India's first and only Surimi** (Fish Paste) manufacturer, came together today to provide a live demonstration of several exclusive recipes prepared with different Gadre products such as fish, crab and lobster.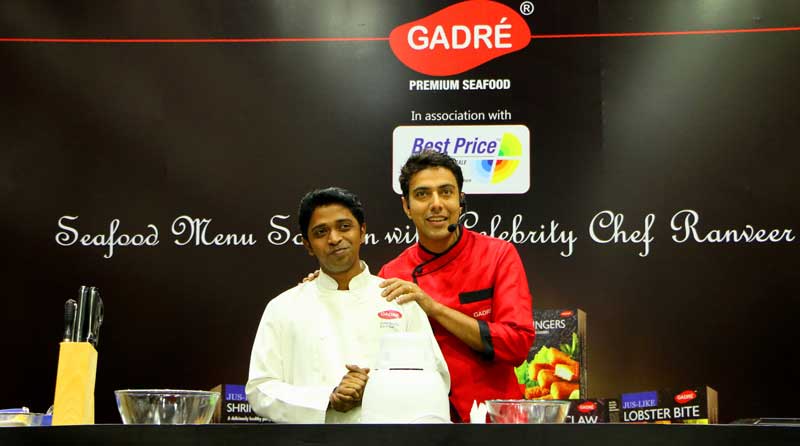 Acclaimed celebrity chef Ranveer Brar cooked and shared recipes of Amritsari Crab Finger with Corn Chutney, Fish Kebab, Lobster bytes and Kadhai Pakoda with green tomatoes exclusively using Gadre premium seafood products in a live demonstration to Walmart India's HoReCa (Hotels, Restaurateurs and Caterers) members at Best Price Modern Wholesale Store. He also shared culinary tips and healthy food habits. The HoReCa members had the opportunity to not only meet the chef and watch him demonstrate his signature recipes, they also learnt and sampled for themselves.
On the occasion, Mr. Rajneesh Kumar, Vice-President & Head of Corporate Affairs, Walmart India said, "Walmart firmly believes in partnering with suppliers and we are proud to be associated with industry leader Gadre premium seafood which offers a broad range of quality marine products to the world. This event is hosted for our HoReCa members and they have benefitted immensely from Chef Ranveer's recipes using Gadre Marine products, which are part of our assortment. Even as we are committed to offer a wide & customized assortment with transparent pricing and timely delivery solutions, we are strongly focused on food safety. Food Safety is deep rooted and an integral part of our Compliance culture. We strive relentlessly to provide safe, quality foods in our stores to our members. "
Celebrity Chef Ranveer Brar representing Gadre Premium Sea food said, "I am delighted to share my recipes with few Gadre products, it is very gratifying to note the importance given to food safety by both Walmart and Gadre Marine Export Pvt Ltd. The experience of interacting with the HoReCa segment today in Zirakpur has been an enriching experience for me and it was good to note their keen interest in new and innovative seafood recipes. Frozen seafood is in line with the taste of modern Indians, who like to experiment and look for simpler, healthier and easier sea food options."
Addressing the HoReCa members, Ms. Sneha Sharma, Brand Manager at Gadre Marine Pvt Ltd. said, "We are glad to introduce Gadre premium seafood profitable menu, home solutions and retail range in Punjab and we hope our products scintillates the palate of this part of the country as it does in the rest. Anyone can easily prepare these products by adding their secret spices and serve the preparations as per their suitability in menu or at home. We extend our warm wishes to Chef Ranveer Brar to help us create some magical recipes exclusively for this event with the strong support of Walmart India."
A Best Price store offers an assortment of around 5,000 items with a wide range of food and non-food items, which are available at competitive wholesale prices, allowing retailers and business owners to lower their cost of operations and maximize their revenues. A typical Best Price store stands on approximately 50,000 square feet and sells a wide range of fresh, frozen and chilled food, fruits and vegetables, dry groceries.