3-day EFFI-CARS event concludes at UIET, Punjab University today
NewZNew (Chandigarh) : The 3-day annual EFFI-CARS event was concluded with a final endurance race at University Institute of Engineering and Technology, Panjab University, Chandigarh today. The event was an inter-collegiate, automotive design competition where innovative engineers from across the country were tasked to design, fabricate and showcase a 4-wheeled, 2-seater vehicle powered by an electric drive.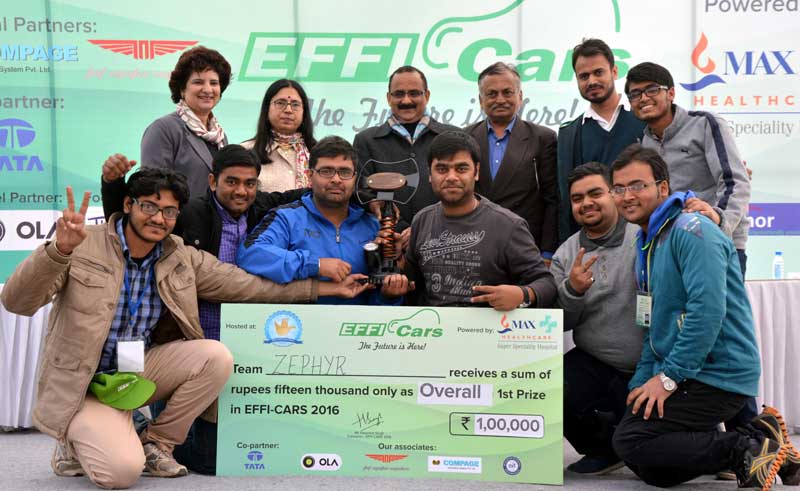 Mr. Sandeep Dogra, VP and Zonal Head, Max Hospital, Punjab and Mr. K. K. Sharma, CTO Videocon Emerging Business were chief guests during award distribution ceremony. They gave away prizes to the winners in 14 different categories. They were ; Overall winner – College of Engineering, Roorkee, Overall 1st runner up – NIT, Jalandhar, Overall 2nd runner up – KITS, Warangal, Highway race winner – NIT, Jalandhar, Highway race runner up – KITS, Warangal, City run – College of Engineering, Roorkee, Zero to fifty – NIT, Jalandhar, MAX Healthcare Production Plan – College of Engineering, Roorkee, Innovation – Lovely Professional University, Jalandhar, Craftsmanship and Aesthetics – Kamala Institute of Technology and Science, Krrimnagar, CAE award – Ajay Kumar Garg Engineering College, Ghaziabad, Design – Walchand College Of Engineering, Sangli, Lightest weight – Sri aurobindo institute of technology, Indore and Cost – Mahakal Institute of Technology and Management, Ujjain.
Speaking during occasion, Mr. Sandeep Dogra said that we feel that it is important for people to commit themselves to a healthier future and associating with EFFI-CARS is a step in that direction. Our objective is to provide instant medical aid for any medical contingency and back up services at the hospital. We extended our services to maximum students participating and wish them good health in their future also.
Meanwhile Max Super Speciality Hospital, Mohali was a co-partner in event by giving medical cover, ambulatory services and first aid facility to the participants.