Rapid Metro brings another innovative concept for its commuters, this time for the cricket enthusiasts with 'Lounge Cricket' at Rapid Metro Sikanderpur, Gurgaon
NewZNew (Gurgaon) : After launching Joy Express, Rapid Metro today opened an indoor cricket stadium in association with 'Lounge Cricket, another unique initiative to increase engagement with its regular commuters.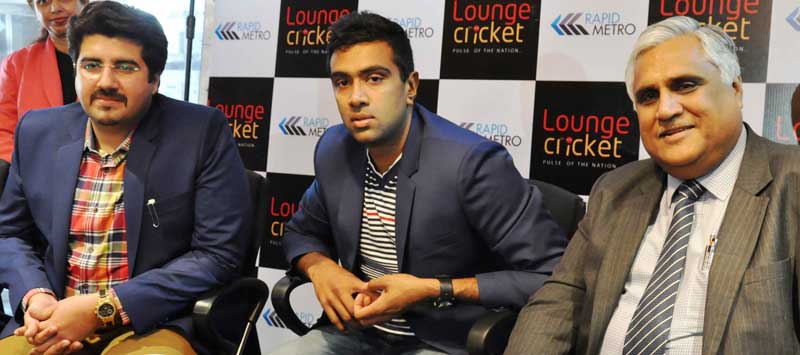 Considering today's world where paucity of time no longer gives us an opportunity to walk up to a stadium and pursue our aspirations; Lounge Cricket along with Rapid Metro understood the pulse of the current generation and are introducing an indoor concept replete with the best of simulation and experience for cricket enthusiasts.
Speaking at the launch, Mr. Rajiv Banga, MD & CEO, IL&FS Rail Ltd, said – "Commuters are our prime focus and we always strive to offer the best to them. After Joy Express, Lounge Cricket is another initiativefor our commuters. We are excited to get associated with Lounge Cricket to provide an exciting experience to the cricket enthusiasts. We welcome R Ashwin to personify Lounge Cricket as he symbolizes perfection and commitment which is in synergy with our mission to do the best for our stakeholders."
Adding on to this Mr. Varun Pasricha, Director, Lounge Cricket, said – "Lounge Cricket, as a game, is a treat to engage in terms of the best of infrastructure, phenomenal coaching tools and nail biting acceleration which will bring out the player in everybody. Adding to the facilities,, we have an eclectically designed café serving sumptuous contemporary cuisine. We are also buoyant about our alliance with Rapid Metro in terms of being an apt, unique and established platform to build engagement excellence."
Built at Sikanderpur Rapid Metro Station, this is the second prestigious venue for Lounge Cricket and a first mover advantage in terms of building an indoor stadium setup replete with best in infrastructure and technology; Lounge Cricket aims to build an equal ground for leagues and tournaments here, considering being in a potential catchment of corporate and residential segment. A real life experience, a larger than life feel without getting exposed to the scorching heat of outdoors, is simply a WOW factor with the furor, the pinnacle of emotions, the excitement around the game which is in our blood, still remaining intact. Optimistic thoughts but surely attainable, the concept aims to build "Cricketers" out of budding future generation.
Lounge Cricket is now creating a whole new definition of Entertainment…and that too at a metro station!