Dhruva Natchathiram Movie (2023) -Cast | Songs | OTT | Trailer | Release Date: Dhruva Natchathiram is a spy thriller film written and directed by Gautham Menon. The film has a stellar cast, including Chiyaan Vikram, Ritu Varma and Aishwarya Rajesh, Simran, Raadhika, Dhivyadharshini, and many others.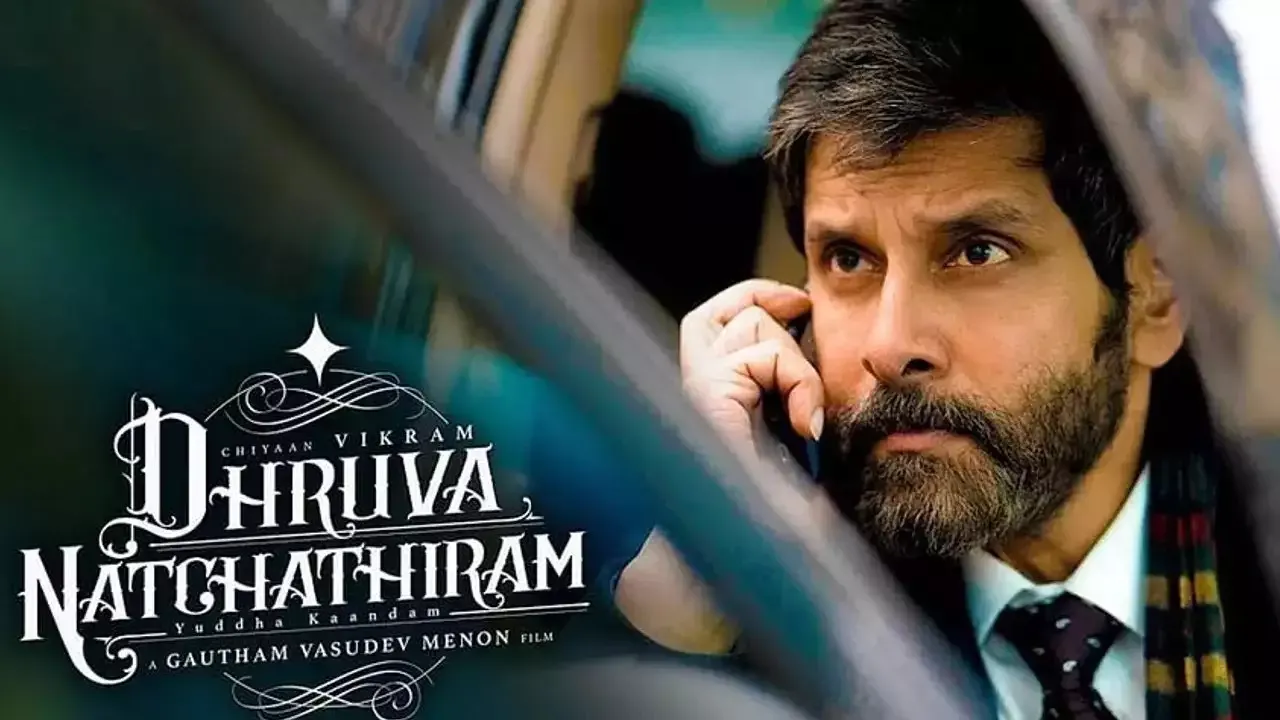 Harris Jayaraj is the music director for this film, and the cinematography is handled by Manoj Paramahamsa, Jomon T. John, and Santhana Krishnan Ravichandran.
The movie was jointly produced by Gautham Menon, Venkat Somasundaram, Reshma Ghatala, and Senthil Veeraasamy.
Ritu Varma and Aishwarya Rajesh are the female leads. They play the role of romantic partners to K (Chiyaan Vikram). His 'basement' team of Bindu, Maya, Cyrus, Joe, Anil M, Salim and Javed, Terry, Satya, Ghauri, and Nikki are portrayed by actors Simran, Radhika Sarathkumar, Dhivyadharshini, Salim Baig, Maya S Krishnan, Sathish Krishnan, Vamsi Krishna, Abhirami Venkatachalam and Munna (Not in order). The antagonists are R. Parthiban, Vinayagan, and Arjun Das.
After so much of struggles in release, the film is going to hit the screens in 2023. As per the sources, the film will be released by the leading distribution company Red Giant Movies. The latest buzz is that the film's post-production works are almost done.
Dhruva Natchathiram Movie (2023) Cast
Vikram as John
Ritu Varma as Anupama
Aishwarya Rajesh as Ragini
Simran
Raadhika
R. Parthiban
Shravanthi Sainath
Dhivyadharshini
Salim Baig
Maya S Krishnan
Sathish Krishnan
Vamsi Krishna
Abhirami Venkatachalam
Munna
Dhruva Natchathiram Movie Full Details
Dhruva Natchathiram Movie (2023) OTT
The makers are in talks with the popular streaming platform. There is no information about the Dhruva Natchathiram OTT release.
Dhruva Natchathiram Movie (2023) Teaser
Watch the official teaser of Dhruva Natchathiram,
Dhruva Natchathiram Movie (2023) Songs
Oru Manam Video
His Name Is John
Dhruva Natchathiram Movie (2023) FAQ
Is Dhruva Natchathiram Releasing?
On June 8, 2023, the media reported that Vikram's Dhruva Natchathiram will be released on 14 July 2023. But so far the news hasn't been confirmed yet.
Why is Dhruva Natchathiram Not Released?
The film's release was postponed several times due to some financial hurdles. But the makers have announced that the film will be released in May 2023, but the same issue popped up once again the film was postponed.
Why Did Suriya Reject Dhruva Natchathiram?
During an interview, Gautham Menon stated that Suriya did not like the script that I narrated to him. He felt it would not work with the regional audience.
Who is the Heroine in Dhruva Natchathiram?
The film stars Aishwarya Rajesh, Ritu Varma, Simran, Maya Sundarakrishnan, Shavanthi Sainath, Dhivyadharashini
Is Dhruva Natchathiram Completed?
Yes, Dhruva Natchathiram has completed its filming and entered into post-production this year.