NewZNew (Chandigarh) : Femina Miss India 2016 Chandigarh Finalist – Vasudha Bhatia Divyani Gandhi, Pushpinder Kaur, Shruti Tuli, Navpreet Kaur, Divya Rawal visited Inter National Institute of Fashion Design (INIFD) at Chandigarh and shared their experiences and also interacted with the budding design students at INIFD.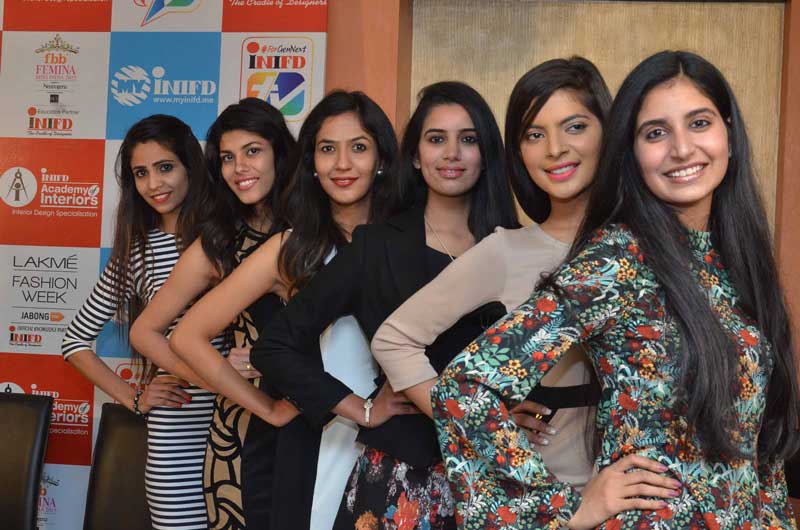 The dazzling beauties, Femina Miss India 2016 Chandigarh Finalists graced the session by their presence where the design students got the opportunity to seek their seasoned experience and benefit from their guidance on fashion and lifestyle.
INIFD has been associated with Femina Miss India for 3 consecutive years, we are the official Education Partner to this prestigious National Beauty Pageant. INIFD Corporate Director Ms. Ritu Kochhar crowned the winner 'INIFD Miss Talented' at Femina Miss India 2015 and again, INIFD is the Education Partner to Femina Miss India, INIFD Academy of Interiors is the Knowledge partner to Femina Miss India  and we will also crown INIFD Miss Talented at the gala event at FMI.
INIFD Chandigarh, Fashion and Interior Design, students were excited to get an exclusive opportunity to get clicked with the Dazzling beauties who were recently shortlisted to represent Chandigarh for final auditions of Femina Miss India 2016 at Mumbai.
'INIFD Presents Gen Next' show at Lakmé Fashion Week at Main Show Area to encourage upcoming Gen Next Designers at Lakmé Fashion Week – the premium platform for all budding designers. INIFD is the 'Official Knowledge Partner' to Lakmé Fashion Week – India's most celebrated event for 14 consecutive successful seasons.
INIFD revolutionizes the entire field of Design education in country, keeping in sync with today's rapidly changing dynamics of the fashion World. World class education facilities, indigenous curriculums blending theory with practical experience, industry interface, and showcase, helps INIFD to stay leagues ahead in fashion and design education. INIFD prepares students for professional excellence in design, fashion, and business by providing the premier educational experience that fosters creativity, career focus, and a global perspective.
The gorgeous, young and dynamic beauties congratulated the entire team at INIFD.  They appreciated INIFD students for their innovative ideas and creations. They said that a regular design education is must for the students to be the established designers of tomorrow. They guided the students and aspiring youngsters to join the fastest growing Design Industry.
INIFD endeavor is to give an image makeover to every student and it is indeed an excellent opportunity for the students to interact and learn from the charming and beautiful ladies. They wished the students all the best in their career ahead.
INIFD takes Design Education to new heights and reach out to all aspiring Fashion & Interior Designers of the Country and provide specialized training in Design with practical industry experience making them experts in the field.