NewZNew (Chandigarh) : To put spotlight on the key issue of developing skilled manpower which figures in top agenda of every government across the world, a two-day International Conference on "Sustainable Skill Development: Challenges and Future Perspectives" is being held in Chandigarh. This mega event which set to kick off on February 18 is being organised by the National Institute of Technical Teachers Training and Research (NITTTR), Sector 26 Chandigarh in collaboration with  leading universities, NITs, Directorates of Technical Education and other stakeholders in skill development.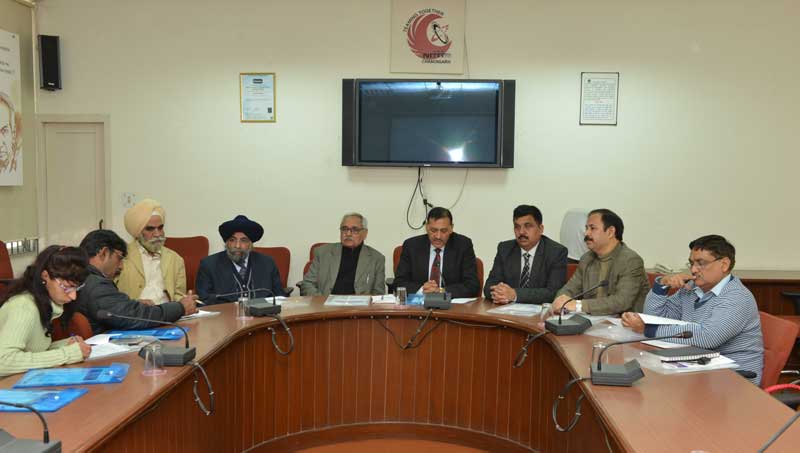 While addressing the media persons here today, Prof J S Saini, Dean (Extension Services and Consultancy), NITTTR said, "The globalised world demands skilled manpower to convert growth opportunities into jobs and stable incomes. With a population of over 1.25 billion and a workforce of around 0.5 billion, India is also participating in the race of becoming a super economic power in the world. However around 46 million people are unemployed which is likely to grow to anywhere between 50 to 60 million in the next decade. The median age of the Indian is 24 years, which makes it one of the youngest populations in the world. It is true that India has advantage over other countries in terms of having younger population but a lot needs to be done to scale up their skills".
Sharing more details on the subject, he said, "Over 20 million students enrol for school in class 1 each year but not even half of these are able to finish class XII. This signifies that a large number of students who drop out of schools do not have the necessary education and employable skills. As compared to western economies where there is a burden of an ageing population, India has unique, 20-25 years window of opportunity called the "demographic dividend".
While speaking on the occasion, Dalip Sharma, Director of the Associated Chambers of Commerce and Industry of India (Assocham), "As many as 250 delegates from 18 countries will participate in this conference. The Conference will critically discuss every facet of vocational education and skills development aiming at finding ways to enhance the employability of the youth. This Conference has attracted participation from Colombo Plan Member Countries (Sri Lanka, Nepal, Myanmar, Malaysia, Fizzy, Bangladesh, Bhutan, etc.)  United Kingdom is being represented by their Deputy High Commissioner at Chandigarh and Canada by their Consulate General posted at Chandigarh. Australian Trade Commission and Government of Australia are being represented in this Conference by Tim Martin, Trade Commissioner and Ashish Sharma, Business Development Manager".
While expressing his views, Prof R K Wats, Professor and Head, Media Centre of NITTTR, Chandigarh  said, "I am sure this initiative of NITTTR, Chandigarh will go a long way in strengthening central government India's plans for skill development in the country. Institute's initiative in organising this conference is a step in right direction for making the country reap the demographic dividend which is so important for our population and the country at large". We are expecting to generate good ideas and recommendations from this event which will be sent to the HRD Ministry and the Ministry of Skill Development and Entrepreneurship, Govt. of India so that the actionable recommendations get included in the Government's policies and programmes". The conference will be inaugurated by H.E. Balramji Dass Tandon, Hon'ble Governor, Chattisgarh.