Jaypee Greens Golf and Spa Resorts awarded with Best Tourism Friendly Golf Course: Jaypee Greens Golf and Spa Resorts was recently felicitated with an honor of National Tourism Award in the category of Best Tourism Friendly Golf Course.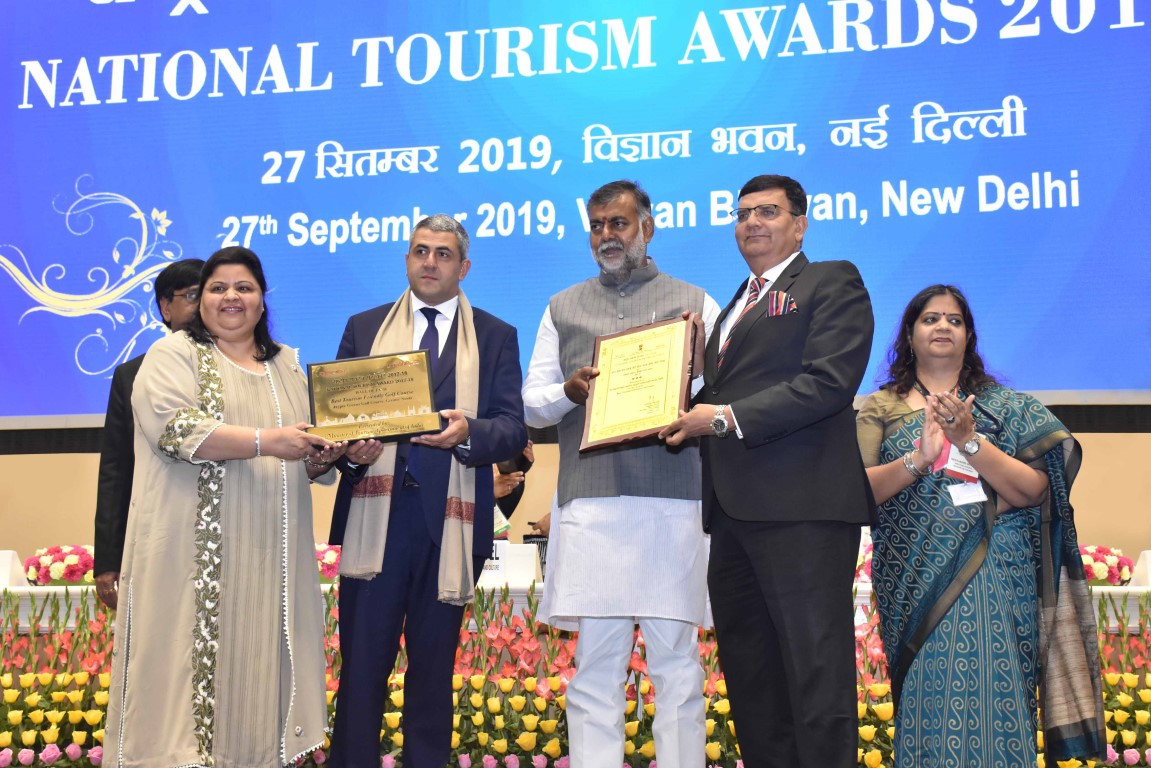 Shri, Prahlad Singh Patel, Hon'ble Minister of State for Tourism & Culture (Independent Charge) presided over this function. The award function witnessed Hon'ble Ministers, Central and State Government Officials, Members from the Travel and Hospitality Industry and prestigious media.
National Tourism Awards are given to Travel Agents and Tour Operators including best Adventure Tour Operator, best Domestic Tour Operator, most Innovative Tour Operator, Best Mice Operator, Tourist Transport Operator, best Hotels in the different categories, outstanding performers in Publishing, etc.
Awards are also given to the meritorious students of the institutes of Hotel Management and Indian Institute of Tourism & Travel Management.
Celebrating the success, Ms. Manju Sharma, MD, Jaypee Hotels and Resorts said, "We have consciously invested our time and effort in combining the warmth of traditional Indian hospitality, with modern systems and processes to create a truly contemporary, competitive and unique Indian hospitality brand. We feel incredibly great about our smallest contribution which is worth bringing a positive change in the tourism industry.
Also, the accreditation received from the government has highly motivated us and made us more perceptive about our actions; we are planning to get some more simplified solutions that could be more helpful to create and sustain a competitive edge over the competition in products and services through continuous quality improvement.
Know More About Jaypee Golf  Course
Jaypee Greens Golf Course is located in Greater NOIDA, Uttar Pradesh. The Golf course is catering to Domestic as well as Foreign Tourists. The golf course is spread across 197 Acres and has been designed by Greg Norman. This 18-hole championship golf course is Indian's longest golf course. 
Due to its location, this Golf Course is very popular in the National Capital Region and offers night golfing facilities.  The golf course also boasts of a 170 room Boutique Resort & Spa with recreational facilities, Tamaya Spa and an integrated sports complex-Atlantic. It has multi-cuisine restaurants, locker rooms, showers, steam & sauna, gym & a swimming pool. It also has a clubhouse called the Boomerang at a short distance from the first tee.
The golf course has well-maintained greens, tees, fairways, bunkers, roughs and hazards as per laid down norms to give the desired effect on the play. The Golf course has adopted energy conservation, Eco-friendly and waste management practices.
Know More About Jaypee Hotels
Contemporary style and elegance best describe Jaypee five Star Luxury Hotels at strategic locations. The group has five-star hotels; two in New Delhi and one each in Agra and Mussoorie with a total capacity of 689 rooms.
The Golf and Spa Resort is another 5-star luxury creation with 170 living rooms. Jaypee Greens, Greater Noida Golf Course is the only Greg Norman-designed golf course in India and operational since June 2000. The course is an 18-hole championship layout, designed with the firm belief of setting new standards for championship golf in India. Atlantis- The club at Jaypee Integrated Sports Complex is indeed the finest in the country representing the next evolution in sports facilities.
With over 20 disciplines in one place, the club is designed to offer world-class sporting events and tournaments, conferencing and recreational facilities and sports academies.
With a chain of luxury and deluxe hotels in India, Jaypee Group has emerged as a trusted brand in the hospitality industry delivering utmost comfort to the customers. Every creation of Jaypee Hotel is aesthetically-designed and sufficiently accommodative.
Jaypee Vasant Continental, New Delhi belongs to the league of pioneers in adapting and modifying its operations to achieving excellence in sustainable practices. We are amongst the top 20% of the most energy-efficient hotel buildings in the world as per Unites States' Energy star online benchmarking tool. We are also the second hotel in Delhi-NCR to have received the LEED EB – O&M Platinum certification.
Jaypee Greens Golf and Spa Resort, Greater Noida New Delhi Capital Region is an ultimate luxury wedding destination, nestled in 450 acres of lush green Township. Multiple venues within the resort offer choices to create themes and setups for sequential functions. Housed within the resort 90,000 sq.ft offers various traditional Ayurvedic, Western and Holistic therapies of Pre Bridal Spa Specials besides multiple cuisines options.