NewZNew (Chandigarh) : Journalists of Punjab, Haryana and Chandigarh under the banner of the Chandigarh Press Club today took to the streets of Chandigarh to protest the violence against their fraternity at the Patiala House Courts in Delhi two days back.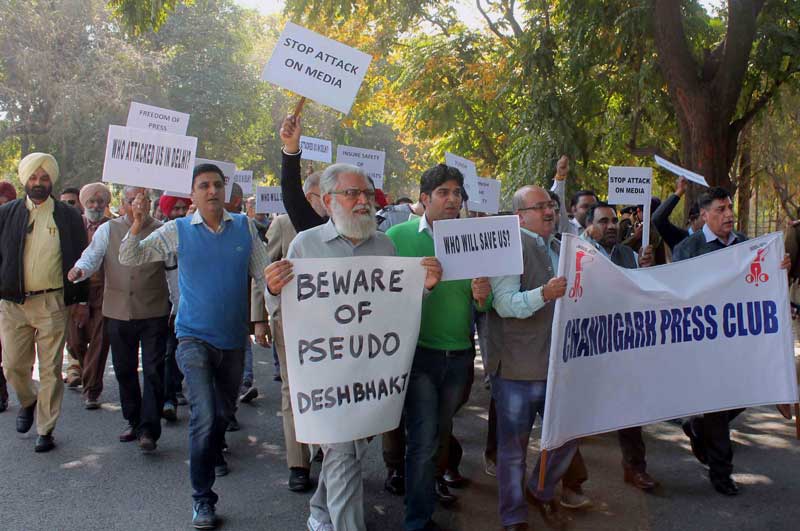 Carrying placards and raising slogans, the journalists demanded the resignation of Delhi Police Commissioner B.S. Bassi over the inaction of the policemen who remained silent spectators during the attack on the journalists by a group of attackers dressed as lawyers inside a court complex.
The club's governing council, led by president Balwinder Jammu and secretary general Nalin Acharya, later submitted a memorandum addressed to President Pranab Mukherjee through the Punjab and Haryana Governor.
The prominent journalists who participated in the protest that passed through various sectors, included Resident Editor of Times of India, Robin David, Associate Editor of The Tribune Nirmal Sandhu, former Indian Express resident editor Vipin Pubby, Deputy Resident Editor of Indian Express Varinder Bhatia, Editor of Satya Swadesh Khushal Lali, Editor of Yugmarg Dr. Chander Trikha, Editor of web news portals Baljit Bali and Satinder Bains, Media Advisor to the Deputy Chief Minister, Punjab, Jangveer Singh, former club presidents Jagtar Sidhu, Sarabjit Pandher, Gobind Thukral, A.S. Prashar, Akhil Gautam and Varinder Kumar.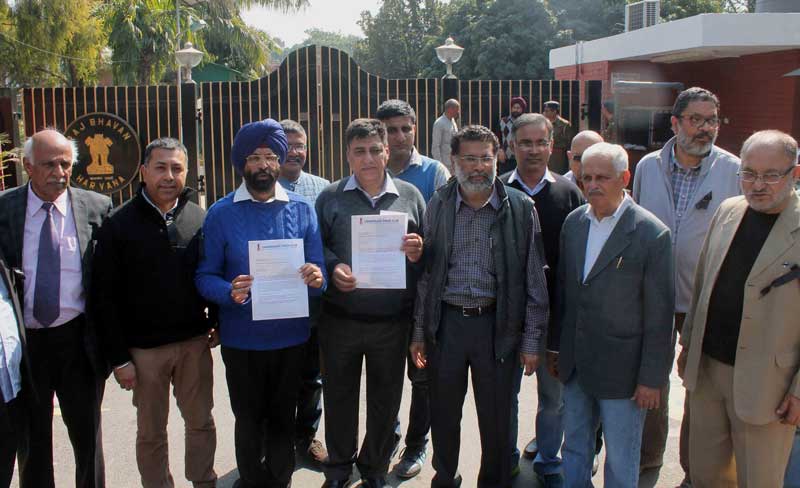 Various journalists, both print and electronic, lawyers and civil rights activists of the region joined the protest and expressed solidarity with the media.
Club president Balwinder Jammu, who addressed the journalists at the club, demanded action against the accused who manhandled the journalists in the court complex.
He said this was an attack on the freedom of expression. "The central government should act against the perpetrators of violence who tried to muzzle the voice of journalists, especially those on duty," Jammu said.
Club secretary general Nalin Acharya demanded setting up a judicial commission under the supervision of the Supreme Court to probe the recurrence of attacks on the journalists across the country.
The club governing council took strong note of another attack on a photo-journalist today saying, "It is height of the complicity of the Delhi Police. The police again could not provide security to the journalists despite a group of hooligans again targeting mediapersons covering the proceedings of the JNU sedition case."