NewZNew (Mumbai) : Coca-Cola India today launched the 27th edition of the prestigious Limca book of Records at the 'Make in India' week, (MIIW) 2016. This new edition celebrates the 'Specially Abled'. The attributes of these determined individuals truly embody the five principles that Limca Book of Records (LBR) stands for; Passion, Ambition, Excellence, Belief and Tenacity.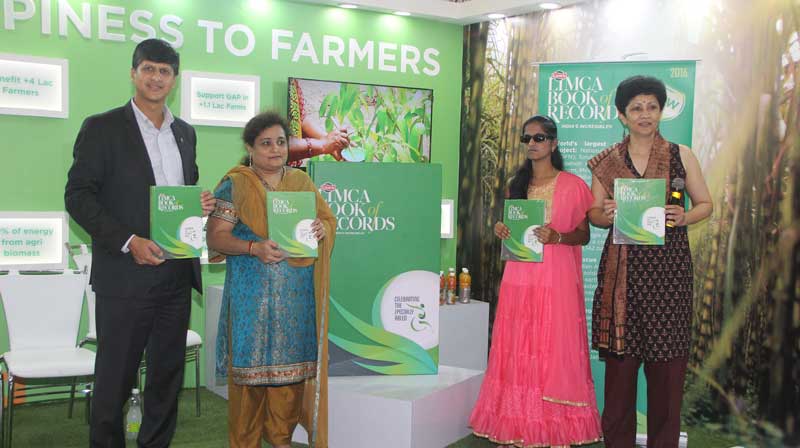 The book was launched by Ashwani Angadi, Limca Book of Records 'People of the Year' 2016 along with Venkatesh Kini, President, Coca-Cola India & South West Asia, Arthy Singh, Sr. Senior, Limca Book of Records and Bhawna Bhede, 3D Rangoli Artist, Limca Book of Records Holder from Maharashtra
This year's edition of LBR features three records of the Indian Prime Minister
PM with most Twitter following
First PM to take a Twitter Mirror
Most re-tweeted Indian tweet
The record book also features 7 records of the current Union government, which are
Social media link for govt-citizen connect
Most followed foreign minister on Twitter  
Largest Yoga class
Most foreign nationals at a Yoga event
Largest rural connectivity project
First total broadband-connected district
Most bank accounts opened
The event also marked the inspirational story of Ashwani Angadi, who overcame her physical disabilities to achieve tremendous success. Speaking about her journey Ashwani Angadi said, "I have never allowed my physical limitation to slow me down, rather, I have used it to fuel my passion and desire to not just help myself but also help others. As I stand here today to launch the new edition of Limca Book of Records, I feel great pride and also greater responsibility to empower several others lead their lives with confidence and with their head held high. Thank you to the Limca Book of Records team for acknowledging me and several other Indians who have made their country proud".
Other than the chapter on 'Specially abled', LBR 2016 also includes 19 informative chapters on arts, cinema, sports, adventure, science, medicine etc. Launched in India in 1990, it is the second book of records in the world after Guinness Book of World Records. It was launched with the objective of providing a platform to ordinary Indians to showcase their talent in their search for excellence. From then on, there has been no looking back. Today, the book has become a ready-reckoner for those who intend to break limits.
At the launch of the 2016 edition of Limca Book of Records, Mr. Venkatesh Kini, President, Coca-Cola India and South West Asia, said, "Much like the 'Make in India' week, LBR too instills a great sense of pride, encourages and drives people to dare, dream, imagine and showcase their talent. This year, we have chosen to celebrate the 'Specially abled'- for their determination and passion to rise above the ordinary. Make in India showcases the both the soft and the hard power of India to the world and LBR too showcases the real power of India – its people. The unsung heroes, who have risen despite all challenges and achieved unimaginable feats. We recognize the synergies and the singularity in thought of both these properties and that is how LBR now makes its debut at MIIW."
He further added, "Over the last 27 years, Limca Book of Records has encouraged thousands of Indians to go beyond the ordinary. We hope that it continues to stand for the collective will power of our society"
Elaborating on the special edition of LBR, Vijaya Ghose, the long serving editor of Limca Book of Records, said, "It's been a privilege to have edited a book that is not just a catalogue of extraordinary feats but also a part of many lives. I have known of people whose lives have been shaped or re-shaped by them getting a mention in the Record book. It has been a catalyst of creativity, courage and collaboration and I hope that people continue to shower all their love on the team and the Record book, like they have always done.
She further added, "This year's Record Book is even more special, as we record some unique initiatives of the Modi government. Shri Narendra Modi has created three records this year; becoming the first ever Indian Prime Minister to make it to the Limca Book of Records as being the world's third most followed leader on twitter, first prime minister to take a Twitter Mirror and having the most re-tweeted tweet".
Limca Book of Records is sold across leading bookstores in India in English, Hindi and Malayalam editions. This year, LBR has come out with a special pocket edition, meant more for the student community, priced at just Rs. 150/- and is available in all the above three languages.