Canadian Premier Admired for Building Strong Ties with India
Premier Witnessed Signing of Historical MOU Between UPEI and PAU
NewZNew (Chandigarh) : Today, Hon. Wade MacLauchlan, the Premier of Prince Edward Island (PEI), who leads a delegation of business and education representatives on a mission to India aimed at deepening relationships with the world's fourth-largest economy, witnessed a historical Memorandum of Understanding signed by Dr. Alaa Abd-El-Aziz, the President and Vice Chancellor of University of Prince Edward Island and Dr. Baldev Singh Dhillon, Vice Chancellor of Punjab Agricultural University.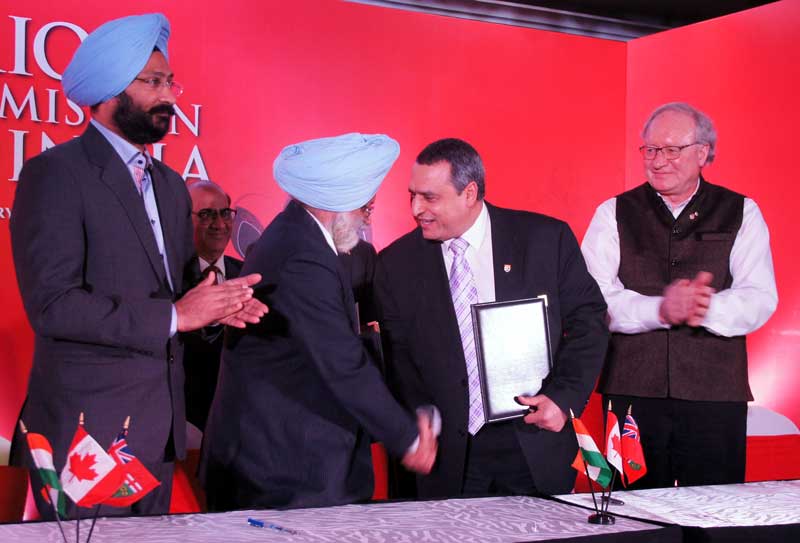 The MOU was signed with an aim to initiate Exchange of faculty and staff for the purpose of teaching and research; Joint projects related to research, teaching and faculty development; Exchange/study abroad programs for undergraduate and graduate student; Exchange of publications, research materials, newsletters, etc.; Participation in joint seminars, lectures, training and academic meetings; Development of joint initiatives with partner institutions, including joint or collaborative degree programs; Opportunities for full degree fee paying undergraduate/graduate study; and Exploring further program collaborations.
UPEI was established in 1969 and has four faculties (arts, education, science, and veterinary medicine) and three schools (business, nursing and sustainable design engineering). UPEI offers a wide range of programs and degrees to approximately 4,300 undergraduate, graduate and doctoral students and is home to 13 funded research chairs (including a Canada Excellence Research Chair in Aquatic Epidemiology) and five 3M Teaching Award-winners.
"While on this mission we will market UPEI to four new cities as a destination university for sciences, agricultural and design engineering, actuarial and computational science, business, and digital technologies. More than 20 percent of our student body is international and we recruit students from emerging markets such as India," said Dr. Alaa Abd-El-Aziz.
PAU was established in 1962, modeled on the pattern of land grant colleges in USA, and functions of teaching, research and extension in agriculture, agricultural engineering, home science and allied disciplines. PAU has a long history of mutual collaboration on research and is very proud of its accomplishments. PAU has played a key role in increasing food grain production in Punjab ushering the Green Revolution in India. PAU has won many awards and distinctions, including it was adjudged the best Agricultural University of India. PAU has 28 departments in 4 colleges viz. Agriculture, Agricultural Engineering, Home Science and Basic Sciences & Humanities. It offers 31 Masters and 30 Ph.D. programs and has a faculty of 866 and non-teaching staff of over 3000.
PAU continues to develop mutual cooperation with other institutions and share research and accomplishments. PAU is very proud to sign the MOU with UPEI, Canada. I am looking forward to tremendous mutual benefits for both universities", said Dr. Baldev S. Dhillon.
"I am very proud that both PAU and UPEI have agreed to sign the MOU for initiating mutual cooperation in various scientific fields. As an alumni of PAU, I am confident that both universities will benefit from the cutting edge research and academic excellence of each other," said Dr. Gurmant Grewal, the former MP and an orchardist in PEI, Canada.
PEI the birthplace of Canada, also called the 'food island of Canada' is the smallest province with great infrastructure, but big in leading Canadian growth in exports, manufacturing, income and economy. The leading industries in PEI are fisheries and frozen foods, agriculture, aerospace, biosciences, marine technology, IT & financial services, and tourism. PEI is only 0.25% in area of Canada with a population of about 150,000 but the GDP is 80% more than the average of Canada; 20% GDP of PEI is export oriented.