NewZNew (Chandigarh) : The NDDB foundation for Nutrition(NFN) launched its unique and novel programme "Giftmilk" to ensure nutritional support for school children.NDDB's wholly owned subsidiary, Indian Immunologicals Limited (IIL) partnered with NFN and launched the initiative in the Z.P. School, Laxmapur village, R.R.Dist, Telengana. IIL has adopted this school as part of its CSR activity.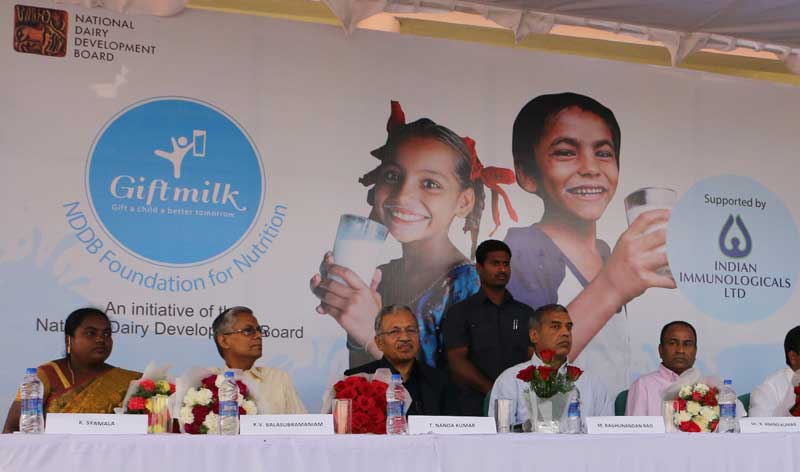 Shri T Nanda Kumar, Chairman, NDDB said that NFN will work with milk cooperatives to provide milk to school children. This is an effort to ensure that every child, across the nation, remains fit and healthy.
Shri M Raghunandan Rao, IAS, District Collector, Ranga Reddy District, Government of Telengana; Shri K V Balasubramaniam, MD, IIL and Dr K Anand Kumar, Deputy MD, IIL graced the occasion.
The school children were excited and enjoyed drinking flavoured milk from "Mother Dairy". This "Giftmilk" initiative will be implemented throughout the year in this school by IIL and will be monitored by NFN.
The NDDB Foundation for Nutrition (NFN) is a trust established by the National Dairy Development Board (NDDB), Anand in October 2015 and promoted by NDDB, its subsidiaries and the Gujarat Cooperative Milk Marketing Federation. NFN would arrange good quality and safe milk and milk products for school childrenand thereby contribute to eradication of malnutrition and promote consumption of milk and milk products including fortified milk and milk products.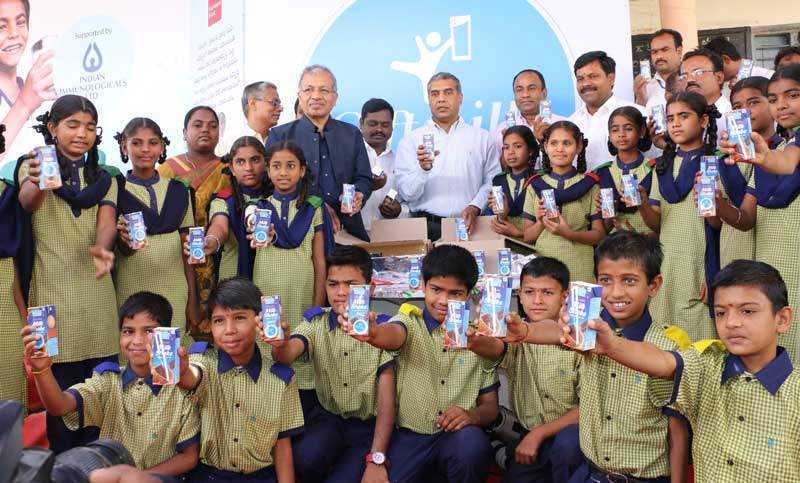 In order to meet the objective, NFN would raise funds, accept contributions and donations in monetary terms and kind, receive contributions and funds under CSR obligations of companies listed in Schedule VII of the Companies Act 2013.Funds would be utilized for sourcing 'safe' milk/milk products from dairy cooperatives and covering schools in the vicinity of such cooperatives where this would be distributed. 200 ml flavoured milk per child per day is considered for distribution. This could be either pasteurized milk in polyfilm pouches, or sterilized milk in extended shelf life pouches, or Tetra packs.
The National Dairy Development Board's creation is rooted in the conviction that our nation's socio-economic progress lies largely on the development of rural India. The National Dairy Development Board was created to promote, finance and support producer-owned and controlled organisations. NDDB's programmes and activities seek to strengthen farmer cooperatives and support national policies that are favourable to the growth of such institutions. Fundamental to NDDB's efforts are cooperative principles and cooperative strategies.
Indian Immunologicals Ltd. (IIL) was setup by The National Dairy Development Board (NDDB) with the objective of making Foot and Mouth Disease (FMD) vaccine available to farmers at an affordable price. IIL is today the third largest animal health player in the Indian market and the market leader in veterinary biologicals in India. IIL pursues not only the mandate of NDDB to provide products and services to enhance the quality of livestock in the country but also use its technological capabilities to the benefit of the people of India. IIL strongly believes that its mission of "immunity made affordable and accessible" can be actively pursued only with a sound technology base in modern biotechnology.