Threaten agitation if their issues are not resolved by the government
NewZNew (Chandigarh) : Progressive Dairy Farmers Association (PDFA), Punjab today warned if the government does not resolve their issues, they will be forced to launch an agitation.
"We are announcing that if the government doesn't find a resolution of our issues and ease off the NOC procedure for breeders till 10th August, we will be forced to come out on the roads to protest against them," warned Mr. Daljit Singh, President, PDFA while addressing media persons here today.
He said due to Efforts of PDFA, there is considerable change in the dairy farming sector. During last decade, dairy farming became an alternative to agricultural farming. Punjab contributes 50% share in Commercial dairy farming of the country and the credit for this goes to the farmers of Punjab.
The dairy farmers have managed to maintain this status by struggling a lot and by taking loans, as a result of which today Punjab dairy farmers are able to meet international standards. Further they were earning their livelihood by producing 40 percent additional milk every year, which was leading to improvement in their income.
"It is because of betterment of breed of Punjab cows that they are in great demand in other states. More than 3 lakh cows were going out of state and milk producers of the state were earning up to Rs 2500 crore." said Mr. Singh.
"Dairy farming is also becoming complex with innovations happening in the industry. The present government is bent on ruining the industry and this came at a time when dairy farming was prospering in the state and milk production was on the rise three times more in Punjab", he added.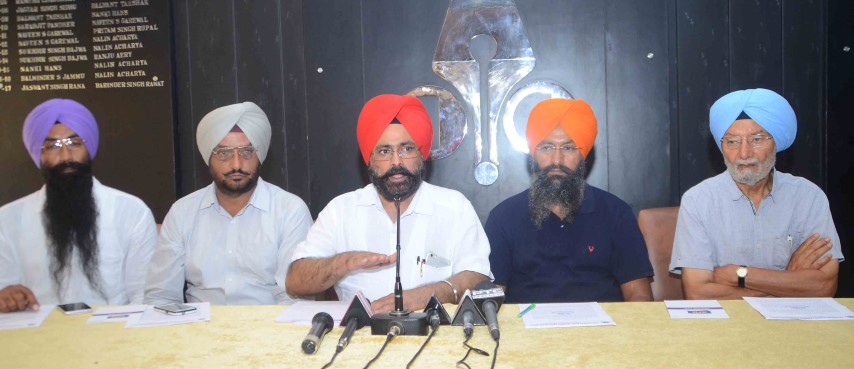 But Punjab Government is on verge of destroying, dairy farming, which is developing as an alternative to the crop diversification and agriculture. Milk production increased three times in last few years. Prices of feed and other items used in feed increased due to no action on people holding more than required stock of feed material, which is later sold at more than regular market price due to shortage of stock in market.
"With no increase in milk prices by government from time to time, and no help being provided as compared to states like Kerala, Haryana, Karnataka and other states where timely help of rs 2 to 4 is provided, milk producers in Punjab  are facing enormous economic difficulties. Since no help was being provided by the government, milk producers found selling cows as their only hope to increase income. It is considered this has also been stopped by state government under pressure of RSS. Punjab government ordered ban on selling of cows to other states citing cow slaughter as the reason behind ban", complained Mr. Daljit Singh
Government has created cow security board, which comprise of notorious and cheat elements, who along with cow protection groups under the name of cow protection with patronage of administration, beat outside traders and milk producers and loot money and animals from them. On the behest of RSS, state government under the policy to promote indigenous cows is deceiving farmers because indigenous cow can not be commercially benficial. This policy will destroy established dairy farms. Every year 3 Lakhs cows were sent out of Punjab and milk producers across the state earned revenue of 2500 crores, which stopped due to wrong policies of the state government. Milk producers are now finding it difficult to payback loan, worth crores, taken from bank.
"During August these breeders have to sell their cattle but due to problems and cumbersome NOC procedure, there are no buyers. Punjab farmers are struggling for their existence", he added.