Huawei bets big on the northern India market for its ebrand Honor and showcases Holly 2 Plus and Honor 5X
Expects 3 times growth in Northern market by end of 2016
Holly 2 Plus is India's first dual sim world phone; supports 4G for both CDMA and WCDMA at the same time. 2 GB RAM + 16 GB Internal Memory (Expandable Storage Capacity of 128 GB) with a 4000 mAh Battery with Smart Power 3.0

Honor 5Xavailable in gold, silver and grey color and features aRim-free touch fingerprint sensor, Qualcomm 616 64-bit Octa-core processor, with 2GB RAM and  3000 mAh battery
NewZNew (Chandigarh) : Honor, Huawei's Smartphone e-brand for digital natives today showcased its newly launched Holly 2 Plus and Honor 5X in an event in Chandigarh. The newly launched products are in line with the design philosophy of Honor and are aimed to meet the needs of digital natives through internet-optimized products which offer superior user experiences, inspire action, foster creativity and empower the young. Following Honor's successful footprint in India; the company is now looking at consolidating its position in the eastern region of the country.
Over the last 15 months, Honor in India has strived to come up with products which meet the unmet needs of the Indian customers by localized research and product development. With these two new product introductions, Honor is optimistic of providing phones which suit the needs of Indian customers.  Honor saw an over 2X growth globally closing 6 Billion sales value in 2015 compared to the 2.4 Billionclosures in 2014. Honor is expecting the similar growth rate in this year.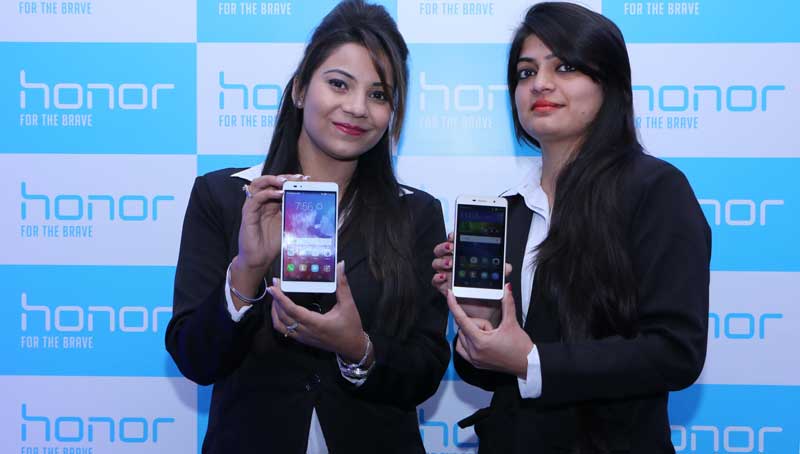 Holly 2 Plus is a powerful phone that boasts a unique and elegant design, powerful battery saving and unimaginable camera experience. The phone offers a 4000 mAH battery with a reverse charging to share your power with your friend via Micro-B USB to Micro-B USB Cable, Dual-mic Noise Cancellation Technology with Outstanding audio and integrated speaker experience. The phone offers 13MP rear camera and a 5MP front camera that helps to explain your best side.  The device offers 16GB internal storage and a MicroSD card slot for storage expansion. A 64-bit high speed processor and 2G RAM offer consumers more power and pleasure.
Priced at Rs.8,499/-
Honor 5X is a dual-sim phone  powered by a Rim-free touch fingerprint sensor with a 0.5 sec unlock  first honor metallic phone with nano-SIM, micro-SIM, and microSD card slots, together with expandable storage space up to 128 GB a 5.5  inch fully laminated GFF screen  1080p full HD  screen and Qualcomm 616 64-bit Octa-core processor. The phone is equipped with a 13MP rear camera and 5MP Front camera and is backed by a powerful 3000mAh smart power 3.0 battery which lasts for approximately 10 hours. The phone comes with a premium aircraft grade metal that offers 5 layer heat sinks with copper shielding cover. It runs on Android 5.1+ HUAWEI EMUI 3.1 Lite, this system offers a more intuitive, simple, clear and stylish design with a 150% more call clarity The phone boasts of 2G RAM + 16GB ROM memory. Other than this, the phone has 12bit ADC high-precision gravity sensor, Bluetooth 4.0, light sensor, proximity sensor, FM radio and Wi-Fi Direct Connect making one of the most powerful smartphones in this price segment. The phone had its debut at International CES 2016 earlier this month.