Dr. Anshu Kataria, Chairman, Aryans Group elected as President and Advocate Amit Sharma, ACET, Amritsar as the senior Vice President
NewZNew (Chandigarh) : To highlight the issues and problems being faced by Unaided Colleges, new association of unaided colleges is formed  as  Punjab Unaided Colleges Association (PUCA) .Earlier a meeting of several unaided colleges was held and it was decided to fasten the stir against government for its failure to protect and save dying unaided colleges of Punjab.
Dr. Anshu Kataria (Aryans Group, Banur) is elected as the president of newly formed association while Advocate Amit Sharma (ACET, Amritsar) as the senior Vice president, Gurfateh Gill (Adesh Group, Gharuan) as Vice President;  Gurpreet singh (Universal Group, Lalru) as General Secretary; Ashok Garg (SVIET, Banur) as Treasurer, Gurkirat Singh (Gulzar Group, Ludhiana) as Joint Secretary-I, CA Renu Arora (SPCET, Lalru) as Joint Secretary-II.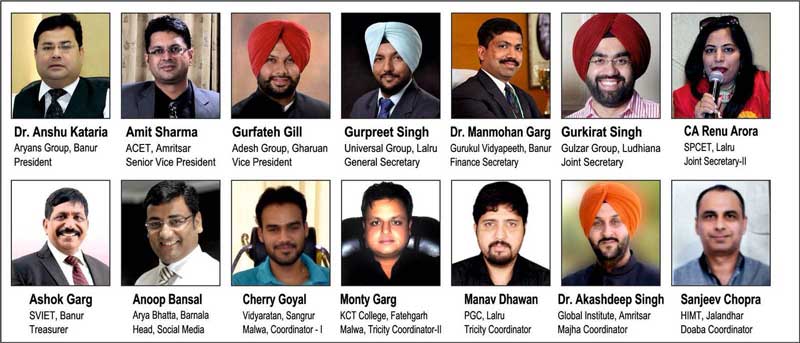 To highlight the financial problems being faced by the Colleges, CA Dr. Manmohan Garg (Gurukul Vidyapeeth, Banur) is chosen Finance Secretary and to highlight issues on social media Mr. Anoop Bansal(Arya Bhatta, Barnala) is appointed as Head Social Media.
To strengthen the membership of the association, region wise Coordinators are also appointed. Manav Dhawan (PGC, Lalru) as Tricity Coordinator, Cherry Goyal (Vidyaratan College, Sangrur) as Malwa-I Coordinator, Monty Garg (KCT College, Fatehgarh) as Malwa-II Coordinator, Dr. Akashdeep Singh(Global Instt, Amritsar) as Majha Coordinator and  Sanjeev Chopra (HIMT,Jalandhar) as Doaba Coordinator.
President Dr. Anshu Kataria  (PUCA ) said that the Government is failed on all fronts to save the unaided colleges. After the mushrooming of the Private Universities now the government is talking about the regulatory body and they want to bring unaided colleges under its ambit but the colleges are already regulated by central councils like AICTE etc. and state affiliated University like IKG-PTU, Jalandhar; MRS-PTU, Bathinda etc.
Post Matric Scholarship amount for 2014-15 is not fully disbursed and in 2015-16 also the first semester is almost over and a single penny has not been released yet. In Punjab OBC Students has not paid single penny since last many years while Himachal Pradesh, Bihar etc are paying full reimbursement of tuition fees to the OBC students. Because of the nonpayment/delayed payments to the colleges, the colleges are in huge financial crisis.
"We will first approach government with a request and if our problems would not be solved then we will approach opposition parties including Congress and AAP for the help and would also knock the doors of Hon'ble High Court if needed" Kataria added.
Amit Sharma, Senior Vice President, PUCA said that we have already started district level meetings with all colleges and by 31st March we are targeting to make around 400 unaided colleges as our members including Engineering, Polytechnic, Pharmacy, Hotel Management, Degree, Education etc.
Gurfateh Gill, Vice President, PUCA said that this week the association of the unaided colleges comprising of Punjab, Haryana, Himachal Pradesh and Rajasthan is meeting in Delhi to decide on the strategy to raise these issues on the state and central level.