This Diljit Dosanjh starrer Punjabi film is releasing on 25th March worldwide
NewZNew (Chandigarh) : Diljit Dosanjh is set to weave the magic once again as he returns this season as 'Ambarsariya' to paint your hearts in the true Amritsari style. Love, Music, Masti, Celebrations and a lot of heartfelt emotions are suffused in this Tips Films Production directed by Mandeep Kumar, the Superhit Director of Jihne Mera Dil Luteya.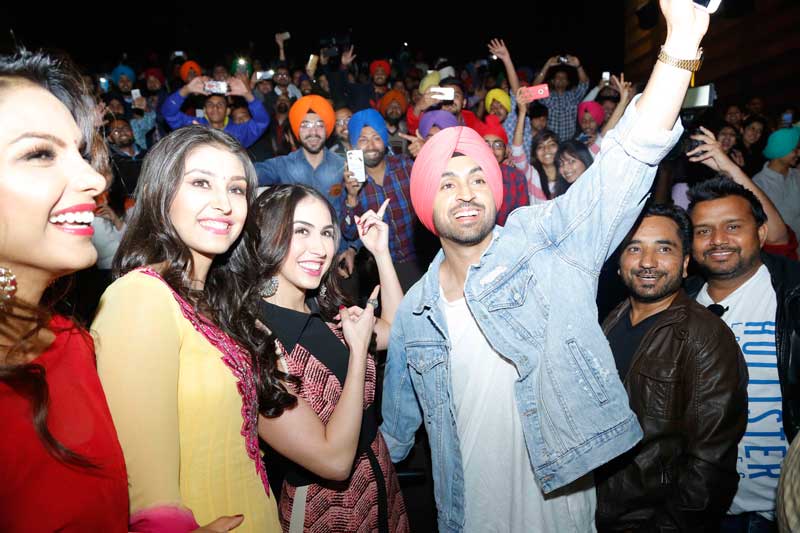 The trailer of this much awaited release of the season Ambarsariya was released at Cinepolis Cinemas, TDI Mall, Sector 17 A, Chandigarh in the biggest trailer launch event ever in the history of Punjabi Cinema. Diljit Dosanjh, Gurpreet Ghuggi, Monica Gill, Navneet Dhillon, Rana Ranbir, Lauren Gotliebb along with Kumar Taurani, MD of Tips Industries Limited and Director Mandeep Kumar were present at the launch event. The trailer launch for Media was held in a separate Audi, followed by an Interaction with the media representatives. After the interaction, the stars met the fans and watched the trailer with them in another Audi on the same Day.
Speaking to the Media persons, Diljit Dosanjh, the star of the movie, said that he was enthralled at coming together again with Mandeep Kumar. He said, "This movie is a perfect blend of emotions and entertainment in a true Amritsari way. It is surely one of my all time favorites."
Voicing a similar enthusiasm…..Mandeep Kumar said, "Working with Diljit is always a great experience. I am positive this movie will be as well received as was Jihne mera dil luteya and will be loved by the audience across Punjab and the rest of the country too."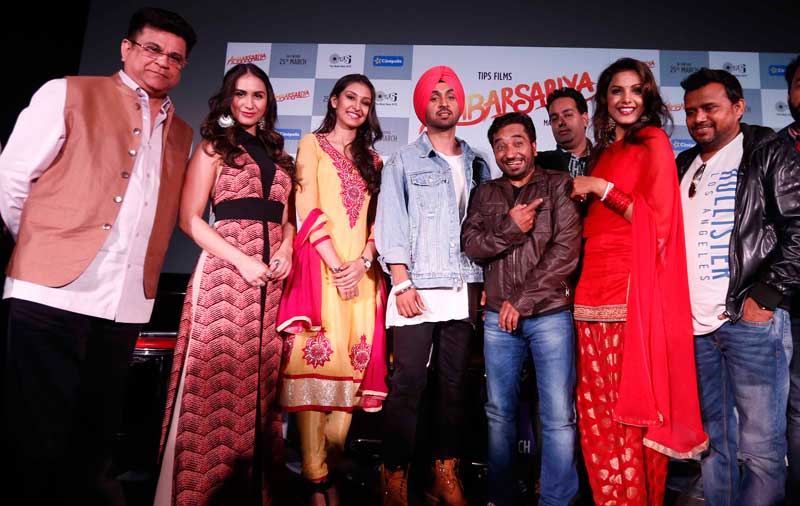 Expressing his delight at the success of the biggest ever trailer launch in Punjabi Cinema, Kumar Taurani, MD of Tips Films said, "Amabarsariya is not just a movie. It's the spirit of Punjabiyat personified. I am delighted to introduce to you all this mesmerising entertainer."
The fast paced awe- inspiring trailer set the stage for the movie that promises to bring alive the warmth, purity, colors and taste of the Holy city of Pride- Amritsar. The power packed performances of the likes of Gurpreet Ghuggi, Rana Ranbir, Binnu Dhillon are sure to add the desi ghee ka tadka to this Ambarsariya recipe. Navneet Dhillon, Monica Gill and Lauren Gotliebb will add a touch of spice and freshness. Diljit is likely to ride smoothly into a million hearts on his trademark Yezdi Bike in his role as an insurance agent with a record number of sales to his name. He is the friendly next door youngster who is mischievous yet helpful and as the ladies in the film say, "Oh My God Ainna Sohna…!! This popular Punjabi Gabru lives by a unique mantra- "Thanda khana, tatta nahana te kudiyan diyan gallan ch na aauna.
Smiles, tears, laughs, love, emotions and ample thrills are abound on this out and out roller coaster journey. Get set to hop on the Ambarsariya Ride on the 25th of March and taste True Punjabi Pride with the stalwarts of Punjabi Cinema.