516 MEN, 418 WOMEN, OFFICIALS TO PARTICIPATE IN THE GAMES
ARRANGEMENTS FOR LODGING, FOOD OF PARTICIPANTS COMPLETED
NewZNew (Bathinda) : Bathinda will be hosting Shaheed-E-Azam Bhagat Singh Punjab Games (men and women) for under 25 years category from Feb 14 to Feb 19 wherein 516 male players, 418 female players and officials will be participating.
Addressing a press conference convened in this context today the Deputy Commissioner Dr Basant Garg stated that national kabaddi and circle style kabaddi tournaments will be held wherein 22 districts' players will be participating.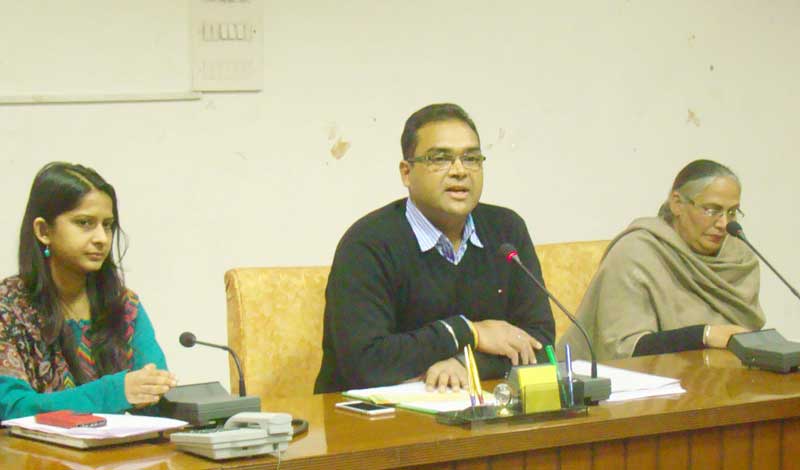 Dr Garg said that on Feb 14 PWD Minister Mr Janmeja Singh Sekhon will inaugurate the event while on Feb 19 the Panchayat and Rural Development Minister Mr Sikandar Singh Maluka will be chief guest of the closing ceremony. He said that a tug of war show match will be held wherein Bathinda team will play opposite Sri Muktsar Sahib.
Dr Garg said that in the circle style teams there will be 12 players and in national teams there would be 14 players. He added that the team securing first place will be given Rs 25000 cash prize per player, second team will be given Rs 17000 cash prize per player and the third team will be given Rs 12000 per player. The total winning amount up for grabs will be Rs 25 lacs.
The Deputy Commissioner said that for the players coming from districts help centers will be set up at bus stand and at the railway station so that the players are accorded help as soon as they land in the city. Giving information about the staying arrangements made for the players, Dr Garg said that the arrangements have been made for comfortable stay of players in Guru Harkrishan School, SSD Public School, MSD School, SSD Moti Ram School, MHR School, Guru Nanak Public School, DAV School, Bhojraj School and Dasmesh Public School.
Public Health department has been directed to ensure that all these places are properly inspected and ensured that they have proper toilets and bathrooms.
Dr Garg added that good arrangements have been made for the food to be served to players and the visiting officials. He added that directions have been given to the health department officials to its medical teams as per need.
The ADC (D) Miss Sheena Aggarwal, District Revenue Officer Mr Avtar Singh Makkar and District Sports Officer Mrs Saroj Dhiman were also present.