NewZNew (Chandigarh) : Sim Bhullar, who on April 7 became the first player ofIndian descent to play in the NBA, was in Chandigarh on May 6 to promote the growth of basketball and inspire children to stay active and healthy by playing the game. The 7'5" centerwill helptrain the top 140 youth from across India whoparticipated in the Reliance Foundation Jr. NBA program, the NBA's premier grassroots event.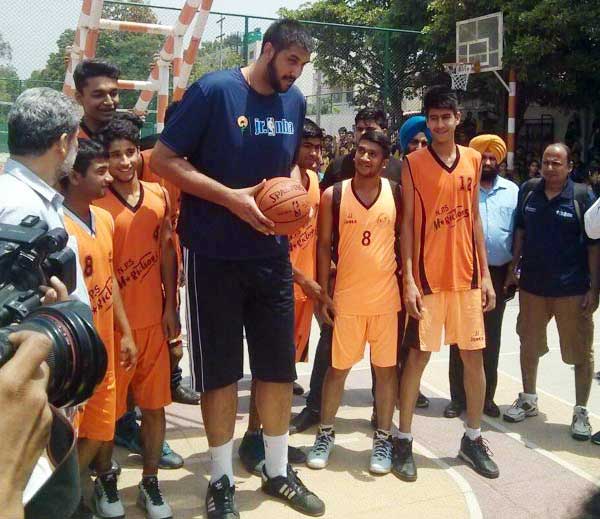 "I am very excited to travel to India to see firsthand how basketball's popularity has grown and to meet young basketball players across the country," said Bhullar. "Hopefully sharing my story will help inspire young Indians to pursue their dreams on and off the court, just as I have."
The 22-year-old Bhullar first traveled to Mumbai on May 2interacting with fans, touring the city and also appeared on Sony SIX's IPL Extra Innings show on Sunday, May 3. Bhullar then traveled to Noida to inaugurate the Reliance Foundation Jr. NBA Elite National Camp at Jaypee Greens on May 4.
On May 5, Bhullar traveled to Amritsar to visit the Golden Temple and Pingalwara, a home for individuals suffering from incurable and terminal diseases,to which Bhullar's family made a contribution. On May 6, he will visit Chandigarh to conduct a Reliance Foundation Jr. NBA clinic for 150 children at New Public School. Bhullar will then return to Noida on May 7 to celebrate the final day of the Reliance Foundation Jr. NBA Elite National Camp.
The inaugural Reliance Foundation Jr. NBA Elite National Camp, which consists of skills training, competitions, games, fitness training and team building exercises, will be held in Noida May 4-7. The camp is the culmination of the Reliance Foundation Jr. NBA program that promotes health, fitness and an active lifestyle through basketball, and teaches the values of the game such as teamwork, sacrifice, discipline, dedication and sportsmanship. Since 2013, the programhas reached more thanone million youth in 1,000 schools in eight cities. The NBA has also trained more than 1,000 PE teachers, and donated more than 15,000 basketballs and 300 rims to partner schools. As part of the program, NBA legends Bruce Bowen and Muggsy Bogues, and WNBA players Swin Cash and Tamika Catchings have visited Chandigarh, Kolkata, Kochi, Ludhiana and Mumbai to conduct basketball clinics for players and coaches.