NewZNew (Chandigarh) : Underdoggs Sports Bar & Grill is tricity's only true sports bar and its 4th Anniversary celebration too is quite sporty. On the occasion, the Sports Bar has unveiled 'Big Stadium Bites Fiesta' which is a short duration festival, to mark the outlet's Anniversary. The same has on cards a mouth-watering menu, which is also in a way a tribute to Indian Sporting greats. The fiesta will be on till February 7.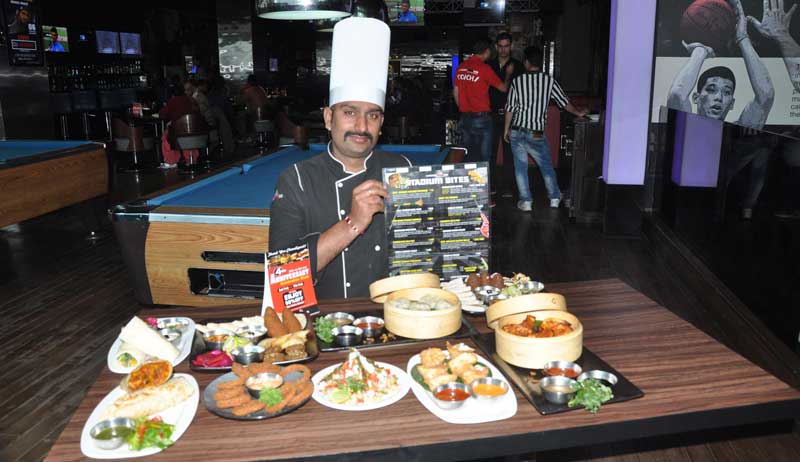 It's Game, set, match with 'Leander Pae's Pav' which is packed with Keema & just the right sprinkling of herbs. 'Baichung's Wontons' are a celebration of India's Ace Soccer player and egg you on to Go-for-Goal. Can India's National game Hockey be far behind? 'Sardar Singh Chaat' is a lip smacking chicken chaat as the Punjabi Captain demanded his with protein. Legendary Cricketer Sachin Tendulkar is remembered at the festival with 'Tendulkar Aila Pav' a heavy hitting Mumbai based recipe.
'KKR or Kolkata Kathi Rolls' are there to salute the famous Sporty spirit of Kolkatans both inside and out of the stadium. 'Sumo-Sa Chaat' includes a heavy Samosa akin to big sizes associated with Sumo wrestling.
According to Vikas Mitra,Restaurant Manager, "The ambiance at the outlet is really sporty with large HD screens beaming live sports action for food & sports enthusiasts. Being a Sports Bar we have tried to make the experience for visitors more exciting by creating a Festival menu flavoured with sports. Dishes have been given creative names based on players as well as in general on the Indian sports ethos."
Adds Executive Chef Dinesh Sharma, "To make the Anniversary celebration a real treat for patrons, we have announced a flat 50 per cent discount across the menu, barring the 'Big Stadium Bites' Fiesta menu, as it is already very competitively priced."
So for fans of Underdogg's Sports Bar & Grill is going to be an unbelievably economical eating & drinking out experience. Its noteworthy that Underdoggs Sports Bar & Grill, Elante Mall, Chandigarh serves mouth-watering delicacies in a family compatible modern setting. Added to this they have periodically brought artistes from different fields like bands, singers, stand-up comedians etc to entertain their guests in the Sports Bar's  matchless environment.