NewZNew (Chandigarh) : In general, every human being now a days is  feel disturbed or distressed due to one or the other reason, and stressed mentally, leading to flickering in one's thoughts. Everyone try to take help in some sort to achieve mental peace and stability; be it prayers, deep breathing, or spiritual inclinations, but again returns to restlessness after a while. The root cause for this is that one is not attached with the stable, hence making it impossible to get permanent stability. These thoughts were shared by Shri JRD Satyarthi Ji-President Sant Nirankari Mandal Delhi, here at Ram leela Ground in Sector 40-A at the Nirankari Sant Samagam while addressing hundreds of devotees on the occasion of Republic Day.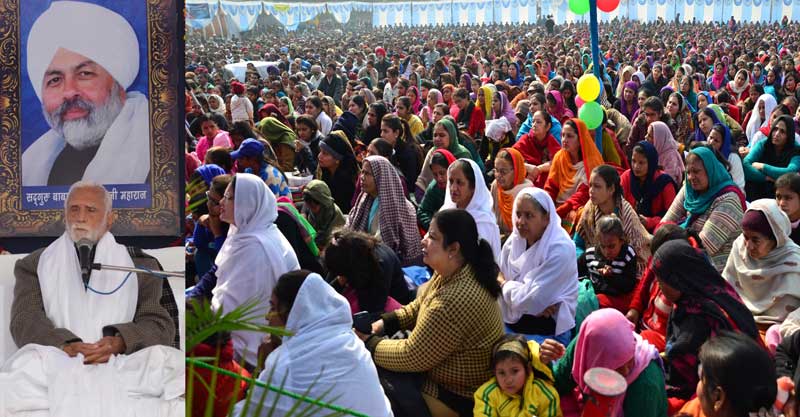 Shri Satyarthi Ji further stated that the things that exist in the universe, be it temporary or permanent are subject to change due to its dependence on time and space. Only God is an entity which is independent of time and space, hence is permanent & stable. God was only  existence prior to the existence of this universe and will remain as such after destruction of universe as well. In the present times too, its existence is omnipresent. God is not present only on this earth but everywhere out of this earth also, where human intellect cannot reach. Due to this in all religious scriptures, God is described as omnipresent, formless, Imperishable and almighty.
He also stated that devotees, who come into the asylum of Nirankari Baba Hardev Singh Ji Maharaj, attain an immediate understanding of this omnipresent God. After this attainment, one always realizes this Almighty God besides him. Devotee start living in fear of  God & follows the path of truthfulness and divinity to serve humanity without self-ego. If such devotee intentionally or un-intentionally commits some mistake, God forgive them. Such devotee always enjoy a blissful life and makes their life a success.
Shri Satyarthi Ji emphasised on the fact that anyone who doesn't realize the God in his lifetime doesn't lead a realistic life. Such person is a dead person while being alive. Man is always keen to set materialistic targets, and works towards them to achieve, and forgets the aim of attaining God-knowledge. It is obvious that human being is attracted towards materialism but tend to remain ignorant of God's existence, but saints and prophets have always motivated human being attain the knowledge and understanding of all-pervading.
Shri Satyarthi Ji further reiterated that we shall tread the path of humanity & shall serve the mankind selflessly with honesty and responsibility. We shall consider everybody as our own & love everybody.
Smt Joginder Kaur ji-Administration incharge, Sh Mohinder Singh ji-Sanyojak, Chandigarh and Sh. Sohan Singh Banga Ji Add. Mukhi Sector 40 Area, welcomed Sh Satyarthi ji & entire congregation.