Corruption can be eliminated by delivering online services
Rubbishes propaganda against Punjab and Punjabis by presenting facts
Addresses national conference on innovations during "eGov summit-2106"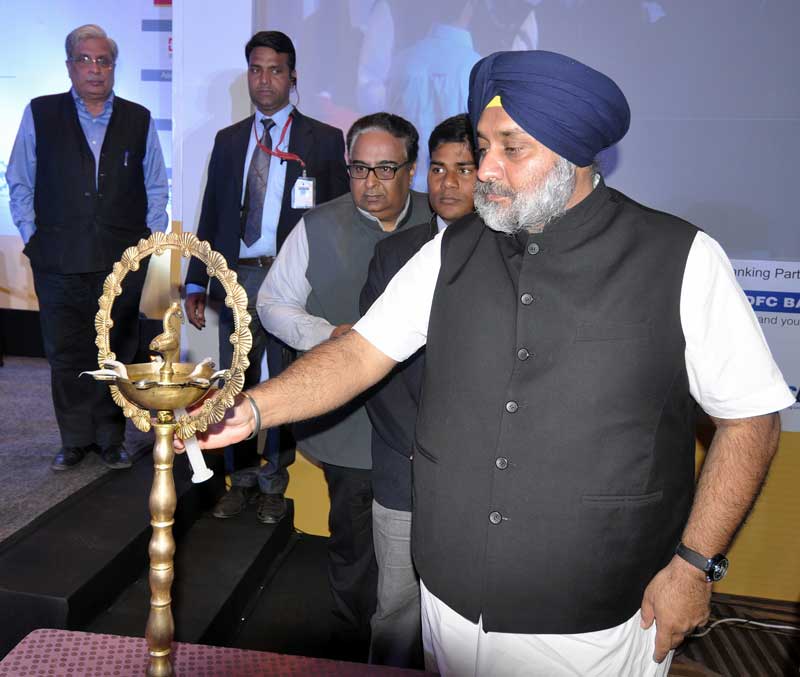 NewZNew (Chandigarh) : Punjab Deputy Chief Minister Mr Sukhbir Singh Badal today advised all the states and center to adopt Punjab model on e-Governance and administrative reforms to restore dignity of citizens and attract liberal investments.
Addressing a national conference on innovation in governance during "eLets Punjab Summit-2016" here today, Mr Badal said corruption is prevalent in every sphere in our country but it could be contained not by making the legislations but implementing IT solutions thereby minimizing the interface between officials and public for fast delivery of citizen centric services. "Punjab had implemented first of its kind administrative reforms in civil, police and industrial sector which were appreciated at all levels in India and abroad," said Mr Badal.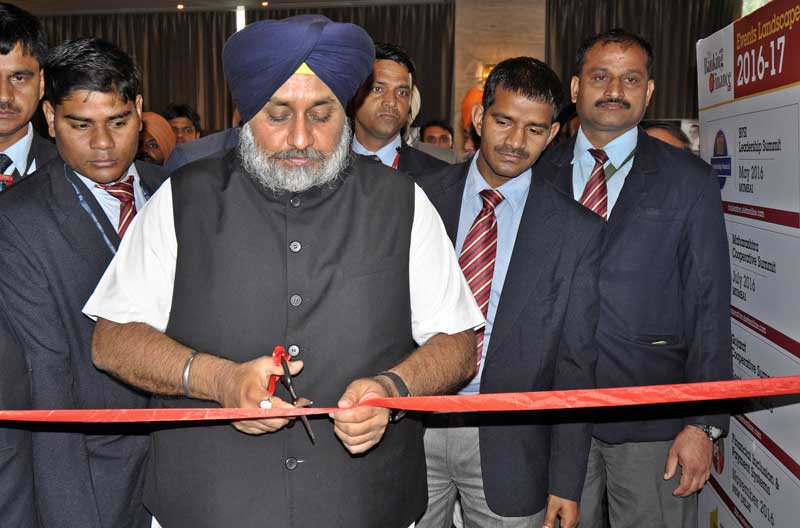 During his 58 minutes power presentation Deputy CM informed the delegates that Punjab had transformed the relationship between officials and stakeholders in provisioning of government services online which resulted into hassle free environment for the public in Suwidha Kendars, Sanjh Kendars, Fard Kendars. "Keeping in view its success we will shortly inaugurate 2174 Sewa Kendars in rural and urban areas to provide 206 services under Right to Service Act at their doorsteps," he said.
He emphasised that the Punjab government was determined to implement unique administrative reforms and IT solutions in each department so that people could get all types of government services online and not have to stand in lines for the same. He said the Punjab Governance Reforms Commission (PGRC) as well as Reforms Department had been asked to get feedback and identify the hurdles facing the people in getting delivery of services besides abolishing age old legislations.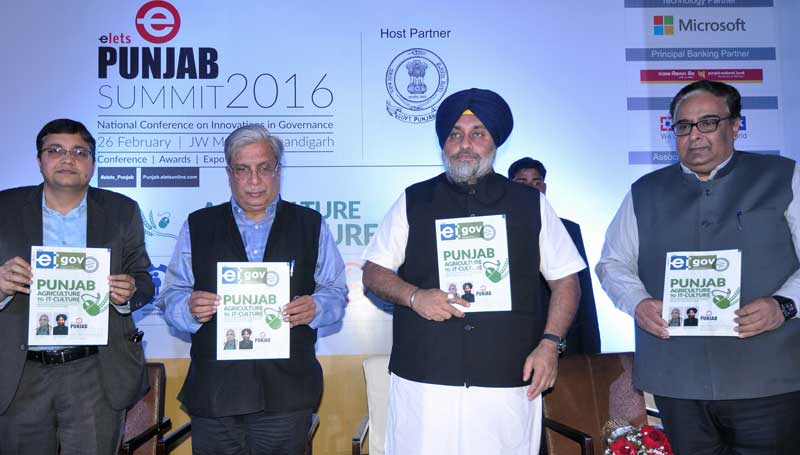 The Deputy CM elaborated the distinction between reality and propaganda launched by opposition regarding drugs, fiscal and governance position of the state. Making picture clearer regarding revenue receipts, Mr Badal said that 5 year rule of previous congress government yielded only Rs. 36,000 crore whereas during 2007-12, this figure was Rs. 68,757 crore which rose to Rs. 99,741 crore during 2012 untill now.
Urging the opposition parties not to mislead people by stating random figures he said that productive debt had stimulated overall growth and was good for the State. He added that even progressive nations took productive debt to bolster their economies. Clearing the mist over the misnomer that Punjab was burdened with heavy debt, the Deputy CM stated that Punjab was still amongst the least indebted states in the country.
Regarding power sector, Mr Badal said Punjab has become only power surplus state due to persistent efforts of present regime. In 2011, power board stood at lowly 17th rank whereas in 2015 it was conferred 'best power utility' award. He said state had spent Rs 30,000 crore to achieve power surplus status by adding 6,100 MW in power generation.
In his address Dr Parmodh Kumar Chairman PGRC said in doing away with affidavits Punjab had won accolades at national level even Prime Minister had awarded the State with 'better administrative governance award' for adopting this unique approach mandatory for getting 89 public services. He informed that the union government and few other states have also adopted this one of its kind practice thereby putting a stamp of appreciation on this brainchild initiative of Punjab Deputy CM Mr. Sukhbir Singh Badal.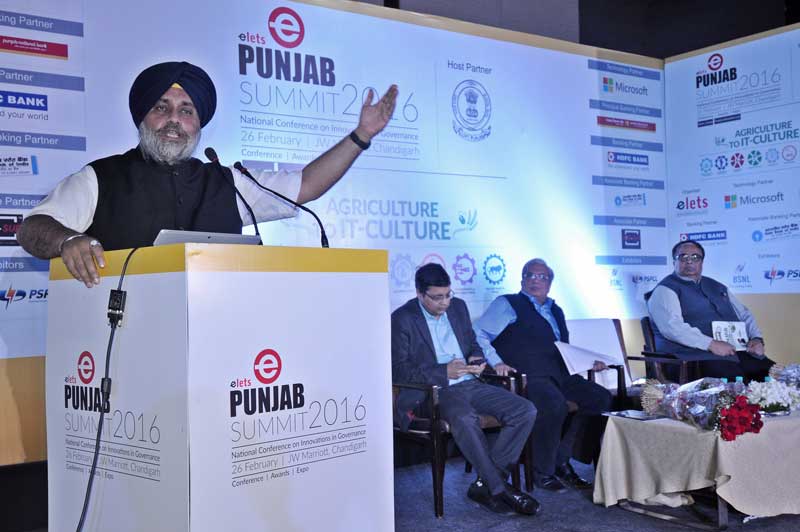 Speaking on the occasion chief secretary Sarvesh Kaushal said that dynamic vision and farsightedness of energetic Deputy CM Sukhbir Singh Badal had lead the nation in implementing unique administrative reforms to provide hassle free services to the people. Reiterating commitment of State he asserted that governance in Punjab would be citizen centric and all citizen services would be available online and on mobile applications also. Summit organiser Dr Ravi Gupta CEO eLets Technomedia Pvt Ltd presented vote of thanks.
Among others present on the occasion included Chief Commissioner Punjab Right to Service Commission SC Aggarwal, Additional Chief Secretary PWD Dr Nirmaljeet Singh Kalsi, Principal Secretary higher education G. Vajralingam, Principal Secretary Industry and CEO Punjab Investment Bureau Anirudh Tewari and Regional Manager Microsoft Utkarsh Amitabh.