NewZNew (Mumbai) : Sunny Leone's Mastizaade Movie Review And Ratings | Box Office Collection :- The Bollywood film "Mastizaade" is ready to hit theater this week, staring Sunny Leone, Tussar Kapoor and Vir Das. The film "Mastizaade" touted as an adult sex comedy and reportedly the film is filled up with heavy raunchy and double meaning dialogues. So you can't watch the movie with your family, but the film will be an entertaining for the youth audiences.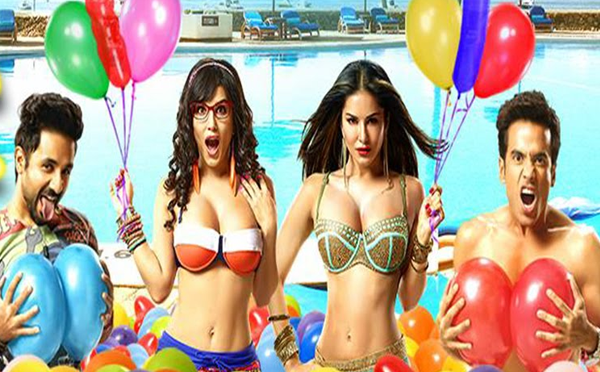 Mastizaade Movie Review & Ratings
In the movie Sunny Leone is playing dual roles of Laila and Lilly. And Laila and Lilly is pair-up with Tussar Kapoor and Vir Das respectively. The total story of the movie "Mastzaade" revolves round Laila and Lilly (Sunny Leone) and her sexy moves.
In the movie Sunny is keep seducing Tussar Kapoor and Vir Das and the boys are literally smitten by Sunny's hotness. Riteish Deshmukh is also playing an important role in the movie, it will be his special guest appearance.
Riteish Deshmukh is playing role of a love guru in the movie who runs an Ashram called "Aurgasm Ashram". How Riteish entry will changed Sunny's life, story is all about that. Till now trailer, teaser and all that are liked by the audiences.
The question is whether the film will be liked by the audiences or not. Film will be hit theater tomorrow and then the picture will be clears. It will be interesting to see what will be the audiences' reaction for the film.
Last week Tussar Kapoor's another sex comedy "Kya Kool Hain Hum 3" released but the film only managed to do decent performance at the box office. The film was unable to stand in the front of "Airlift".
This week "Mastizaade" will be having huge competition from the R Madhavan's sport film "Sala Kaddoos". "Sala Kaaddooss" also gained a huge audience's attention so it will be definitely giving huge competition to the "Mastizaade".
Indeed "Mastizaade" is having audience's attention since it announced and now it is all set to release. Meanwhile, as per report the film "Masatizaade" is having all masalas which an entertaining film is having.
Positive points of "Mastizaade":
It is a full-fledge comical movie
Huge hype, publicity, buzz and promotion
Sunny Leone's dual role at the same time she is hottest too
Negative points of "Mastizaade":
You can't watch this film with your family
"Mastizaade" will be having huge competition with "Sala Kaddoos"
Details of the film "Mastizaade":
Film: "Mastizaade"
Directed by: Milap Zaveri
Produced by: Pritish Nandy and Rangita Pritish Nandy
Star cast: Sunny Leone, Tussar Kapoor, Vir Das, Sadh Randhwa and Suresh Menon
Music by: Meet Bros Anjjan, Amaal Mallik, Anand Raj Anand and Sandeep Chowta.
Genre: Adult Comedy
Rating: 2.5/5 **