NewZNew (Comic) : Read Surinder Singal Barnala Ke FILMY KUTAPPE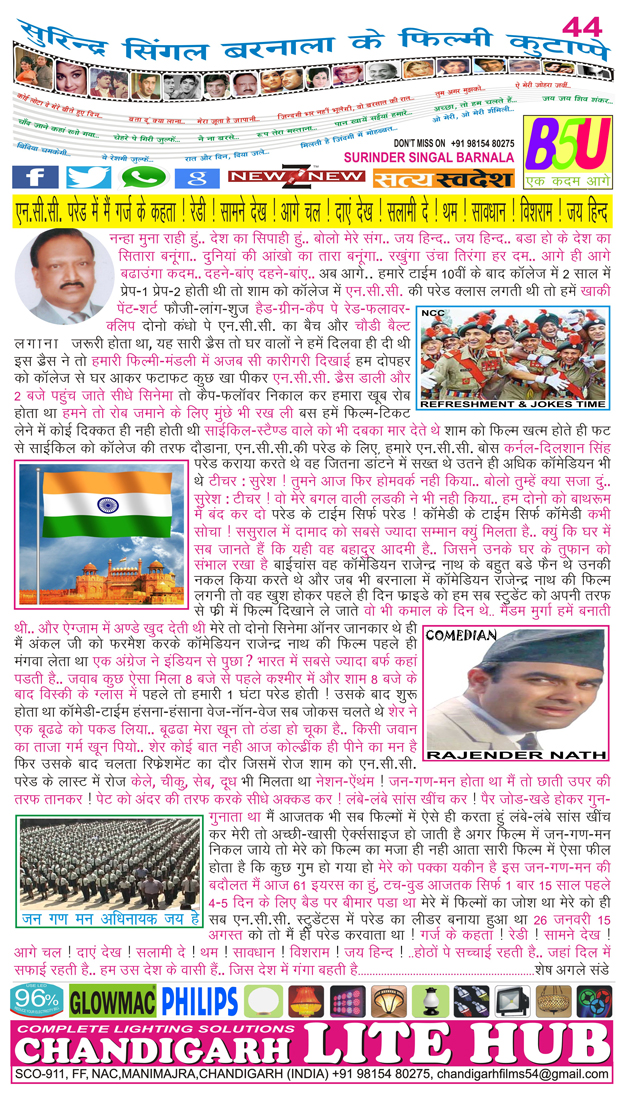 Filmy Kutappe – 43 in English (Translated by Anoopinder Kaur)
During our times, after 10th, there were two years of Prep-1 and Prep-2. During the evenings, college held NCC classes. Students gear up in uniforms, long boots, caps and badges. We adorned the NCC cadet get up and straight went to cinema in the afternoon and used to dictate and rule the entire cinema office and cycle stand. After the movie got over, we headed back to the NCC class. Our NCC teacher, Colonel Dilshan Singh was very strict but a humorous and a witty man.
Teacher: Why haven't you completed your homework? How should I punish you?
Suresh: Sir, even that girl over there hasn't done her homework. You should lock us together in washroom.
He was a big fan of comedian Rajendra Nath. "Ever thought why a son-in-law gets special treatment at his in-laws? Since girl's family knows, he is the brave soul who can handle their 'Tornedo' girl."
He took us to cinema for Rajendra Nath's film. I knew the owner of cinema and requested him to bring Rajendra Nath's movies. Col. Singh took our parade class for an hour and then comedy session started. "Sher ne ek budhhe ko pakad liya..Budhha: mera khoon to thanda ho gya hai, kissi jwaan ko maaro. Sher: koi baat nhi..aaj cold drink peene ka mann hai"
After the NCC classes, we used to get fruits refreshment and sang National Anthem. The way he taught us to stand during National Anthem is still I follows everytime I watch movies at cinema.
"Hothon pe sachai rehti hai..jahaan dil mein safaayi rehti hai..hum uss desh k vaasi hain..jis desh mein ganga behti hai"
Read Surinder Singal Barnala Ke FILMY KUTAPPE every Saturday exclusively on www.newznew.com
for More Filmy Kutappe Please like www.facebook.com/newznewonline