NewZNew (Chandigarh) : The Valedictory Function of Oil & Gas Conservation Fortnight (OGCF)-2016 was organized at Bal Bhawan, Sector-23, Chandigarh, by Hindustan Petroleum Corporation Ltd (HPCL) through State Level Coordinator (Oil Industry). Mr. Ggandeep Singh Sodhi, State Level Coordinator (Oil Industry), U.T. Chandigarh & Senior Regional Manager(HPCL) was present along-with Ms. Bhawana Garg, IAS, Special Secretary-Finance, UT, Chandigarh who was the Chief Guest at the   Function. In his welcome address Mr. Sodhi, brought out the importance of Conservation of Oil & Gas and highlighted the activities undertaken during OGCF-2015 and the need to carry forward the same in everyday life.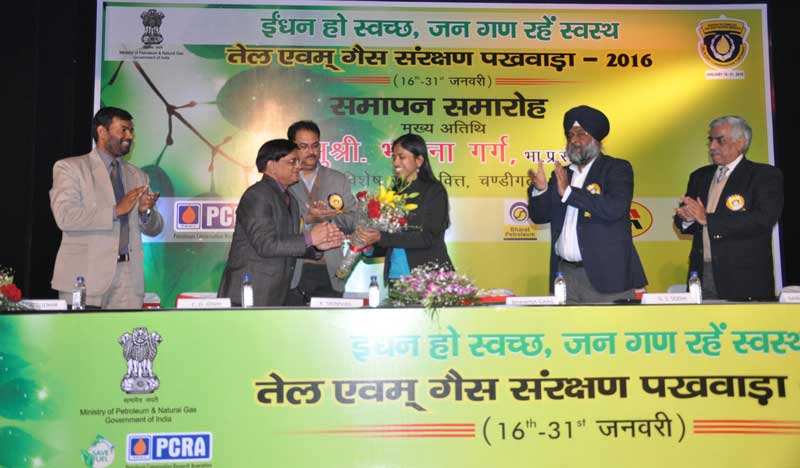 A skit on Oil and gas conservation was enacted which in an entertaining way made people   think about the shortage of fossile fuels and the need to use oil and gas sparingly. A Saraswati Vandana, dance and a bhangra performance by school students during the event also mesmerized the audience.
The Chief Guest Ms. Bhawana Garg highlighted the importance of OGCF undertaken and carried out by Ministry of Petroleum & Natural Gas, PCRA and PSU's Oil Companies. She expressed the need of Conservation, as the Nation was dependent upon imports for its major requirement of Crude Oil at an enormous cost of foreign exchange.
Since many competitions had been held during the OGCF celebrations trophies and prizes were awarded to the winners at the function by the Chief Guest and Mr. Gagandeep Sodhi. The proud recipients of the trophies were the victors of Quiz Contest, Drawing and Painting Competition, Slogan writing Competition of various Schools. Trophies were also given to the Schools for their active participation in various OGCF events like walkathon, cyclothon LPG and Kerosene Conservation Clinics, etc.
It is noteworthy that in its drive to educate people in conservation of petroleum and gas the Ministry of Petroleum & Natural Gas and Oil PSU companies, has been organizing Oil and Gas Conservation Fortnights (OGCF) since 1991 throughout the country.