What is a Full Stack Developer? Skills And Responsibilities: Today's digital world uses technologies for web development and web design nearly everywhere; for instance, we utilize websites, web pages, blogs, emails, etc.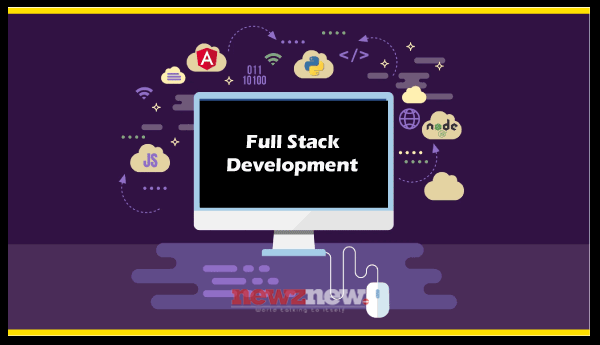 The tools and techniques used in web designing and web development are the cause of all these operations.
As it offers a huge platform for connecting with your customers, it aids in the development of long-term customer connections. In essence, it aims to raise awareness of the goods and services you are providing. Additionally, it comprehends the importance of your merchandise in reaching your target market. Web developers are, therefore, in more demand, especially full-stack developers, which is one of the most in-demand positions globally.
Web Development involves Full-stack development techniques, which are essential to learning for web developers as they will help candidates to master a wide range of skills like HTML, JavaScript, back-end languages, CSS, Database storage, HTTP, REST, NPM, etc. Full-stack development is a process in which developers know how to program both server-side and client-side applications. Full-stack development is a complex process that requires skilled and experienced Full stack developers who know to tackle web issues with their skills and expertise. Therefore the job roles in this field require a specific set of skills to fulfill their responsibilities.
So this article is going to tell you about who is a full-stack developer, what skills are required, and what their responsibilities are.
Who is a Full-Stack Developer?
A full-stack developer is a web developer who handles both sides of web development tasks- front-end and back-end. They are tasked through servers, databases, and clients, making them a jack of multiple trades. Here front end refers to the parts of a website a user sees and directly interacts with, and the back end refers to the behind-the-website data storage and data processing processes, both requiring different skill sets.
A full-stack developer has to master CSS and HTML languages to smoothly perform web development tasks. They must also know to Program a Browser using tools like Angular, Javascript, jQuery, and Vue, Program a Server using tools like Python, ASP, PHP, and Node, And Program a Database using tools like MongoDB, SQL, and SQLite, etc.
Making a career in web development as a full-stack developer is worth investing time, money, and effort. It enables you to master all the technologies involved in a web development project. It helps you make a prototype very easily and rapidly. A full-stack developer can provide help to all the team members in order to reduce the cost of the project. They are versatile professionals and perform flexible jobs as they can switch between front and back-end development based on the working requirement.
Full-stack Developer Skills and Responsibilities
It is known that a full-stack developer is associated with the creation of an application from its beginning to end. He/She designs and develops the front ( client)-end and back (server)-end of an application, along with ensuring its reliability, efficiency, and other essential features. Some of the important responsibilities of full-stack developers are mentioned below.
Full-Stack Developer Responsibilities
At the very first, they are responsible for developing the front end through HTML/CSS and Javascript libraries and frameworks, along with developing the interactive user interface.
They collaborate with development teams and product managers to build advanced and innovative software solutions.
They design the back-end of the application along with strong architecture to fetch data from servers.
They are also responsible for creating databases and servers that must be resilient to outages and must function endlessly.
To advance their working style, they keep up with the latest advancements in server apps and programming languages.
They also develop entire architecture, user interaction, responsive design, and user experience.
They also keep their eyes on new development-related tools, methodologies, frameworks, and architectures.
Full-stack developers also ensure cross-platform compatibility, such as applications should run smoothly on all operating systems like macOS, Linux, and windows.
They are also responsible for API development and creation that perform crucial tasks like fetching data from the servers.
Besides that, they also meet all technical and consumer requirements. They should also create responsive applications that can meet customer requirements and keep them engaged and satisfied.
Skills Required for Full-Stack Developers
A full-stack developer has to play the dual role of front-end and back-end developer, So it requires versatility in skill sets to accomplish his duties. He should be well-versed in both sides of development and should be the multi-talented professional that every organization and brand covets.
As it is known that a front-end and back-end combine to create a full stack, therefore full stack developer should comprise an operating system, a database, a server, and other vital tools such as environments, frameworks, libraries, etc. when these multiple tech stacks are layered and run together, they create a full-stack web development.
Basically, a full-stack developer requires skills for front-end development, such as programming languages and frameworks, including HTML, CSS, and JavaScript; back-end techniques and frameworks, including Flask, C++, Django, NodesJS, ExpressJS, Version control, Web hosting platform, and Database Management systems, including
MySQL, MongoDB, Oracle Database, SQL Server, and PostgreSQL.
Especially for backend development, a full-stack developer must know about the following programming languages like-
PHP- It is an open-source, cross-platform compatible programming language that is one of the most used languages by backend developers. It can work easily on Windows, Unix, and macOS.
Ruby- It is a robust language that boasts of excellent documentation and dependencies. It is an ideal choice for backend development as an active community of developers backs it.
Python- Python is one of the most popular and widely used programming languages that has easy syntax similar to the English language. It also has a huge amount of libraries and frameworks that make it very popular among developers and coders.
Java- It is a versatile programming language that can be used for desktop, web, and mobile application development. It also has a wide variety of frameworks that are necessary for back-end development.
Besides these skills, web architecture, HTTP and REST, Database Storage, basic design skills, NPM, and some of the soft skills, including time management skills, analytical skills, curiosity for learning, creative vision, Attention to detail, patience, etc., are must learn to become a successful full-stack developer.