NewZNew (Hyderabad) : In an endeavor to encourage underprivileged girl students who wish to pursue their higher education after Grade 12, Wipro Consumer Care in association with "Wipro Cares" has announced Santoor Scholarship programme, an initiative which will provide free scholarships. The scholarship programme will be a recurring annual programme. It will be rolled out in 2016-17 and will initially cover the states of Andhra Pradesh and Telangana. The grant given to each of the beneficiaries could be utilized for tuition fees or other expenses incidental only to education.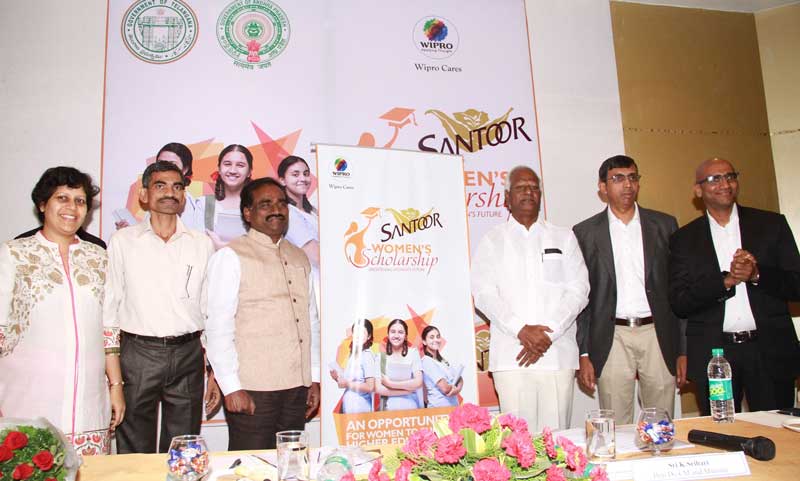 The Santoor Scholarship programme was announced in Hyderabad today in the presence of Shri. Kadiam Srihari, Hon. Deputy Chief Minister and Minister of Education, Govt. of Telangana, Shri. R Kishore Babu, Minister for Social and Tribal Welfare, Govt. of Andhra Pradesh, Shri Benhur Mahesh Dutt Ekka, IAS, Secretary, SC development department, Govt. of Telangana, Dr. R. S. Praveen Kumar, IPS, Secretary, Telangana Social Welfare Residential Institutions Society, Dr. Vijayakumar, Secretary, Social welfare Department, Govt. of Andhra Pradesh, Dr. M. Padma, IAS, Director (TW Dept.), Principal Secretary to Govt., TW Dept., Govt. of Andhra Pradesh and Col V. Ramulu, I.Po.S., Secretary, Andhra Pradesh Social Welfare Residential Institutions Society.
Santoor scholarships are open to girls from underprivileged and disadvantaged backgrounds who wish to pursue their diploma/degree. To qualify, the student must have passed her grade 10 and 12 from a government school/college. Applications will be available with the government junior college principals. Students interested are required to go through the application process and meet the eligibility criteria to be considered for the scholarship. The scholarship shall be Rs. 36,000 per annum if the diploma/degree college is located in a large city and Rs. 24,000 otherwise. Sixty percent of the scholarships is earmarked for students who wish to pursue higher education in the fields of humanities, liberal arts and sciences. The remaining forty percent can be availed by students pursuing professional courses.