Mahila Sunderkand Sabha tie a five-feet eco-friendly rakhi on 32-feet Panchmukhi Hanumanji
Brothers present helmets to protect their sisters
Chandigarh :On the occasion of Raksha Bandhan, organized by Mahila Sunderkand Sabha (Reg.) Chandigarh, in the Hanumantha Temple, located at Sector 40, a five-feet long eco-friendly rakhi was tied in the wrist of Panchmukhi Hanumanji, under the presidentship of Nina Tiwari, amidst the chanting of vedic mantras.
On this occasion, Ranju Grover, Prem Lata, Pal Sharma, Sudarshan Sharma, Usha Singla and other women were also present. On this holy occasion, the sisters tied rakhis to their brothers in the temple premises, and the brothers provided them a helmet as a gift to symbolize protection.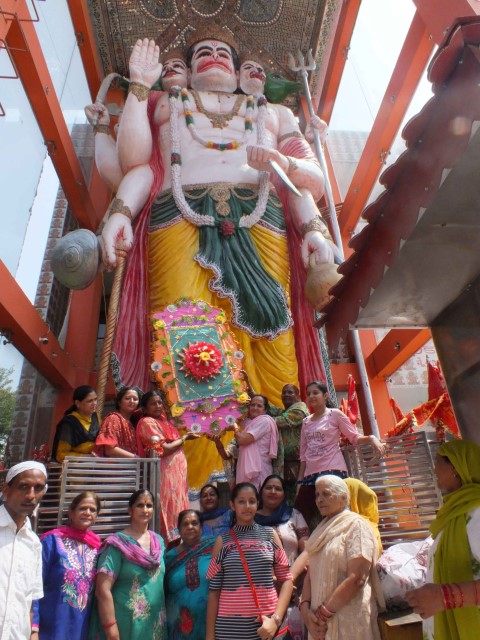 On this occasion Nina Tiwari, Sabha president said that it took 20 days to make this grand Rakhi. She said that this festival is a festival of sacred relation between brothers and sisters. Giving a helmet as gift by brothers to their sisters shows their love for their sisters.