newznew (Chandigarh) : As many as 1000 persons from all walks of life will run for the cause of Road Safety in 'Punjab Half Marathon-2017' in the city beautiful on February 12. This mega- event is being hosted by the national level Thrill Zone Trust which is committed to spread awareness on good health and extensively working towards the cause of road safety in the country.
The 21 km long marathon will commence from Chandigarh club at 6:30 am on Sunday which will cross Rock Garden, Sukhna Lake, Kishangarh, IT Park and it will end at the point from where it started.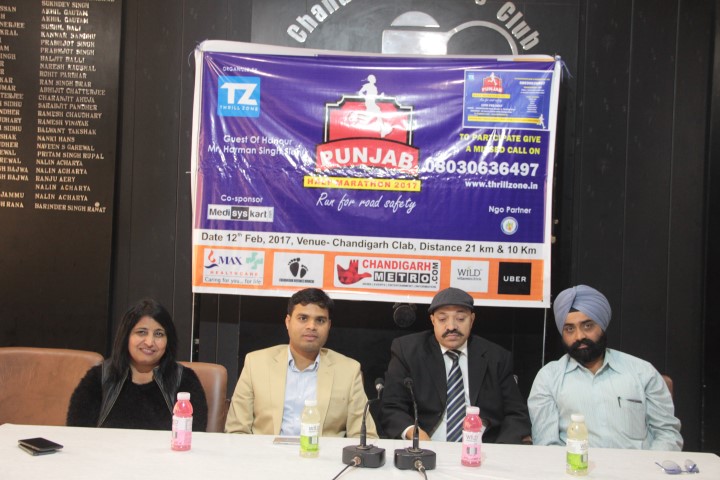 Sharing some vital information about the upcoming event, Founder of Thrill Zone, P C Kushwaha said, "This is the 16th event in the row and we have previously covered various cities like Mumbai, Dehradun, Kathgodam, Delhi. The marathon is aimed at spreading a message that human life is precious and the choices we make on the road can destroy or preserve it. The trial runs have already been completed successfully and we have tied up with Max hospital for the medical services to avoid any untoward incident. There will be medical counter on the route and recovery zone with Physiotherapist".
While speaking on the occasion, Founder of ArriveSafe NGO,  Harman Sidhu said, "By associating with this Marathon, we want to draw attention towards the right to walk of pedestrians in the urban environment. Walking spaces are being reduced day by day to accommodate more cars. Policy makers need to think of where we walk and they should ensure that pedestrians should be able to walk without the fear of being run over. The aim should be to use road space efficiently, move people, not vehicles. We want to spread the message through this marathon that public transport system should be improved and rights of the vulnerable group called pedestrians should be protected".
The participants of the run will be given trophies, and free T-shirts. There will be ten water and Energy Drinks station on route for Runners. Besides, there will be Cyclist to support the Runners participating in Event.