~ Final winners will get a chance to win a full paid trip to NASA ~
NewZNew (Chandigarh) : Seven Seas, Merck's heritage brand announced the launch of its novel educational initiative, the Seven Seas Academy – a nationwide hunt for India's young masterminds. Through this activity, Seven Seas reached out to more than 60,000 students across 200 schools in 10 cities including Chandigarh, where more than 5000 students across 15 schools alone were targeted.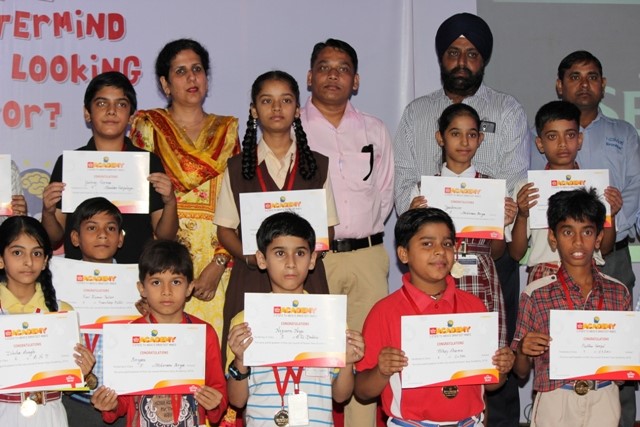 30 bright students from Chandigarh came together today for the city round of Seven Seas Academy. Winners from reputed schools of Chandigarh competed against each other to secure a spot in the Final Round in Mumbai and win a visit to NASA.  ShishuNiketan Public school, The New Public School, Gurunanak Khalsa sr sec school, DC Model School, Bhawan Vidayala, DCM SCHOOL and Gurukul Global School were some of the schools which were a part of this initiative, aiming to create awareness on the importance of brain development, a key concern area for parents.
Students competing at the city round of Seven Seas Academy included 23 boys and 7 girls who won their respective school level competition. Few of their names are: BHANU ISHITA SINGH, SUKHJEET SINGH BAJWA, PRIYANSH BANSAL, GURSEWAK SINGH, SASHIKANT BANSAL, TANISH GARG, ASHISH PRASAD, JATASYA SINGH BISHT, YUVRAJ VERMA, ARYAN YASHNOOR, NIPURN NIGI, SHUDANSHU, Tamana Sharma, Ansh Gupta, Ravi Kumar Yadav, Pankaj , Abhishek, Harsimran Kaur, Vineet Yadav, Neha Kumai, PushkarGongai, Abhay Sharma, Shivam Kohli, AniruddhSangra, Arnav Batra, Aryan Goyal, Kajal and Mansi
A child's brain development today is one of the most important aspects of their growth, with our research suggesting that most mothers today are concerned about how their children will excel academically. There is intense competition, leading to high levels of parental and peer pressure and every mother looks for solutions to ensure her children excel. Seven Seas is supporting parents on their quest to find the right supplement for their child's brain development. With heritage that spans more than 80 years of experience and a presence in over 100 countries, Seven Seas is one of India's most trusted health supplements.
The campaign, spread over 3 phases, kick starts with a specially designed aptitude test conducted on the school campus for grades 5th to 7th, where 2 students from each school move to the city round. At the city rounds as the students compete for a place in the final. Parents get to participate in workshops aimed at sharing useful tips. Post the city rounds, the competition intensifies as the top 10 teams from each city battle it out at the grand finale in Mumbai in mid-November 2016.
Students will be assessed on their general knowledge, logical reasoning and data interpretation skills. Whilst students at each level will be recognized for their participation, the finalists will win iPads and Kindles. The winners of the Grand Finale–the 2 Seven Seas Masterminds will get a chance to win a full-paid trip to NASA. The top 10 teams will also get to meet national award winning actor, Raveena Tandon in person in Mumbai.
Speaking about this initiative, Anand Nambiar, Managing Director, Merck India stated, "Merck's Seven Seas is one of India's most trusted health supplements, and the Seven Seas Academy is yet another testament to our commitment to children's health in India. With its emphasis on brain development in children, the initiative aims to be a platform that identifies, nurtures and unlocks the true potential of India's children, in partnership with leading schools.
Nutrition is a critical element of brain development. Seven Seas is committed to partnering with parents in their child's progress, and help children to be the best version of themselves through its nutritional benefits."