The 30th Annual Function of Akal Academy, Baru Sahib was celebrated with great zest and enthusiasm today with Sh. Anil Kumar Khachi, additional finance secretary of Himachal Pradesh as the chief guest and Sh. Jaspal Singh, Justice, Haryana and Punjab high court as the Guest of Honor.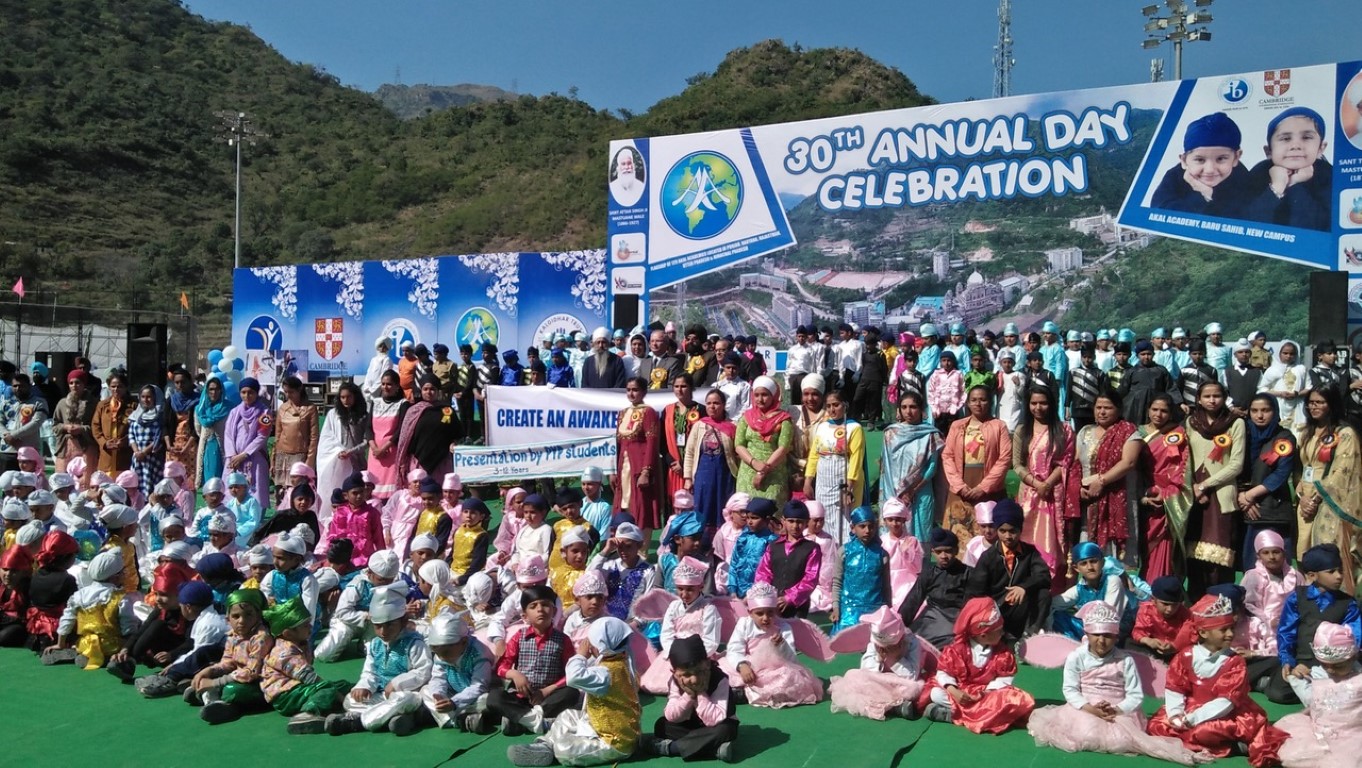 The programme began with the lighting of the ceremonial lamp by the Chief Guest, Guest of Honour along with the Principal, Dr. Neelam Kaur followed by the soulful rendition of a 'Shabad'.
Dr Davinder Singh, Director, Akal Academy Schools extended a warm welcome to all the dignitaries. He congratulated all teachers, parents and students for the completion of thirty years of the Academy.He said "the academy which was started in 1986 with only 6 children by Baba Iqbal Singh Ji today has 1500 students on its roles coming from 11 countries of the world and 36 Indian states. Akal Academy Baru Sahib today is a flagship school of 120 Akal Academies located in rural areas of 5 states, Himachal Pradesh, Haryana, Punjab, Uttar Pradesh and Rajasthan. Our mission is to impart values to students based on spiritual teachings and make them tolerant, patient and have love and compasison for people with all faith and atrocities" 
Series of wonderful events began unfolding which left the audience awestruck. Talk Show on Save Energy, English Drama titled King Lear, Skit on 'Mera Punjab' enthralled all present on the occasion. The proficiency with which the children displayed their skills and talents left the parents overjoyed and overwhelmed with emotions.
Chief Guest, Anil Kumar Khachi showered his blessing to all students and exhorted children to accept the challenges with redoubled vigour. He appreciated all performances of the day and lauded the efforts of the School Management for their pragmatic approach. He also appreciated the emphasis of the school for inculcating lifelong learnings, positive engagement within the community and develop leadership skills among the students.
School Principal, Dr. Neelam Kaur briefed the audience about the annual report highlighting the academic achievements of the school students. She honoured the students with prizes for various academic and non-academic activities.