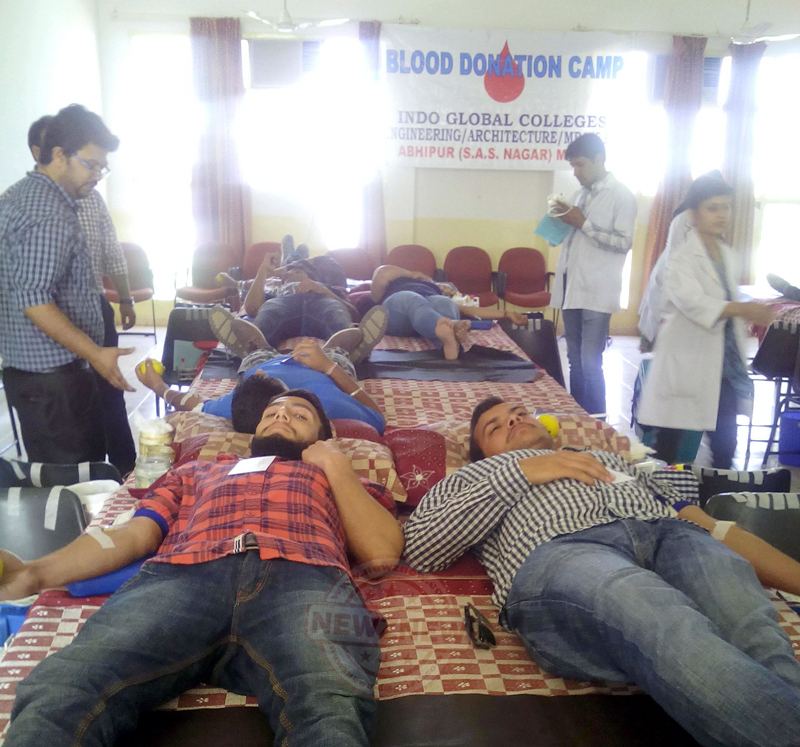 NewZNew (S A S Nagar) : Indo Global Colleges organized 11th   blood donation camp at its campus in which as many as 428 Units of blood were collected association with Department of Transfusion Medicine, PGIMER, Chandigarh. A team of Doctors headed by Dr. Usha Rao from PGI, Chandigarh collected blood from the volunteers after due screening and medical checkup.
 The students along with faculty participated enthusiastically in Blood Donation .On this occasion Neelam Singla, Chairperson said that the aim of camp is to spread awareness amongst the students the importance of Blood Donation as each drop of blood donated can be a life saver. A Poster making competition was held at the moment .students portrayed many attractive, meaningful, inspiring.
The donors were given refreshments and proper care.  The blood donation session had both pre and post event counseling session as well. Chairman, Indo Global Colleges, Sukhdev Kumar Singla said that Donating blood is like gifting a new life. Blood donation is a noble act, as losing just a pint of blood would make no difference to a healthy individual, while a needy patient may get a new life.