NewZNew (Jalandhar) : Shri Nirmal Takht Talab Baba Budha Sahib Charitable Trust Dakoha , to organise 43rd annual Sant Samagam at Dakoha Jalandhar on

19 th June

. Secretary of Trust Bibi Simrin Gill revealed that Atamdarshi Satsang will be held daily

5am to 7 am

from

16 th June to 19th June

by Baba Bhagwant Bhajan Singh Ji.
This year Mahant Swami Gyan Dev Singh ji Maharaj of Shri Panchayati Akhara Nirmala Kankhal Haridwar ,Dr Dalip Singh Namdhari ,Sant Balbir Singh Seechewal and many more eminent religious and political personalities will be grace the spiritual congregation.
Bibi Simrin Gill further added that on the occasion Trust will adopt  families and will be take responsibility of those needy families like education, employment, marriage etc till they become self sufficient.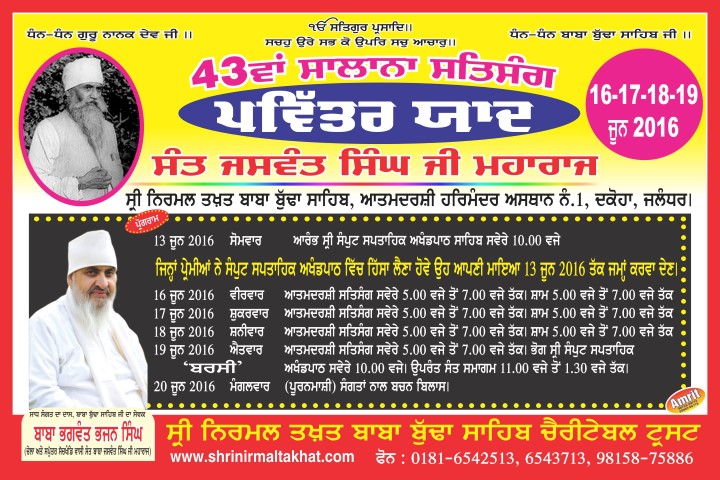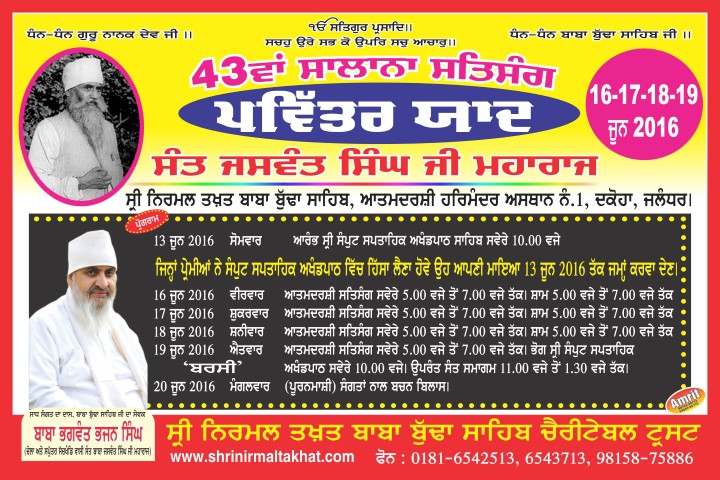 About  
 Trust
 

Introduction :

 

Nirmal Takhat Baba Budha Sahib Charitable Trust, VPO Dakoha Jalandhar started on 1/11/1992 by Baba Bhagwant Bhajan Singh Ji s/o Late Sant Baba Jaswant Singh Ji at VPO Dakoha Jalandhar-144023. Sant Baba Jaswant Singh Ji served people throughout his life.

 

 

 

Objectives :

To establish, run and maintain and acquire the widow Ashrams, Orphan Houses, Old Age Homes and Poor Homes.

To establish, run, manage, maintain and acquire Hospitals, Dispensaries, Health Centres, Nursing
homes and other medical Relief centre for the treatment of persons suffering from various ailments
or mental instability or for the treatment of persons suffering bodily or emotionally and for the treatment of persons requiring medical attention and their rehabilitation.
To provide medical services to any persons of any status and free medical services and medicines to deserving patients regardless to their religion, caste, creed to which they may belong and to arrange
for their treatment in various hospitals.
To establish and run other hospitals, branches and Nursing Homes With medical and surgical facilities
and to establish and run medical colleges.

To acquire land, building and construct suitable buildings for the purpose of achievement of objects of the trust and arrange for the necessary machinery and equipment's.

To construct Ashrams and run schools and other educational institutions for imparting technical,
spiritual, academic and physical education etc.

To help any Institute or Society having the objects similar to that of this Trust.

That the benefit of Chatitable and Philanthropic purpose shall not be restricted or confined to a member of any particular community,caste,creed,religion or faith.

To fullfill any object and job of charitable nature for the general benefit of public at large and to give then peace of mind and bodily comfort and progress in life.


To supply necessary information for the said purposes to people through books,magazines, papers and otherwise and impart training on any object.

To do any act and take any actin necessary for acquiring objects of the trust.