82-year-old woman who suffered brain stroke successfully treated via Mechanical Thrombectomy at Fortis Mohali: Swift and timely action by the Neuro-Intervention Team at Fortis Hospital Mohali gave a second life to an 82-year-old woman, who had arrived within 4 hours of suffering a brain stroke which had paralyzed the left side of her body. Any delay in medical intervention could have proved fatal for the patient.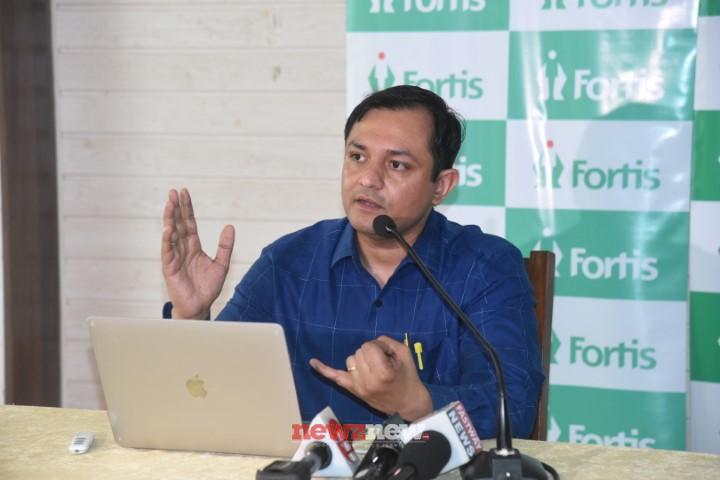 The most advanced treatment for stroke – Mechanical Thrombectomy was used to treat the patient. Mechanical Thrombectomy is a minimally-invasive procedure that involves inserting a catheter into the brain artery to remove the clot.
This allows restoration of blood flow and saves a patient from disability or death by increasing treatment window for some brain stroke patients to up to 24 hours.
The patient was rushed to Fortis Hospital Mohali on 30th April this year. Upon medical examination, she exhibited symptoms of acute stroke as the blood supply to her brain's right side had been blocked.  She was also confused, disoriented and lacked coordination.
The team of doctors led by Dr Vivek Agarwal, Consultant, Neuro-intervention and Interventional Radiology, Fortis Mohali, performed Mechanical Thrombectomy on the Patient and removed the clot from her brain artery. Following good rehabilitation, her paralysis was treated and she was discharged four days after the procedure.
Addressing mediapersons on the occasion of World Thrombectomy Day and shedding light on the case, Dr Agarwal, said, "Mechanical Thrombectomy is regarded as the gold standard treatment for brain stroke patients and timely intervention within the golden hour can save them from life-long disability or death."
Elaborating on Fortis Mohali as a 24×7 Stroke-ready Hospital, Dr Agarwal, said, "Stroke patients should reach the hospital as soon as possible as every second counts. On an average, one Indian suffers a brain stroke every 20 seconds. Crucial time is wasted when patients reach healthcare facilities which are not well equipped with 24×7 comprehensive stroke care facilities. An average patient loses 1.9 million neurons every minute in untreated ischemic stroke which invariably leads to paralysis or death. Fortis Mohali is a 24×7 Stroke-ready Hospital and equipped with a expert team of neurologists, interventional neuroradiologists, neurosurgeons, emergency physicians, anaesthetists and physiotherapists that provide 24×7 stroke treatment such as thrombolysis, mechanical thrombectomy, stroke ICU care and rehabilitation".
Highlighting the importance of observing World Thrombectomy Day on 15th May every year, Dr Agarwal added, "The aim is to raise awareness about Mechanical Thrombectomy as a treatment of choice for moderate to severe ischemic brain stroke. The procedure can save patients from long-term paralysis in a majority of cases."
Know More About Fortis Healthcare
Fortis Healthcare Limited – an IHH Healthcare Berhad Company – is a leading integrated healthcare services provider in India. It is one of the largest healthcare organizations in the country with 27 healthcare facilities (including projects under development), 4100 operational beds and over 419 diagnostics centres (including JVs). Fortis is present in India, United Arab Emirates (UAE) & Sri Lanka.
The Company is listed on the BSE Ltd and National Stock Exchange (NSE) of India. It draws strength from its partnership with global major and parent company, IHH, to build upon its culture of world-class patient care and superlative clinical excellence.
Fortis employs 23,000 people (including SRL) who share its vision of becoming the world's most trusted healthcare network. Fortis offers a full spectrum of integrated healthcare services ranging from clinics to quaternary care facilities and a wide range of ancillary services.