9th edition of Chandigarh Football League concludes: enJogo-Bhaichung Bhutia Football Schools (BBFS) has completed its ninth edition of the Chandigarh Football League (CFL). Chandigarh Football League is an annual football competition conducted every year.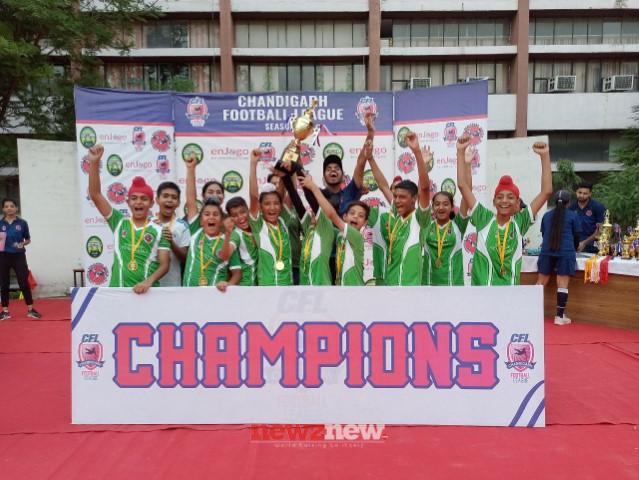 The league provides opportunities to young players between ages 5-18 to participate and experience a month-long football league. CFL was started in 2012.
This year's CFL was held at Dev Samaj College in Sector 45, Chandigarh. The league boasted of 400+ participants with 49 teams across six age-groups. One of the highlights of the league was participation of almost 100 players aged between 5-8.
"We started the league to provide opportunities for every aspirant. In Chandigarh, the football ecosystem was nascent. Through the CFL, we wanted to create a culture of playing football regularly," said Ankit Arora, Chief Operating Officer of enJogo-Bhaichung Bhutia Football Schools.
"Competitive exposure is vital for younger age groups. They learn while playing. The CFL provides an ideal platform for youngsters to engage with football and create meaningful bonds with peers. I am glad that the CFL is growing every year." said Bhaichung Bhutia, co-founder of enJogo-BBFS.
On the final match day, the event was graced by the presence of Dr. Rasik Malik, Director of Sports at Hari Singh Gour Central University.
"Tournaments like Chandigarh Football League will not only boost technical football skills among the players but also give them lifelong learning which will stay with them forever. I urge all the parents to give freedom to these players to bring out their own playing style and let them enjoy playing no matter what. I congratulate BBFS on organizing another successful season of CFL," said Dr. Rasik Malik, Director of Sports at Dr Hari Singh Gour Central University
The best individual players of this year's CFL will receive opportunities to attend a three-day camp at BBFS' Residential Academy at Greater Gurgaon, where they will have the opportunity to gain scholarship and a chance to play in India's best youth football leagues.