Aakarshan, designer women ethnic wear store, opens: Aakarshan, an exclusive store for 'designer women ethnic wear', has opened in the City Beautiful Sec 22, opposite Sec 17's Parade Ground with multiple offerings – it has a variety of regular office wear, home wear, designer outfits for different occasions and more.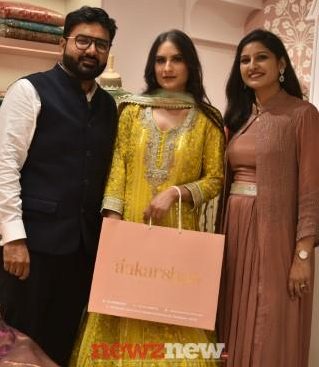 What's more, the plush and swank outlet has another USP apart from the sheer variety of women clothing on offer – customisation of celebrity designer wear replicas. The unveiling of the outlet witnessed the presence of models who donned beautiful collections to showcase the kind of variety that Aakarshan boasts of.
Adish Jain, MD, Aakarshan said, "Aakarshan is all about beautifying women with the best ensembles suited to them and catering to all needs and requirements of ethnic wear. There are a plethora of options at Aakarshan– unstitched and stitched suits, dresses, gowns, sarees, lehengas, handbags, dupattas, stoles, shawls and more."
Garima Jain, wife of Adish Jain who is in charge of design, fabrics, and colours said," "In addition to readymade wear we are also offering customised outfits. Even celebrity replicas can be customised as per customer needs."
Interacting with media persons, Adish said further, "With a legacy of over 40 years into the trade of fabrics and dress materials, we understand the market and its changing needs. Our endeavour is to provide customers with the best quality of fabrics at a pocket-friendly price."  It is noteworthy that before launching the Aakarshan label of women's wear, Adish Jain and his family had been into the trade for over 4 decades.
He informed that  at 'Aakarshan', fabric quality is the utmost concern and so is the finesse of work. "We have our own team of skilled workers that designs the outfits with embroidery, handcrafted work and embellishments. All the selections of outfits available at the store involve our deep R&D as per the market needs ," he added.
Garima said that the latest colour schemes and combinations are selected under my supervision and softness and elasticity of fabric are chosen in such a way that the designer wear fits the body in the best shape and provides an immaculate  finish. "Still if we have to pick one, I would say that designer suit collections are the best at Aakarshan. The bridal collection is quite exclusive and offers variety," she added.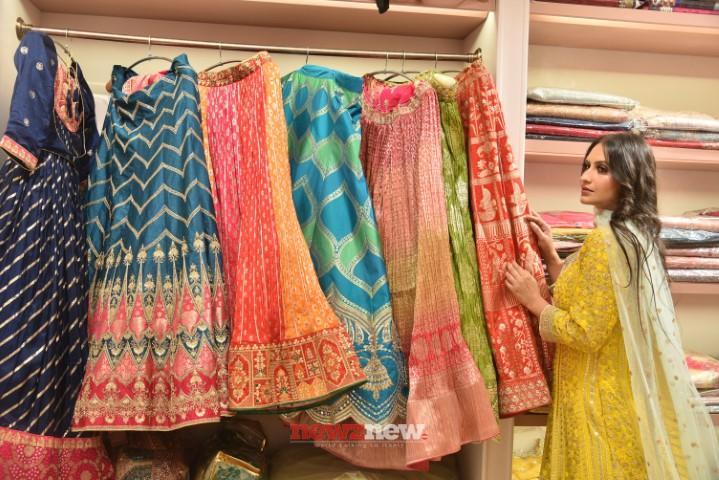 In reply to a question on women's fashion trends this season, Garima said that plazo suits, shararas, and geraras are popular these days among all age groups. May it be a young girl or a middle-aged working woman or a little mature lady say around 50-55, plazo suits fit all body types and is the popular choice among all.