AC giant Daikin to expand India operations: "Daikin, is looking to make India its manufacturing hub, and is in the process of expanding its India operations—setting up its third factory, ramping up its R&D facility and planning to manufacture climate-friendly ACs.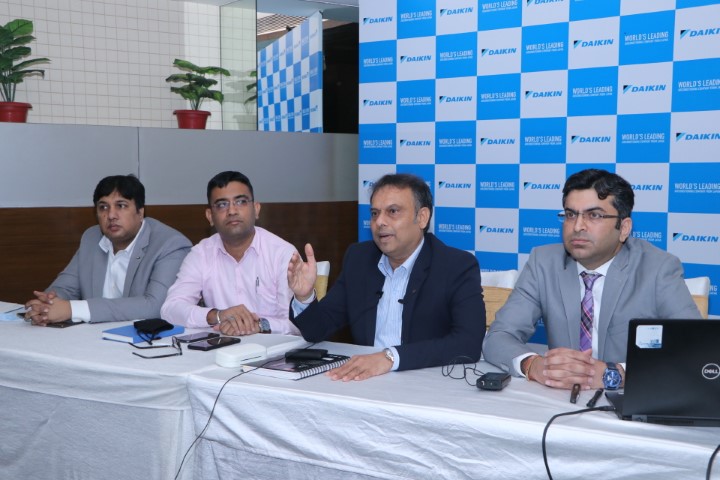 Daikin India aims to expand into East Africa by exporting from its Indian subsidiary and the planned India factory is expected to cover 40 to 45 acres; boosting capacity to meet any requirements for growth, regardless of economic impacts from the COVID-19 crisis" said Sandeep Rekhi, Regional Director(North), Daikin India in a press meet organised by Daikin India here.
Despite the ongoing COVID 19 waves and bumpy lockdowns across the country, Daikin India has emerged as the most preferred & No 1 AC brand across Chandigarh, Punjab & HP in the first quarter of 2021.
With a shift in lifestyle, the need for hygienic & useful living spaces has gone up. Work from home demands smart air-conditioning that technologically supports your daily needs in addition to providing the ability to manage the cooling, ventilation & air purification priorities.
Daikin India, with a wide range of room ACs available across all price points, has been the preferred choice of customers and "Made in India" has had a strong impact especially for the industry as the penetration levels of air-conditioning in India are still only 6~7%.
With Indian customers becoming "Value-Conscious" there is need to pace cautiously between Market Share and Profitability. Daikin wants to most humbly "Educate, Cultivate and inculcate" customers and the market about Daikin's technology, quality and efficiency.
The obvious benefit of localization is a reduction in Costs, Imports and currency fluctuations. But more than that the turnaround time for "Design to Shop" or "Prototype to Final Product" has significantly reduced. Indian customers are very demanding and competition in Air-conditioning is dynamic and challenging. It is noteworthy that Neemrana in Rajasthan houses Daikin India's biggest HVAC R&D center, Biggest Factory, Biggest Training Centre and Biggest Warehouse.
"We designed a product range to suit India's extreme temperature range – as high as 49°C – by following Japanese processes adapted to Indian requirements," added Sandeep Rekhi, Regional Director(North), Daikin India. "Through effective regional marketing campaigns and far-reaching partnerships such as with the Indian Premier League, we made ourselves noticed on every street corner from Kashmir to Kanyakumari, reaching 1.3 billion consumers." Rekhi further said.
Daikin with partner Nikken Sekkei, was recently awarded the Global Cooling Prize for innovating a system to ensure consistent room temperature and humidity using two specially adapted indoor units running on the low GWP(Global Warming  Potential) refrigerant for the emerging markets.
The Global Cooling Prize was launched by a global coalition led by the Department of Science and Technology, Government of India, leading global research body the Rocky Mountain Institute (RMI) and Mission Innovation, a global initiative of 24 countries and the European Union to accelerate global clean energy innovation.