Adviser Shri Dharam Pal presides over Annual Prize Distribution Function of GGDSD College: As many as 800 students for their commendable performance in academics, sports and extracurricular activities and 42 faculty members for completing their Ph.D  were felicitated and honoured during the annual prize distribution function at Goswami Ganesh Dutta Sanatan Dharma College.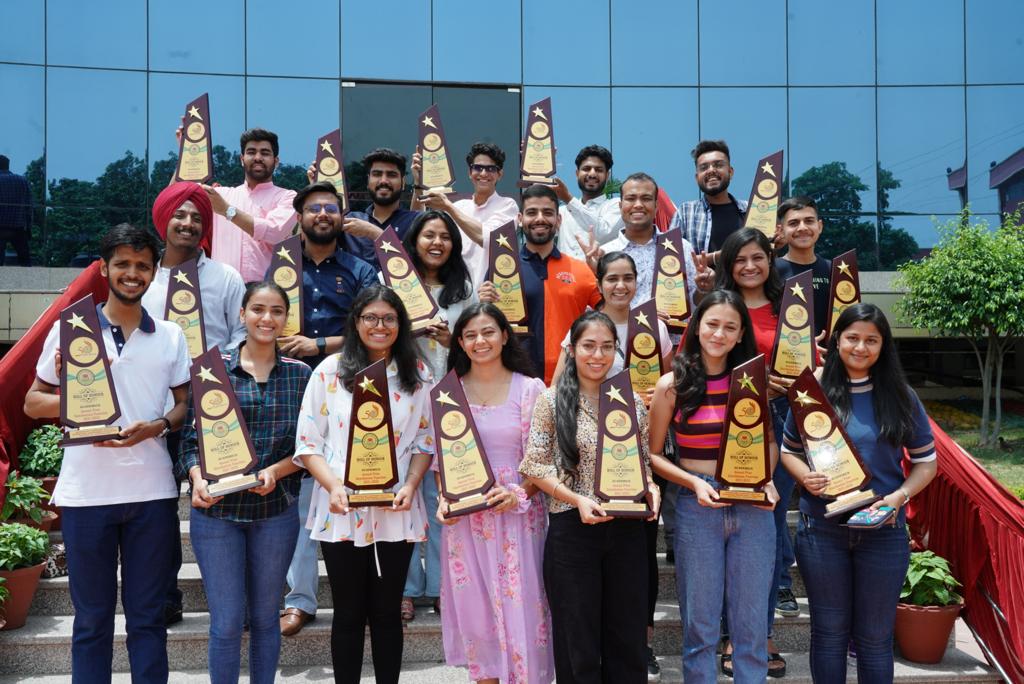 The function was presided over by Shri Dharam Pal, IAS, Adviser to the Administrator, Chandigarh Administration, Union Territory, Chandigarh.
Forty-two faculty members' were given cash prizes for completing their Ph.D and around 89 students were awarded the Roll of Honour, while 77 received College Colour, likewise ,469
Students were awarded Certificate of Distinction while 165 received the Certificate of Merit. Amongst many sportspersons of our college, felicitated in the function who had adorned glory in the international arena and brought laurels to the college were GanematSekhon, a gold medallist and famed international shooter, Raj Angad Singh Bawa and Harnoor Singh Pammy who excelled in the U-19 Cricket World Cup, both being gold medallists. ChhavviKohli, silver medallist in Fencing and Abhay Singh Sekhon, bronze medallist in shooting are the other international stars making the college proud with their astounding performance.
Adviser, Dharam Pal congratulated the prize winners for creating their own niche in the field of academics, sports and extracurricular activities and making their Alma Mater and parents proud. He urged students to make effective contributions towards society, stressing upon the importance of character building in educational institutions'.
Principal, Dr Ajay Sharma read the annual report. He chronicled the various achievements of the college. He said, "For the sixth consecutive year, GGDSD has been ranked among the top 100-150 colleges in India according to NIRF (The National Institutional Ranking Framework), MHRD, Government of India. GGDSD College added more feathers in its illustrious cap by clinching Overall Trophy for Youth and Heritage Festival Chandigarh, Panjab University for the seventh time in a row and ShaadiLal Overall Memorial Trophy for Men besides being recognised as the Best College in Sports among the 200 collegesaffiliated to Panjab University."
Dr Ajay Sharma stated that the College has been conferred 'Research Centre Status' in the subjects' of Biotechnology, Chemistry, Physics and Commerceand thedepartments of Biotechnology, Chemistry, Physics are undergoing research projects to the tune of Rs 1.5 Cr under the DBT- Builder Programme.
The college is proud of Dr Devi Singh and Dr RinkuKalia for being awarded a State Award by the Government of Haryana. The college is also pleased to share that Dr Rajinder Mann has been appointed as a Technical Observer by Boxing Association to represent India and Dr Ruchi Sharma has successfully completed her Major Research Project under the STRIDEScheme of the Indian Council of Social Science Research (ICSSR)."
In recognition in the area of environment for being a Sustainable Campus, the college was awarded Certificate of Appreciation by the Ministry of Education and has also won the Green Ambassador Award, Dr Ajay added.