Agrajeeta Movie Press Meet Held In Australia: 'Agrajeeta' shot in some eye-catching locations like great ocean road, Dandenong ranges, redwood forest, mount Buller & Melbourne's inner suburbs has concluded its shoot in 25 days.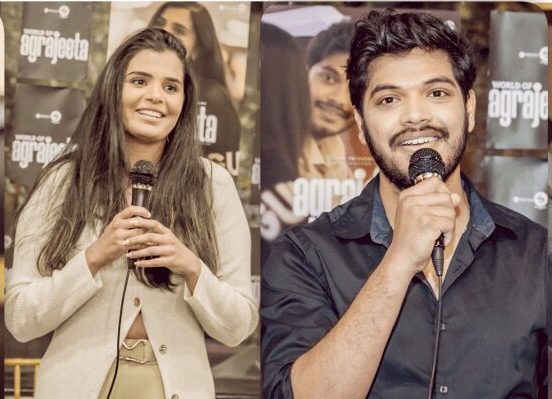 While the visuals are the prime asset to the movie, the local artists also performed to give the best outcome. Two beautiful songs and one theme song scored by composer ' Siddharth Watkins ' are among the movie's several highlights.
Director Sandeep Raj's lead pair ' Rahul Krishna & Priyanka Nomula ' is the perfect fit as debutants who reached an extra mile with their performances.
' Vasavi Triveedi Productions' & ' Sandeep Raj Films' are extremely confident about the film for its unique storyline given by ' Krishna Reddy Loka '
Post – Production work has commenced and planning to be released at the end of July 2021.
Details will be revealed further by the production company.
Cast
Rahul Krishna, Priyanka Nomula, Kamal Krishna, Vindhya & Sandeep Vangipuram, Mani Deepak, Prabha Agraja, Sandy Singh, Maneesh, Harish, Satinder Chawla, Kranti, Chris, Kshipra, Jeyashree
Camera Assistant
Reginold Regi
Hair Stylist
GK Nesan
Makeup & Hair
Kiran Zahra
Cinematography & Editing
Sandeep Raj
Music
Siddharth Watkins
Lyrics
Mani Deepak
PRO
Paul Pavan
The story, Co-Directed & Asst.Writer
Krishna Reddy Loka
Production
Vasavi Triveedi Productions
Sandeep Raj Films
Screenplay, Written & Directed
Sandeep Raj