Amputation can be prevented with Timely treatment: Dr. H K Bali: To create awareness on Peripheral Artery Disease and Diabetic Foot a team of doctors from PARAS Superspeciality Hospital Panchkula addressed the media person.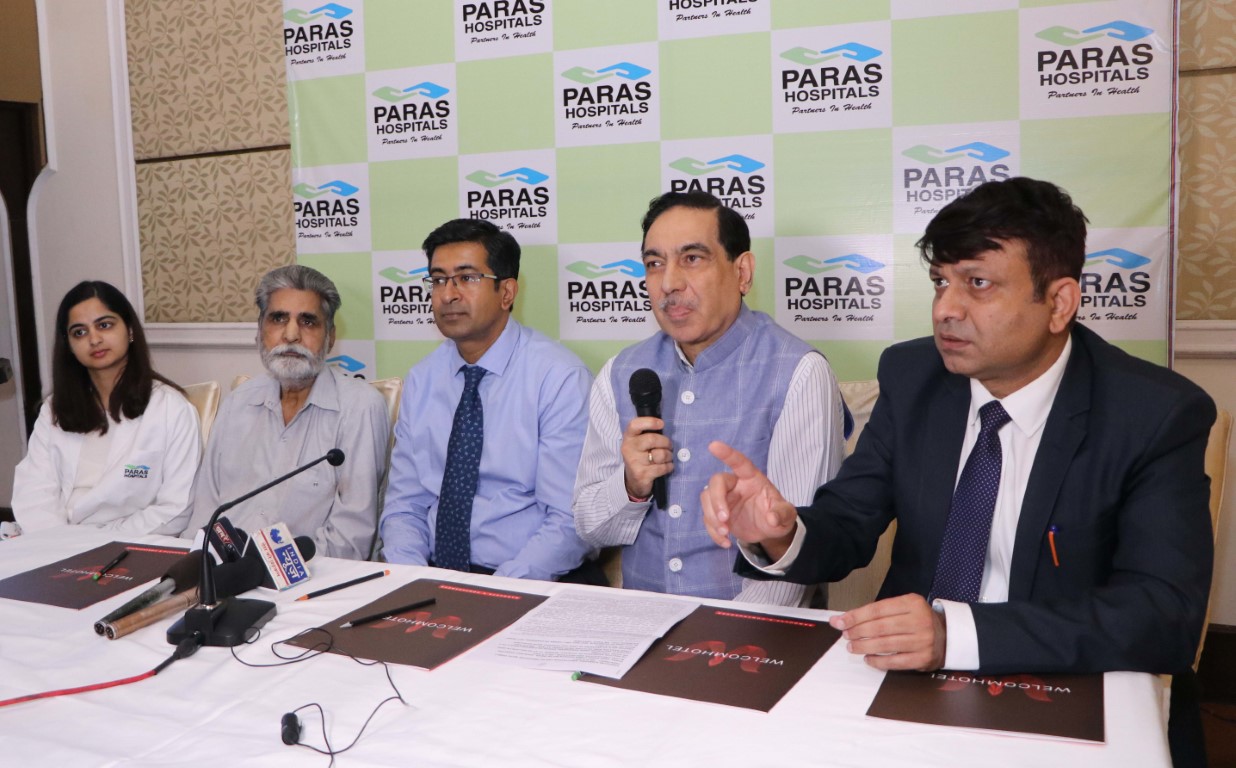 Speaking on the occasion Dr H K Bali Chairman Cardiac Sciences, who has an experience of more than 30 years in Cardiology and has done over 15000 cardiac interventions, said that Peripherical Vascular Disease is a disease of the blood vessels that affects 15%-20% of the population worldwide. In PAD, the arteries that carry blood to the arms or legs become narrowed or clogged, leading to slowing or stoppage of blood flow.
This disease most commonly affects the legs and sometimes occurs in the arms. Many people do not give much importance to initial symptoms – such as pain or numbness in the legs or arms – because they mistakenly believe it is a normal part of ageing. Ignoring the symptoms may lead to gangrene and eventually limb loss.
Dr Bali also shared that Peripheral vascular disease affects affecting limbs. It can present as difficulty in walking, rest pain (pain on lying down), ulcers and finally gangrene. Peripheral vascular disease is not only a disease in its own right, it is an independent predictor of cardiovascular and cerebrovascular disease and death, nearly half the patients with PVD will have cardiac symptoms. Smoking, Diabetes, Hypertension, Hypercholesteremia (high lipids), family history of PVD are the most common causes of atherosclerosis, which is responsible for peripheral vascular disease. There is plaque build-up in the arteries supplying the lower limbs, leading to narrowing of the arteries, decreased flow and oxygen to the muscles of the lower limb.
It starts as pain on walking graduates to pain at rest then causes non healing ulcers, cold limb can finally leads to gangrene causing amputation. Untreated PVD will finally progress to amputation. All of the above stages diminish quality of life and affect productivity of the patients suffering from PVD. Due to ignorance and shortage of trained doctors who can treat PVD/ Acute ischemia more than 80000 Indians lose their limb and end up getting limbs amputated. Amputation due to PVD can be prevented in 90% of cases with proper education and timely treatment.
Sharing his experience Dr Kapil Chatree, Senior Consulatant Cardiology at Paras Hospitals Panchkula said "There are various treatment options for PVD, depending on the stage of presentation. If the pain on walking is not too severe then the first line of treatment is medical management in the form of blood thinners, increasing blood flow, controlling diabetes, hypertension and graded exercises. If the pain does not subside or increases, then treatment should be concentrated on increasing the flow mechanically by angioplasty/stenting and in few cases bypass grafting.
In cases of rest pain (pain on lying down) and ulcers it requires immediate treatment to prevent limb loss in the form of angiography and angioplasty/stenting and as a last resort surgery. Gangrene has to be avoided at all costs, but once it sets in, amputation is the only choice as a life saving option.
Symptoms of Peripheral Vascular Disease:
The most common of PAD is leg pain on walking also called as Claudication, which goes away after a few minutes of rest (Intermittent Claudication)
Other Symptoms include:
Numbness and tingling in the lower legs and feet.
Coldness in Lower legs and feet
Ulcers or sores on legs and Feet that don't heal.
Ways to Prevent Peripheral Vascular Disease:
Stop Smoking.
Know your Risks – Hypertension, Diabetes & Cholesterol as these are silent killers.
Maintain Healthy weight.
Exercise Regularly.
Eat less saturated fat, more produce & more fiber.
Get your Lipids Checked and Avoid Trans Fats.
Go for annual Preventive Health Packages.