NewZNew (S A S Nagar) : Fortis Hospital, Mohali organized PANFORIC, a pan-Fortis Infection Control Conclave, is being held from September 15 to 17, 2016 at Mohali. Among the many topics that were discussed, the Antimicrobial stewardship' session dominated the coveted infection control conclave. More than 100 delegates from 23 hospitals across Fortisdeliberated upon infection control measures that could improve patient outcomes. The theme of the conclave was 'A celebration of all who are inspired, affected and motivated by infection prevention and control.'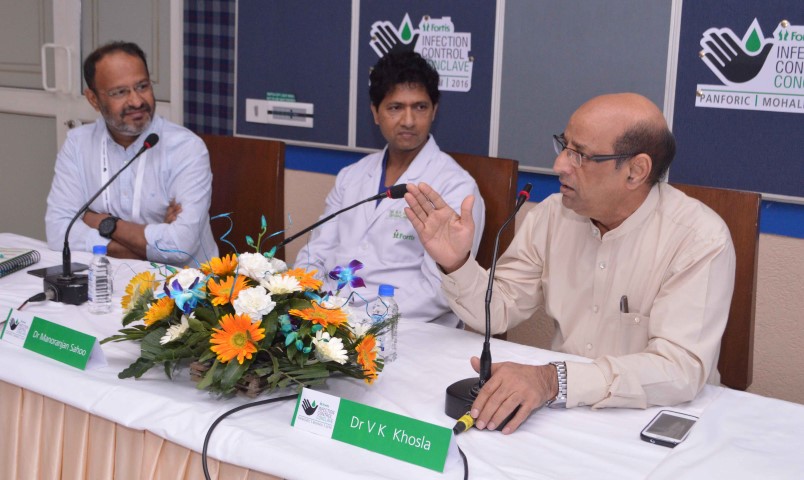 Identifying 'Antibiotic Stewardship' as a major step that would go a long way towards controlling the rampant and uncontrolled usage of antibiotics, the delegates called 'super bugs', or antimicrobial resistance', as a major problem.
"Rampant and uncontrolled use of antibiotics has been rendering many of them progressively ineffective against microbes routinely associated with hospital infections. The World Health Organisation (WHO) has now cited this as a major problem and has declared it a global public health emergency. The WHO has been calling for judicious antibiotic use and exercising caution in conserving the world's armamentarium of known antibiotics. The Antimicrobial Stewardship (AMS) program at Fortis Healthcare has gained significant traction with the rationalisation in the use of life-saving antibiotics brought about with the unconditional support of Fortis clinicians, in anti-microbial prescription practices," said the Organizing Chairman of PANFORIC 2016, Dr AK Mandal, Head – Critical Care, Pulmonology & Sleep Medicine at Fortis Hospital Mohali.
The program strives for the de-escalation in the consumption of restricted antibiotics with concomitant benefits of reduced toxicity, side effects and costs. Adding on this, Dr Mandal further said,"The ultimate goal is to address global outbreak of anti-microbial resistance. The vision is to bring about a change in the antibiotic prescription pattern amongst clinicians; preserve the ecology of the hospital with a focus on the safety of patients and the community."
Dr Anita Sharma, Organizing Secretary of PANFORIC 2016 and Head of Lab Medicine at Fortis Mohali said the conclave, "Clinicians actively participated in debates and discussions and participants presented papers on 'Antibiotic resistance pattern variations in Asia-Pacific region – learning for India', 'Antibiotic stewardship: gain and implementation challenges', 'Can we measure the impact of antimicrobial stewardship activities?', etc. A session on 'Root cause analysis of hospital-acquired infections' also drew huge participation as participants from across the country shared their experiences and learnings."
A panel discussion on 'Outbreak Management' was also organized during which the delegates spoke on 'Hospital preparation for a 'Novel Outbreak'. Dr Mandal said, "The conclave is an effort to keep learning the improving, for better clinical outcomes. Our CEO Mr Bhavdeep Singh too spoke on this during the inaugural address, persuading all Fortisians to 'keep moving forward."