Ather Energy strengthens retail presence in Punjab, launches an Experience Centre in Chandigarh: Ather Energy, India's leading electric scooter manufacturer began its retail operations in Punjab, at Palladium Tower, Industrial Area Phase 1, Chandigarh. The newly launched Gen 3 of the flagship Ather 450X and 450 Plus will be available to test ride and purchase at Ather Space.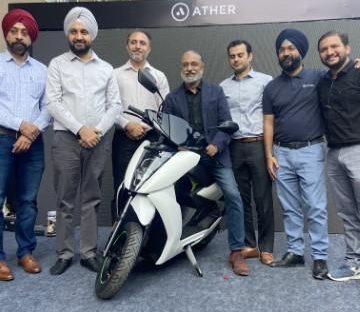 This will be Ather Energy's 64th Experience Centre in the country and is inaugurated in collaboration with Yashodha Nexgen Pvt. Ltd.
Ather Space, the Experience Centre, is a dynamic, tactile, and interactive space that aims to educate customers about every aspect of the vehicle and witness the engineering and mechanical efforts that go into each Ather scooter. People in the city can book test ride slots on the company's website before visiting Ather Space to experience riding a connected & intelligent scooter.
Speaking on the occasion, Ravneet S Phokela, Chief Business Officer, Ather Energy said, "2Ws comprise more than three-fourths of new vehicle registrations in the state of Punjab and offer great potential to serve an underserved EV market segment. We have seen a strong consumer demand with multiple pre-orders and test ride requests from the state and are thrilled to make a foray into Punjab.
Our expansion into new geographies reiterates our commitment to offering unique experiences that excite and educate customers about EVs. We have been expanding rapidly to fulfil the demand for the new and improved Ather 450X and have some exciting plans for Punjab."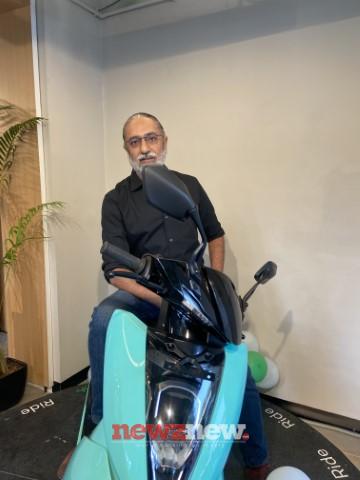 Yashodha Group takes great pride in partnering with Ather Energy in our endeavour to promote the switch to electric commute. Yashodha Group brings the green technology of Ather's smart, intelligent and easy-to-use electric scooter to the city of Chandigarh.
Considering traffic conditions within the city, it only makes most sense in terms of saving energy and time to use an e-scooter. We believe Ather is the future of e-scooters in the country and with Ather, Yashodha group is ready to set new benchmarks in this space, said Deepak Batra, Managing Director,Yashodha Group.
Ather Energy is one of the few OEMs that invest in charging infrastructure as well. Recently the company marked a significant milestone by installing more than 500 Ather fast charging grids across India. The company plans to install 1400 Ather Grids by the end of FY23. There are currently 2 Ather Grids, in the city of Chandigarh.
The company plans to add 8-10 more across the city to strengthen the charging network. Ather Energy also supports customers with the installation of home charging systems in their flats and buildings.
Ather had a great start to this festive season and has been experiencing strong momentum since the past couple of months. As a result of an improved supply chain, the company recorded the best monthly sales in October, delivering 8213 units. The company has grown its retail network throughout important cities in India, and it now has 64 retail outlets in 51 cities. The company intends to expand to 100 cities with 150 Experience Centres by March 2023.
The Ather 450 Series scooter continues to be a result of superb design philosophy, engineering, and R&D, making it the most comprehensive, safe, and dependable scooter in the country. The newly launched Gen 3 comes with a larger battery pack of 3.7 kWh, broader rear-view mirrors, and wider tyres.
The enhanced TrueRangeTM of the new Ather 450X Gen 3 and 450Plus Gen 3 is 105 km and 85 km, respectively. The scooter also has a 7.0-inch touchscreen interface, front and rear disc brakes with regen, 12-inch alloy wheels, telescopic suspension, and a belt drive system. It was conceived and developed in-house to suit Indian situations and use standards.
The 450X Gen 3 is priced at INR 159,303 and the 450 Plus will be priced at INR 137,793 (ex-showroom) following the Fame II revisions.