NewZNew (Himachal Pardesh) : It is said that excitement is impossible where there is no contest. To maintain the excitement to compete and enhance the sportsmanship of the players "Athlos'16" the 7th Inter University Sports festival of Chitkara University, Himachal Pradesh was organized to pursue excellence in the field of Sports. Athlos is a greek word of contest.
Under the mentorship of Mr. Anil Rana, Assistant Director Sports, Chitkara University the festival was inaugurated by Brig. Labh Singh, Arjuna Award Winner was a huge success with about participation from 20 universities from North India which include Chitkara University Himachal & Chitkara University Rajpura , Punjabi University, NIT Jalandhar, Shoolini, Amity, MMU, Arya PG College, MIT Moradabad, ISF college of Pharmacy, Rayat Bahra, PEC, SD College, CU Ghauraun & Sharda University .
The teams were awarded and felicitated by Dr. Ashok K Chitkara, Chancellor Chitkara University. In his address to the students, he said," Sports is an integral part of life. It teaches an individual to work in team, to be resistant, have a strong will power, be patient and all others ethics which are important to live a healthy life. Everyone should play as if it is their last game and with the amount of perseverance and dedication seen in each and every player, the mission was a success."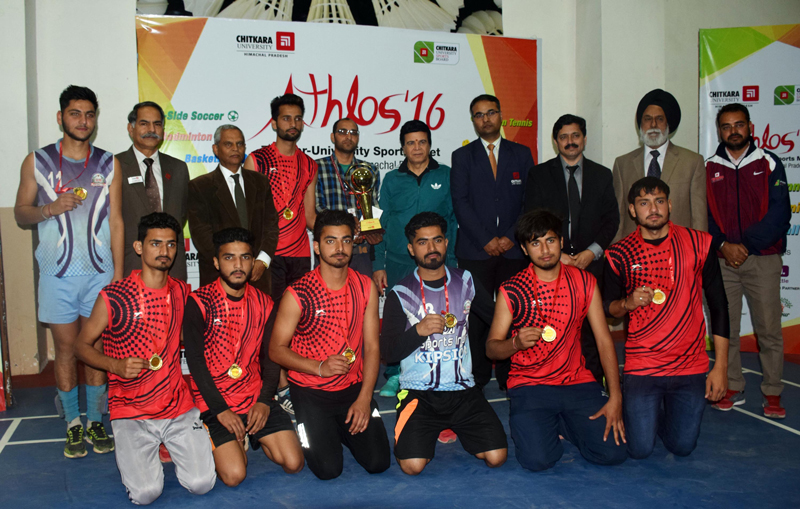 Athlos'16 offered a unique platform for students to showcase their talent and compete with the upcoming sports in the country in a highly charged and competitive ambience.
With almost 7 major events including both team and individual games, the cash prizes amounted to about Rs 2 Lakhs.
The team events like basketball, badminton, 7-A side soccer, Volley Ball were a part of fest keeping in mind the importance of teamwork in winning championships. An Individual's strength, mental stability were tested in events like lawn tennis, chess, table tennis. There fun events like lemon race, 3-legged race for the entertainment and recreation of students.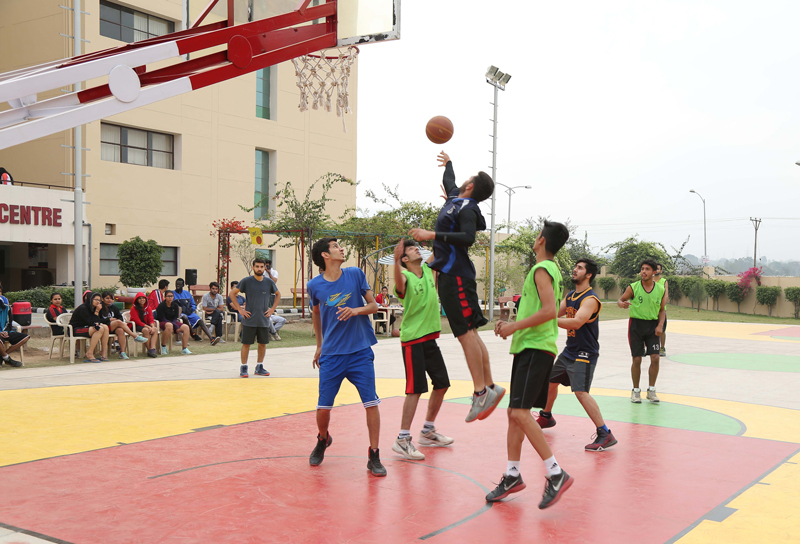 There was a huge crowd around the basketball court supporting their favorite players. There was a whole lot of enthusiasm and the final show was a blow. The terrific performance, unbeatable strength by the team of Chitkara University, HP made them the champions with the winning prize of Rs 16,000 and Rs 10,000 to the team Amity University team as runners-up for Boys and team of NIT Jalandhar Rs 14,000 for winners among girls and Rs 10,000 to runners-up MMU Mullana along with the Gold and Silver Medal to the winner and runner-ups respectively.
Volleyball has been one of the most loved games of today's generation which was clearly depicted by the stunning performance by the teams. With almost the whole of the college gathering around the field, there were students sitting in the balcony of their hostel rooms just to see and cheer the teams. Each player was as ardent and fanatic as the other one. The competition was exhausting yet challenging and team from Maharaja Agrasen University came first winning a cash prize of Rs 15,000 and Chitkara University, HP team were the runner-ups with a cash prize of Rs 10,000.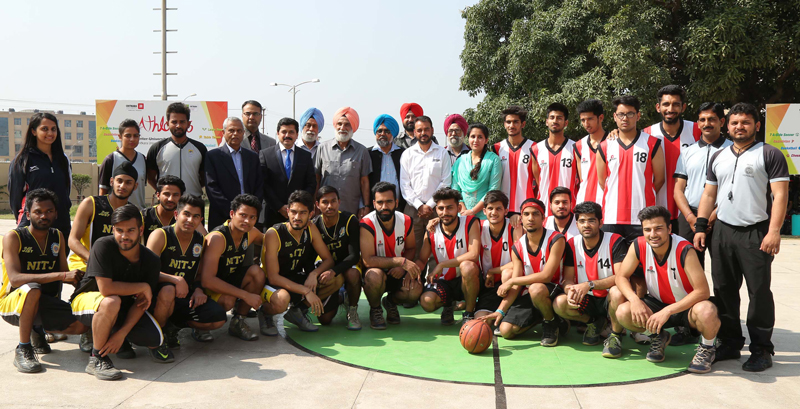 In Table Tennis the final match was like the battlefield, both the opponents were passionate and red hot. Among boys the winner was Team from Punjab University and runner-up was Team from Chitkara University HP . Among girls the winner was Team from Chitkara University Punjab while the runner-up was claimed by hosts Chitkara University HP bagging a cash prize of Rs 8000 and Rs 6000 respectively.
There were a huge no. of players registered to be a part of Badminton. The players were passionate and exuberant. Among boys the winner was MIT Moradabad and runner up was Chitkara University, HP securing a cash prize of Rs 10,000 and Rs 6000 respectively. Among girls CCET and Chitkara University HP were the winner and runner up respectively.
Not everyone can play chess but the ones who came to play were sterling and excellent. It is tough for one to sit continuously for so long and just concentrate on your moves keeping in mind what your opponent's move would be. There was a tough competition and the winner and runner up among boys were Ravi Kaushik of Chitkara University , HP Campus and Sachleen from Rayat & Bahara Univ . Among girls Varsha from and Astha Chauhan both from Chitkara Univ HP bagged prizes.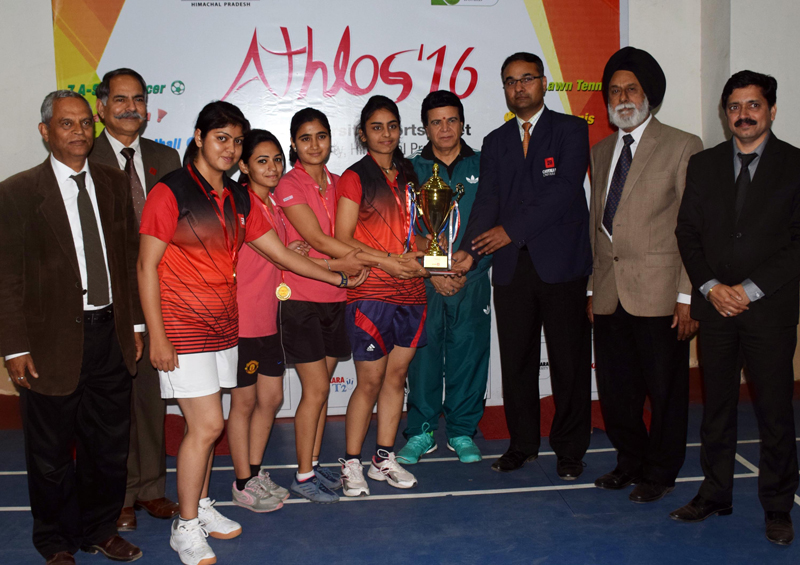 Lawn tennis was an open event with the winning prize of Rs 6,000. Be it the breathtaking aces or the incredibly played back hand shot, every shot was commendable. The constant battle of the players between scoring the match point and back deuce was really amusing. Only Amity University boys and Chitkara University, HP could make it to final round and were winners and runners-up securing a cash prize of Rs 6,000 and Rs 4,000 respectively.
For 7-A side soccer the winner were Gulzar Institute of Engineering and runner-up were Chitkara University, Punjab a cash prize of Rs 12,000 and Rs 9,000 respectively.
There were fun events for everyone to participate and enjoy. Be it lemon race or three legged race, it was entertaining for all. The fun events were kept with a motive of uplifting the mood of the ones who lost and to celebrate the victory of the winners. Even the organizing committee took part and got a chance to relax their mind.